Once upon a time, a long, long time ago, Alan Moore wrote and drew a cartoon strip called Maxwell The Magic Cat for his local newspaper Northants Post under the pseudonym Jill de Ray. An inventive, surreal and innovative strip, he had to stop when his career really took off, and a few years later, as a result of his new-found comics fame, Acme Press collected them in a series of slim volumes. Those volumes now sell for silly money in some places. Alan Moore returned to the strip one last time when the newspaper closed.
But Brazilian publisher Pipoca & Nanquim appears to have the rights to publish the complete Maxwell The Magic Cat in Portuguese, with never before seen material, all in one volume. Something no English publisher has been able to manage.
So the likes of this…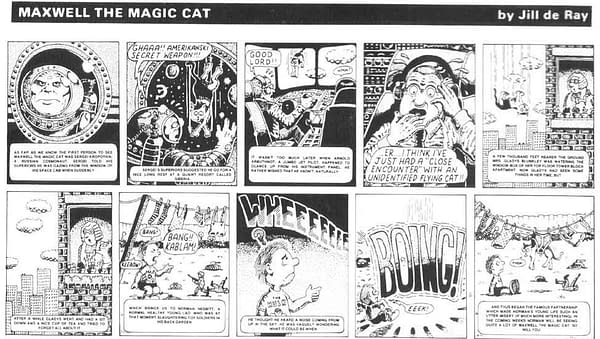 …becomes this…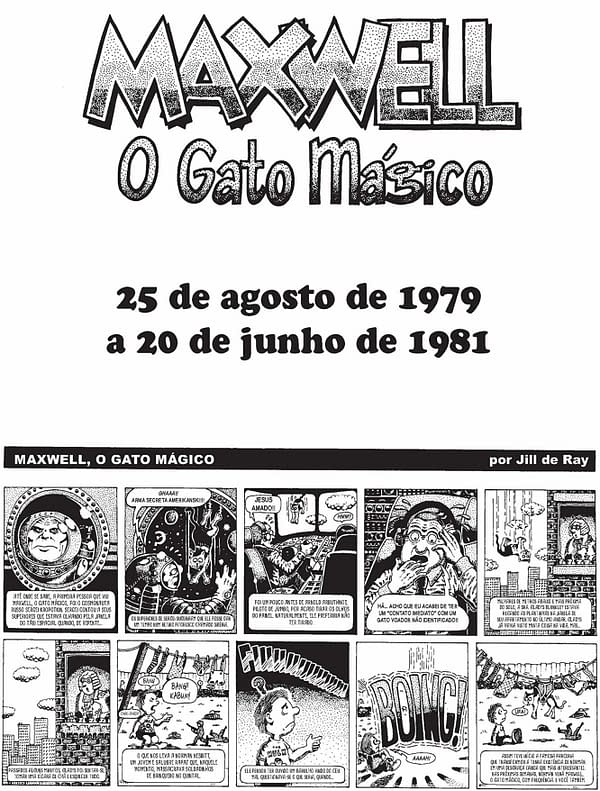 The book has a forward from Eddie Campbell, an afterword by Alan Moore himself, and a tributeart gallery from artists like David Lloyd, Kevin O'Neill and Brian Bolland.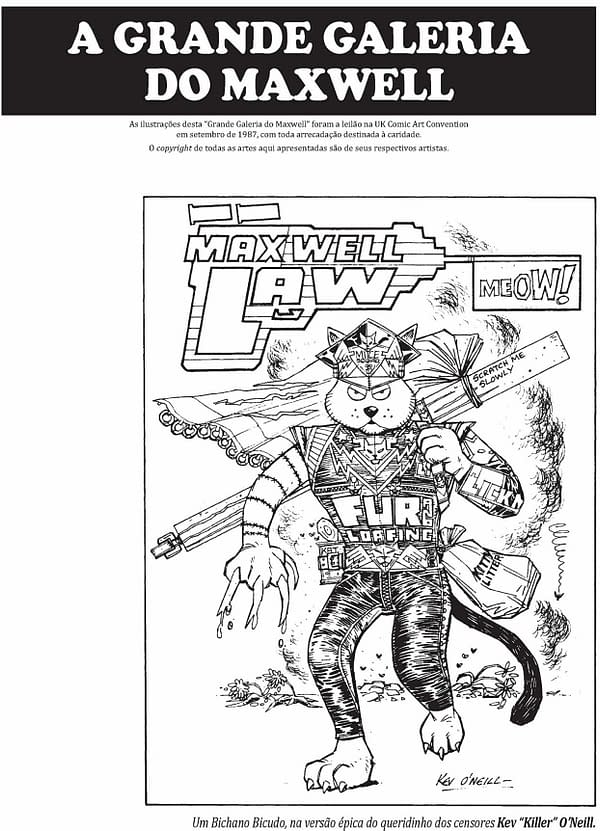 Running the solicitation through Google Translate (with a little editing)…
Before V for Vendetta, Watchmen and Swamp Thing, there was … Maxwell, the Magic Cat! This is one of the first creations of the genius of comics Alan Moore, written and designed by him, which finally arrives in Brazil in a complete and unprecedented edition in the world, 40 years after its beginning of publication. Maxwell fell to earth from space, but no one even today knows his true origin! What is known is that he is a talking cat who landed in England to completely shake the life of the boy Norman Nesbitt and the surrounding area. His stories were told in weekly strips published by the British newspaper Northants Post (from the city where the author lives) between 1979 and 1986, offering readers the opportunity to get to know a unique facet of Alan Moore, who, with his acid humor, found in Maxwell is the ideal character to criticize the social, political and cultural breakdowns that plagued the country and the world at the time, and that remain relevant today! The volume of the publisher Pipoca & Nanquim, in hardcover with gold printing and dust jacket, is the only one in the world that rescues all the strips of the magic cat, submitted to a careful restoration process, and also brings a preface by the designer Eddie Campbell (From Hell), afterword by Alan Moore himself, an art gallery extolling Maxwell's feline exuberance by artists like David Lloyd, Kevin O'Neill and Brian Bolland, among other extras that show why this is one of the most important works of his career.
So… any English publishers like to try and have a word?
Enjoyed this article? Share it!