It's Always Sunny in Philadelphia s13e06 Preview: The Gang's Got a "Buffet Bathroom Battle" Brewing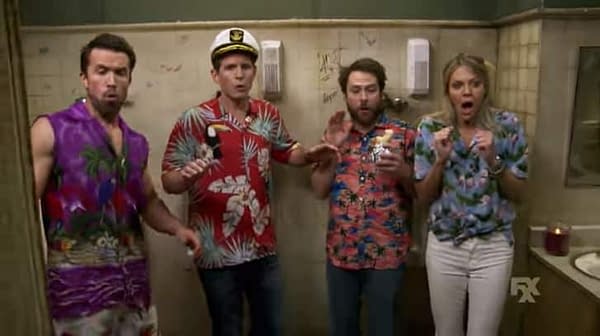 A Jimmy Buffet concert can make it rain for local bars and restaurants – at least that's what Dennis (Glenn Howerton), Mac (Rob McElhenney), Charlie (Charlie Day), Dee (Kaitlin Olson), and Frank (Danny DeVito) are hoping for in this week's episode of FXX's It's Always Sunny in Philadelphia, 'The Gang Solves The Bathroom Problem.' As we can see from the preview trailer below, Mac sparks a debate over male and female-designated bathrooms versus genderless bathrooms – and the gang from Paddy's Pub ain't goin' anywhere til they find an answer…even if it means adopting Charlie's "unique" approach. Yeah…
https://youtu.be/BcL0EOFc3yw
It's Always Sunny in Philadelphia s13e06 'The Gang Solves The Bathroom Problem': Jimmy Buffett is in town and the positive vibes are alive at the bar. But when Mac comes out of the women's bathroom, no one can leave until the bathroom situation is solved. Written by Erin Ryan; Directed by Josh Drisko.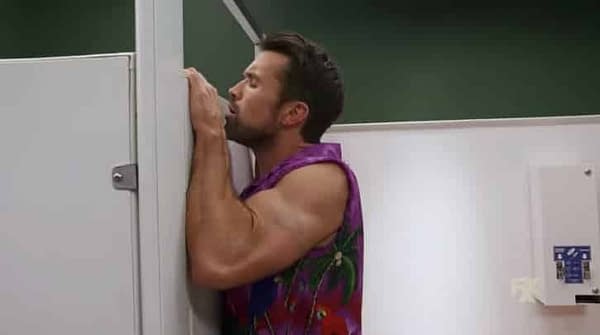 Here's a look at the crucial moment in last week's episode of It's Always Sunny in Philadelphia ('The Gang Gets New Wheels') when Frank's drivers license drama began to spiral in a way that only a Frank probem can do: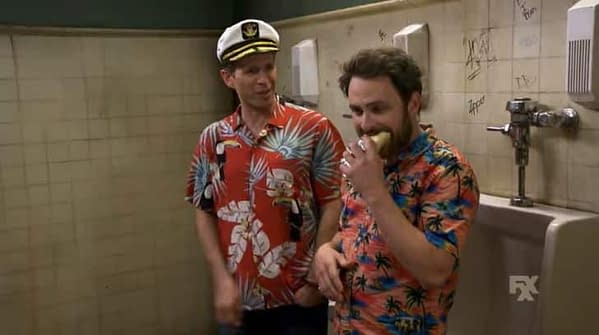 The Gang Returns… mostly…. in the 13th season of the FXX original comedy series It's Always Sunny In Philadelphia. Mac (Rob McElhenney), Charlie (Charlie Day), Dee (Kaitlin Olson) and Frank (Danny DeVito) return to their duplicitous, scheming ways at Paddy's Pub, while Dennis (Glenn Howerton) takes on the new role of father in North Dakota.

Even without Dennis Reynolds, the Gang has its hands full as Charlie hopes to have a child with The Waitress, Mac sets out to understand his newfound sexuality, Dee takes feminism to new heights, and Frank goes to great lengths for the Gang to experience the greatest moment in Philadelphia sports history – an Eagles Super Bowl victory.