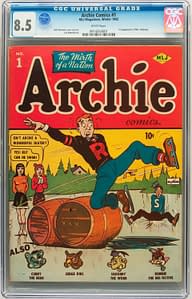 A high grade copy of Archie Comics #1 went for $167,300 at Heritage Auctions last week, setting a record for this issue that turned the heads of even dedicated collectors. It's not often that non-superhero comics climb into this rarefied air, but the market on this one's been building for a couple of years — much note has been made of the rarity on the current marketplace of nice copies of early Archie compared to Marvel/DC books of this era, and of course modern-day Archie has been reclaiming mainstream attention with recent storylines.
The 1942 issue which debuted one of the longest-running series in American comics was drawn by Bob Montana. Archie himself actually first appeared a year earlier in Pep Comics #22, but he does meet Veronica for the first time in Archie Comics #1. This particular CGC 8.5 copy came from what is known as the Pinnacle Collection, assembled by a discriminating collector in the 1960s and 70s. A copy of Detective Comics #27 from this collection went for just over $1 million last year.
There were a number of strong original art sales at the auction, including the John Byrne and Terry Austin X-Men #116 cover for $65,725, a Robert Crumb Zap Comics #1 2-pager for $47,800, Frank Miller and Klaus Janson Batman: The Dark Knight Returns #3 page 24 for $38,837.50, and Jack Kirby inked by Vince Colletta on Fantastic Four #40 page 14 for $31,070.
The five Detective Comics #27 1939 proof pages, a highly interesting find covered here previously which had a pre-auction estimate of $1000 each, went for a shocking $69,000 in total for the group. And on a personal note to the new owner, congrats on a killer acquisition — I've been doing some research into these and would love to compare notes with someone who's seen them in person.
Enjoyed this article? Share it!