By Hashim Hathaway
While everyone had their eye on the spectacle that is Wondercon, last Friday also brought a new and improved Awesome Con to the Walter E. Washington Convention Center right in the heart of Washington DC. For three days, a mixture of fans, celebs old and new, cosplayers, artists, writers and merchants all converged together for what turned out to be not only a major success, but quite possibly the next "big" con.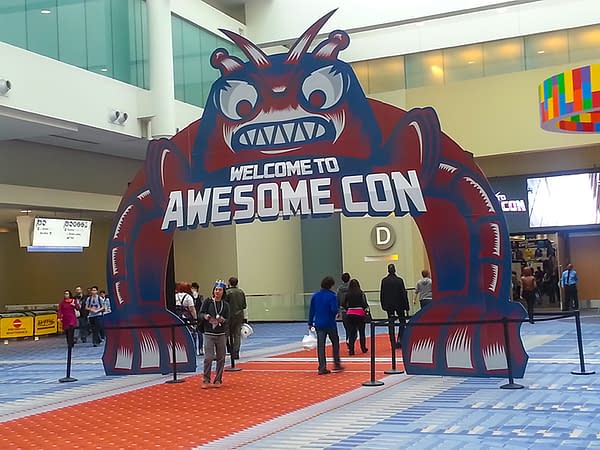 In only its second year in DC, Awesome Con saw as many as 40,000 people throughout the entire weekend, an increase of 250% from last year. To put that into perspective, last year's Awesome Con took place entirely in the area where tickets and registration currently exist, serving as quite an upgrade.
For me, it was an opportunity to attend my first comic book convention since WizardWorld Chicago back in 2000. Being away from cons for 14 years, I had some preconceived notions of what to expect, but this year's Awesome Con broke away from a number of these notions, giving me an experience that I wasn't expecting at all.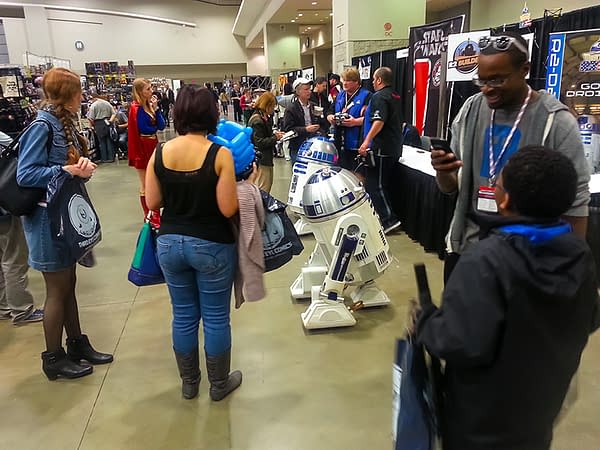 In order to totally immerse myself in the convention, I decided to wear not only the hat of a reporter, but that of a volunteer. I wanted to see the inner workings of a convention, while also having an even greater amount of access than my press pass would afford me.
For this convention, I drew "Photo Ops", which meant I got to corral hundreds of attendees for pictures with media guests, including Billie Piper, Sean Astin (who is honestly one of the nicer celebs I've worked with), Cary Elwes, Danai Gurira, J. August Richards and others. While in that capacity, I got to meet a number of fans who all came for different reasons, but who were all simply happy to be there. It also gave me a brief opportunity to speak to some of the talent, some a little more strange than others.
Over the next few days, Bleeding Cool and I will present a number of stories from and about Awesome Con, giving you a different perspective while sharing insight from a number of people in the industry, including actors and authors of some of your favorite genre works.
Of the stories coming from Awesome Con, some things to look forward to include an interview with one of the "Fathers" of the Star Wars Expanded Universe, author Timothy Zahn, where we talk about the upcoming trilogy, and whether that spells doom for the EU itself. We'll also meet members of Holla Back Philly, an organization who's working with Awesome Con to make cons safer and more harassment-free for cosplayers. We'll also be talking about an increase in diversity, not only at cons, but also how minorities are a larger part of the industry as a whole, be fans, performers or creators. We'll also get some great comments on this from voice actor Phil LaMarr and writer Steve Niles.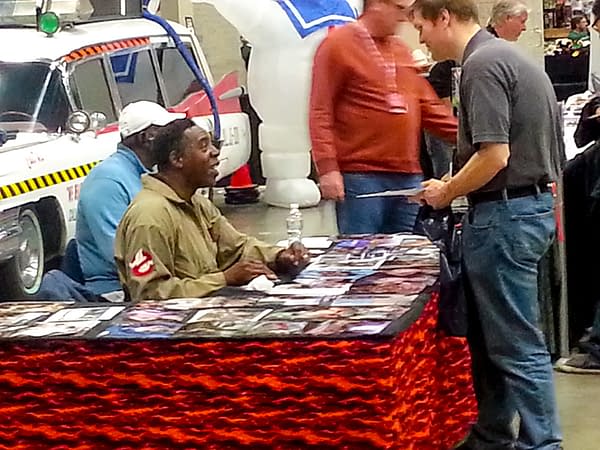 If I had to be at all critical about Awesome Con, it's that for all its growth, the programming is still indicative of a convention serving not 40,000 people, but rather 4,000. In this day and age of bigger cons rolling out big panels where upcoming films and comic happenings are shown to lucky attendees, Awesome Con still has tremendous room for growth. Considering that, I found myself wondering whether or not that was a good or bad thing. At its roots, Awesome Con still has the flavor of a convention that isn't about being an advertisement for studios, but is still searching for its own voice. Having a number of actors removed from their former glory mixed with mid-level actors who are in the middle of theirs doesn't a major convention make, but for the increased size, there is a certain intimacy that you don't get at Wondercon or San Diego Comic-Con.
However, that there was no real or official presence from Marvel, DC, Dark Horse, Image or other fantasy, sci-fi or horror companies certainly sticks out as a sore thumb, and something, if Awesome Con is going to continue to be awesome, that will have to be addressed before the next convention. All in all, it was a busy and productive weekend, where I saw much and experienced plenty, so don't take the critique as a reason not to keep your eye out for next year's Awesome Con. In fact, I'd be willing to wager the next con, which is already being planned for an additional increase in space within the convention center, will have an even different and larger scope.
The folks behind Awesome Con have their sights set on being a true competitor to Wondercon, and if this year was any indication, fans on the Eastern Seaboard and beyond are ready for an even bigger 2015 event in the nation's capital.
Hashim R. Hathaway is the host of the Never Daunted Radio Network, airing four nights a week at www.blogtalkradio.com/NeverDaunted. You can reach him on Twitter at @NeverDauntedNet
Enjoyed this article? Share it!