By Olly MacNamee With her first full-length graphic novel, Elsie Harris: Picture Palace, about to debut from Miwk Publishing and just about ready to drop, I caught up with rising star, Jessica Martin at ICE 2015. We talked about her background, her introduction into independent comic book publishing and her views on the need for more diverse voices in modern comics.
Olly MacNamee: Jessica, How did you get your introduction into comics in the first place, given your background, and what you have been best known for, is acting professionally in musical theatre?
Jessica Martin: Well, yes. I have had a very successful career and a few people have said to me didn't you ever want to do something in between times. Yes, comics have been a hobby for me, but it has very quickly become a main focus for me now and I know I am very lucky and fortunate.
I have always had an interest in art and sketching and I think I was at a loss for an appropriate outlet for my art because modern art mainly speaks about concepts, new ways of shocking people and that's not what I'm about. Particularly coming from an acting background, I'm all about storytelling. I started sketching again, having been an avid sketcher as a child, but abandoned it when I fell into acting. I kind of forgot about the joy it would give when I just sat down and drew a picture, usually of an old 40's movie star. So, about five years ago I started a sketchbook and I would just draw everyday things, anything in front of me. If I were waiting for a pizza delivery, I would find myself drawing the cutlery, the menu. Sitting, waiting to pick up my kids school I would be drawing cars, street scenes. For me it was a way of satisfying this inch, this yearn to draw.
A little while after that I was doing Spamalot and Phil Jupitus (British comedian and TV presenter), who is a huge comic fan boy and he looked at my pictures and he suggested, 'You should try your hand at doing comics.' He said, 'you've got the storytelling under yer belt. You can draw,' It was a Eureka moment. I had finally found a way to put my art out there.
I didn't have huge ambitions; I just wanted to tell a story, something concrete out of this idea in my head. Forget about superpowers. Comics were like making a movie but without the budget, and not having to ask permission. Really, comics are the ultimate democratization of the arts. Anyone can do it in this digital day and age. You do something and you can tell social media you made it, you want to share it. If you want to do something, the only person who can stop you is you. They are such an accessible form of literature and art.
OM: It clearly is a passion for you. I mean, when I met you last year (at ICE 2014) you had IT Girl out, and were ready to launched Vivacity and it was obvious that you had a passion for telling the stories of the unsung heroines of Hollywood's golden age. To me, your black and white comics are a great fresh way of reintroducing these women to a modern readership. Which brings me to talk about your new work.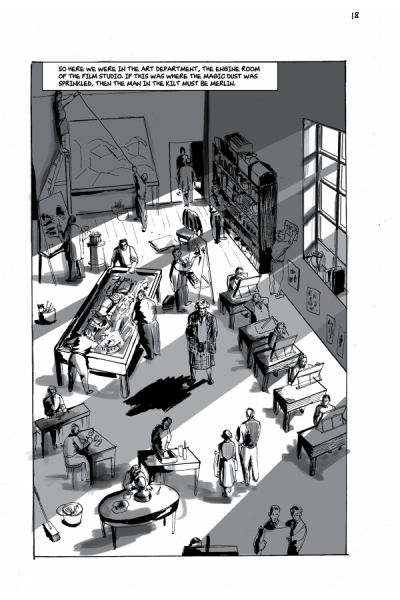 JM: Yes, I'm very excited because I've got my first full-length graphic novel out called, Elsie Harris, Picture Palace. My main character, Elsie Harris, is a teenager in the 1930's and she loves are but doesn't know what she's going to do with her art – something I can relate to – and through certain circumstances, she works in a Lyons' Cornerhouse Café that really existed and were grand buildings, a bit like Selfridges with just restaurants in it. Through that environment she gets to meet very glamorous people and her life changes when she meets a film director (but I'm not going to tell you how they meet) and gets to work in the art department on a film. Did you know that Alfred Hitchcock started out in the pictures painting titles for silent movies and later did his own storyboards? All of this 'hidden history' of the movies caught my imagination and I thought, what about a girl who is an apprentice, because it's always about the boy. So, you get that immediate conflict created by a girl in a male dominated world, especially at that time.
OM: Yes, it's always about the orphaned boy hero. Harry Potter, Batman, King Arthur.
It has recently been reported that female comic book readers outnumber male comic book readers. You were a great guest on discussing women in comics at The Birmingham Comic Fest. On your travels to comic-cons, do you notice a difference?
JM: Oh yes. I've seen a lot of change in comic book readers and comic book creators. I've recently spoke to a mainstream comic book creator at a con and he looked at my IT Girl comic and he clearly wanted to see more of this kind of storytelling and less about skyscrapers and capes. He wasn't criticizing that; it's just that people have a preconceived idea that comics are all about superheroes.
OM: There is room for more female voices, more diversity?
JM: Yes. It should be about the story and finding something aspirational. With all the best will in the world, it would be very dangerous if aspired just to be superheroes, or…
OM: Zombies?
JM: Yes. 'With great power comes responsibility' and the media is one of the biggest powers in the world. It has to be used responsibly.
I love Fables by my mentor, Mark Buckingham. His art goes back to the golden age of illustration and the stories are all about human-interest stories too.
OM: Yes. That's why I loved The New Teen Titans; the best issues were always the ones that focused on their personal lives. That's why I'm draw to creators like you, Jessica.
Well, thank you for your time, and I really Iook forward to read your book when it launches shortly.
Olly MacNamee teaches English and Media, for his sins, in a school somewhere in Birmingham. Some days, even he doesn't know where it is. Follow him on twitter @ollymacnamee or read about his exploits at olly.macnamee@blogspot.co.uk. Or don't.
Enjoyed this article? Share it!