Did you really think just because he was barred from a courtroom for a year that Jimmy McGill/Saul Goodman (Bob Odenkirk) was going to stop being a criminal lawyer? Then clearly you've never watched an episode of Better Call Saul.
If there's one takeaway viewers can gather from the teaser for the upcoming fourth season of AMC's Breaking Bad spinoff, it's this: Jimmy doesn't need a courtroom for the kind of "legal work" he's been involving himself in. Throw into the mix an increasingly cranky Mike (Jonathan Banks); a battling Kim (Rhea Seehorn) and Howard (Patrick Fabian); a scheming Gus (Giancarlo Esposito); and righteous amounts of blood and bullets, and Better Call Saul fans are in for one intense season:
In Better Call Saul's fourth season, Chuck's death catalyzes Jimmy McGill's (Odenkirk) transformation into Saul Goodman. In the wake of his loss, Jimmy takes steps into the criminal world that will put his future as a lawyer – and his relationship with Kim (Rhea Seehorn) – in jeopardy. Chuck's (Michael McKean) death deeply affects former colleagues Howard (Patrick Fabian) and Kim as well, putting the two of them once again on opposite sides of a battle sparked by the Brothers McGill.

Meanwhile, Mike Ehrmantraut takes a more active role as Madrigal Electromotive's newest (and most thorough) security consultant. It's a volatile time to be in Gus Fring's employ, as Hector's collapse sends shock waves throughout the Albuquerque underworld and throws the cartel into chaos — tearing apart both Gus and Nacho's well-laid plans. While Gus changes course, Nacho finds himself in the crosshairs of deadly forces.
Better Call Saul returns to AMC for its fourth season on August 6th at 9 p.m. ET.

Here's a look back at AMC Summit 2018's Better Call Saul panel, with some of the highlights that relate directly to season 4 and beyond: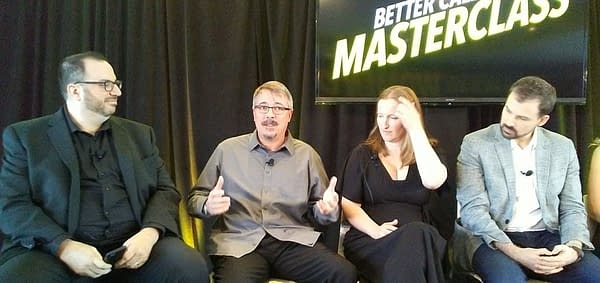 A Masterclass with Better Call Saul: Take a deep dive into the Emmy Award and Golden Globe-nominated series with the creative team behind Better Call Saul as we approach the new season that follows the twists and turns of Jimmy McGill's devolution toward Breaking Bad anti-hero Saul Goodman.
Moderator: Alan Sepinwall (Chief TV Critic, Rolling Stone)
Panelists: Vince Gilligan, Co-Creator/Executive Producer; Melissa Bernstein, Executive Producer; Gordon Smith, Writer/Supervising Producer; actress Rhea Seehorn; Jennifer Bryan, Costume Designer; Judy Rhee, Production Designer; and Marshall Adams, Director of Photography
● A couple of quick hits for the upcoming season: Chuck McGill (Michael McKean) will stay shuffled off this mortal coil (translation: he's staying dead); those cowboy boots that Jimmy/Saul wore in Breaking Bad will be making their debut; Bernstein said this about "new characters" making their way to Better Call Saul this year: "We have a couple of new characters that we will be reintroducing to the world. We have Lalo coming our way," and Gilligan couldn't stop teasing his excitement over what's to come:
"I get to sit up here and unabashedly say now that I'm a bit removed, this show is just so damn good. I could never sit on these panels and say that before because it sounded like a jagoff. Season 4 is just so good. Everyone on this panel did such great work. I can't believe the level of quality on this show. It gets darker, it gets richer. It's still got has funny in it. God forbid that would ever go away completely. But on the venn diagram of Breaking Bad and Better Call Saul… the overlap in the center is getting bigger and bigger."
● When asked about Seehorn and what her transition into the Breaking Bad universe was like, Gilligan had nothing but high praise for the actor:
"Rhea Seehorn fits so well into the universe. I can't imagine the show without her. She can do anything. Comedy, drama, she can make you laugh, she can make you cry. She has fit so well into this world — this universe of Breaking Bad and Better Call Saul — that I can't imagine the show without her."
● In another raw audio sample from the panel, both Gilligan and Smith went into great detail when Bleeding Cool asked when was the moment in Better Call Saul's run that they knew the series was no longer "just" a Breaking Bad prequel but a quality show in its own right:
Enjoyed this article? Share it!