Black Mask Unleashes 10 Covers For Godkiller This Week – Ben Templesmith, Tim Seeley, Riley Rossmo, And More
Godkiller #1 arrives this week on Wednesday October 29th from Black Mask Studios, who are gaining a rather pedal to the metal momentum in their books at the moment, created by Anna Muckcracker Wieszczyk and Matt Pizzolo.
This book has all the trademark strange and envelope-pushing qualities we've come to associate with Black Mask, with more still to come. They describe it as: "Fallen gods, weaponized orgasms, quantum physics, sex-addicted technowizards, and a boy on a quest to save his dying sister." Does it need much more of a description than that? Wow.
The book has an all-star line-up of 10 covers and variant covers, and we're going to present them all here for you, alongside how you can get your hands on them:
A- Ben Templesmith (Diamond) www.comicshoplocator.com B- Anna Muckcracker Wieszczyk (Diamond – rare) www.comicshoplocator.com C- Tim Seeley (Diamond – ultra rare) www.comicshoplocator.com
D- Riley Rossmo (Phantom) www.phantomvariant.com
E- Anna Muckcracker Wieszczyk (Hastings exclusive) www.gohastings.com F- Anna Muckcracker Wieszczyk (Third Eye exclusive) www.thirdeyecomics.com
G- Amancay Nahuelpan (Beach Ball Comics / CornerStore Comics exclusive) www.cornerstorecomics.com / beach ball comics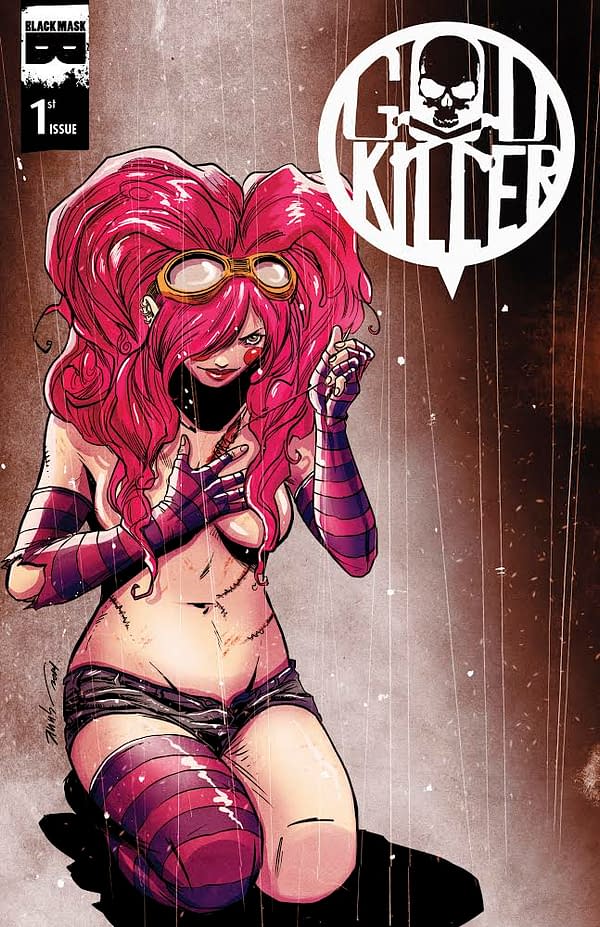 H- Arm tattoo: Connor Usher (Beach Ball Comics / CornerStore Comics ultra-rare) www.cornerstorecomics.com / beach ball comics I- Chest tattoo: Lee Glover (Third Eye ultra-rare) www.thirdeyecomics.com J- Danielle Harris photographed by Jon Weiner (Jetpack/Larry's Comics ultra-rare)www.jetpackcomics.com / www.larryscomics.net
Godkiller #1 arrives on Wednesday, October 29th in your comic book shop from Black Mask Studios