Bloodborne Artwork Becomes Collectibles with Gecco Tapestries 
Bloodborne is one of those games you have to at least play once. Being a fan of the Dark Soul series I wanted to take a swing at this gothic horror franchise and was not disappointed. This game is pretty hard though so if you get angry at games then take this one slow. If you're a fan of the series then Gecco has released so collectibles for you. This time it is several fine art tapestries that capture that perfect Bloodborne feel. There are three prints available, each one shows a different hunter in a different Bloodborne area. Hunter's Dream is the first one to show a reaper in the distance and moon lighting up the sky. Amygdala is one of the boss battles from the game with gothic aesthetic and the moon seen in the background. The final print is quite simple yet elegant as Eileen the Crow with the hunter walking away. Each one can bring a new feel to your collection and are perfect for any Bloodborne fan.
Each Bloodborne Fine Art Tapestries from Gecco are priced at $39.99. The Hunter's Dream tapestry is set to release between February and March 2020 and located here. Amygdala is set to release between April and May 2020 and pre-orders are located here. Finally, Eileen the Crow is releasing between June and July 2020 and pre-orders are located here.
Good. All signed and sealed. Now, let's begin the transfusion. Oh, don't you worry. Whatever happens… you may think it all a mere bad dream…
Bloodborne Fine Art Tapestries
We are proud to announce the beautiful artworks from Bloodborne are recreated as fine art tapestries capturing the sensitive details brilliantly on thick and high quality fabric. B2 size (728 mm x 515 mm). US$39.99 each. Pre-order available now!
Bloodborne – Hunter's Dream (Release:Feb~Mar 2020)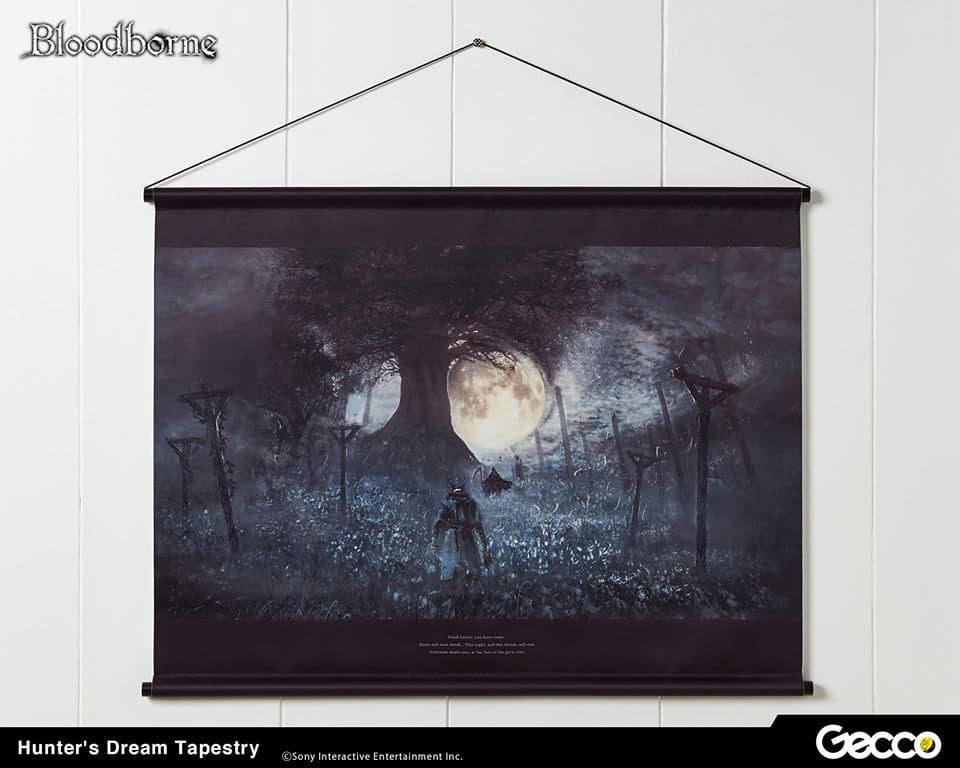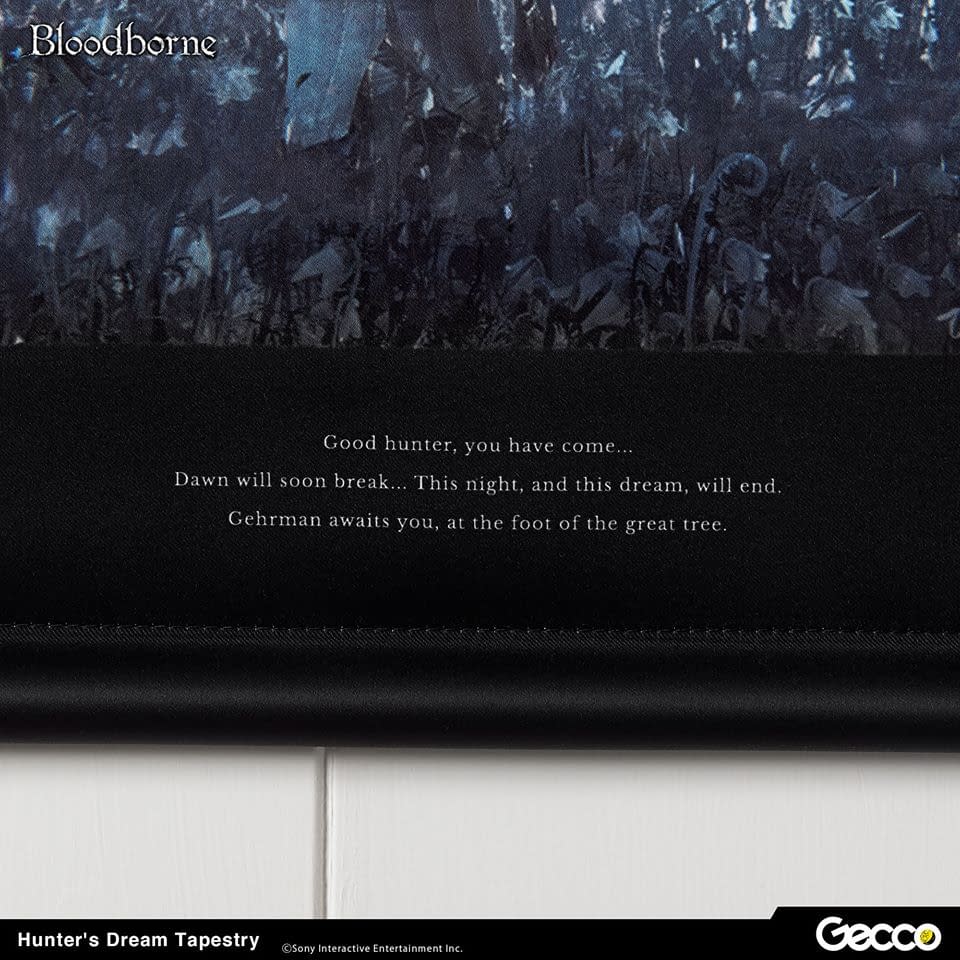 Bloodborne – Amygdala (Release: Apr~May 2020)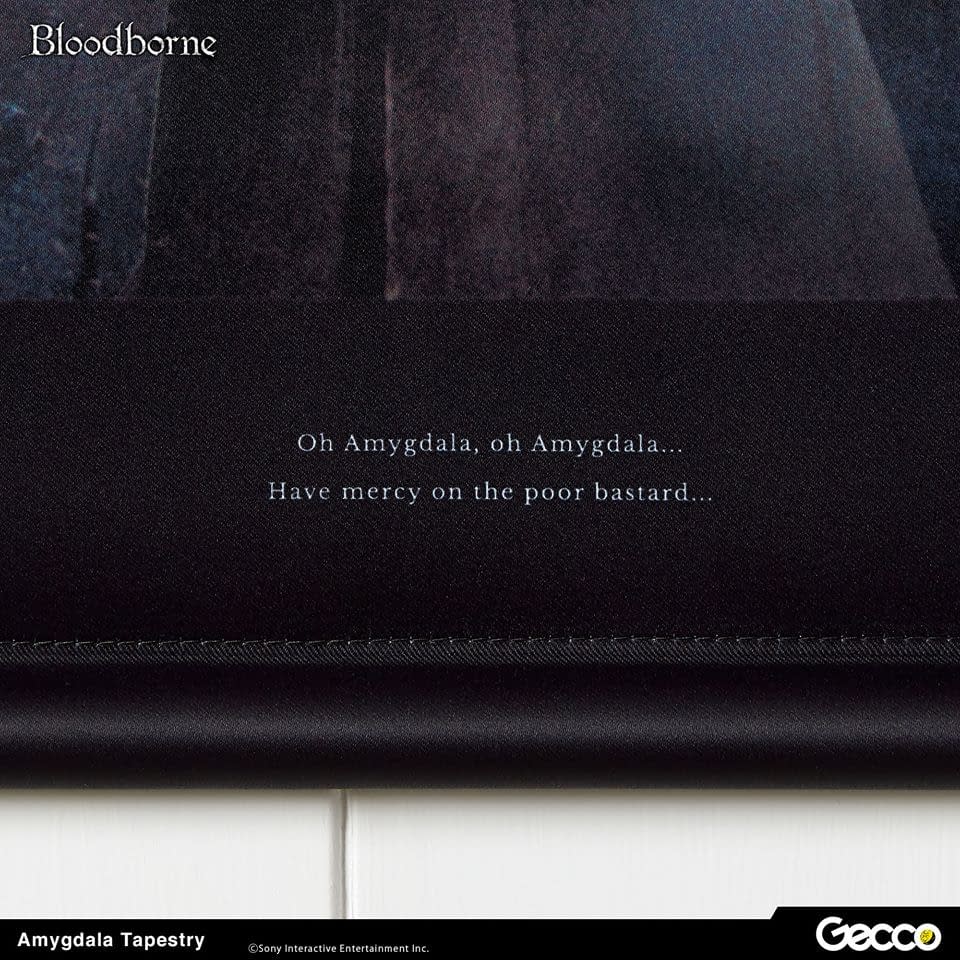 Bloodborne – Eileen the Crow (Release: Jun~Jul 2020)