Booze Geek – Bombay Berserker, Clerks, and Metal
By Dylan Gonzalez
Beer: Bombay Berserker
Brewery: Clown Shoes Brewery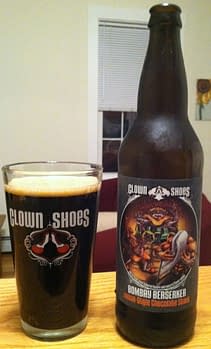 This week, I return to Clown Shoes Brewery, but not for an IPA. Today, I am celebrating the coming of the winter snow with a pretty unique stout by the name of Bombay Berserker.
As with many stouts, Bombay Berserker is a black as anything. It pours a moderate sized, mocha colored head. The head's thickness fades quickly, but it leaves residual foam floating on top and clinging to the sides of the glass.
The beer features the traditional stout scents of coffee and chocolate. However, as described by the brewers, Bombay Berserker was brewed with a number of chai tea flavors, most notably ginger and cinnamon. These two flavors are very prominent next to the aforementioned others and mix really nicely with them. Additionally, some vanilla and what I assume to be cardamom (a spice I am very unfamiliar with) are also present. All of these ingredients are just as present in the taste, creating a very delicious flavor. It is just the right amount of sweetness.
On the palate, the Berserker has a medium body thickness, nothing too thick. Its carbonation is also at just the right balance. Overall, this is a very unique and incredibly tasty stout. The sweetness may ward off some drinkers, but I would highly recommend it.
What to Drink This To:
The brewers have gone out of their way to include a variation of one of many famous quotes (My love for you is like a truck…BERSERKER!) from the cult classic film Clerks. Clerks was a film I grew an immense love for in high school and to this day remains an important film to me. So I would recommend giving it another viewing, but with a bottle of Bombay Berserker at your side. Alternatively, the artwork for this beer is pretty metal and as a metal fan, I think it would be great to drink this and listen to whatever heavy metal you love (if you are into that). This year saw some fantastic metal releases from artists such as Deafheaven, Ihsahn, Black Sabbath, Queensryche, Dream Theater, The Dillinger Escape Plan and more. Any of those artists would be great to listen while putting back a glass of Bombay Berserker. Dylan Gonzalez happens to love beer and comic books and luckily found a place to write about the former because he has no idea how to actually make money in the real world. He lives in a cave in New Jersey.
Tweet him at @BeardedPickle, follow his own beer blog at http://boozegeek.tumblr.com/or email him at dylan.gonzalez1990@gmail.com.