We have seen that Carol Danvers, Captain Marvel's lineage is not as we once though. Rather than being the beneficiary of an explosion that bonded her human DNA to the Kree DNA of Captain Mar-Vell, baby she was born that way. Daughter of a Kree warrior mother and a human father, the event merely triggered alien puberty within her cells. That's the new origin being explored in the current Life Of Captain Marvel, with today's issue also letting us know that her name, rather than Carol, is Carr-Ell. Which, yes, as the Superman of the Marvel Universe, does underline that a little.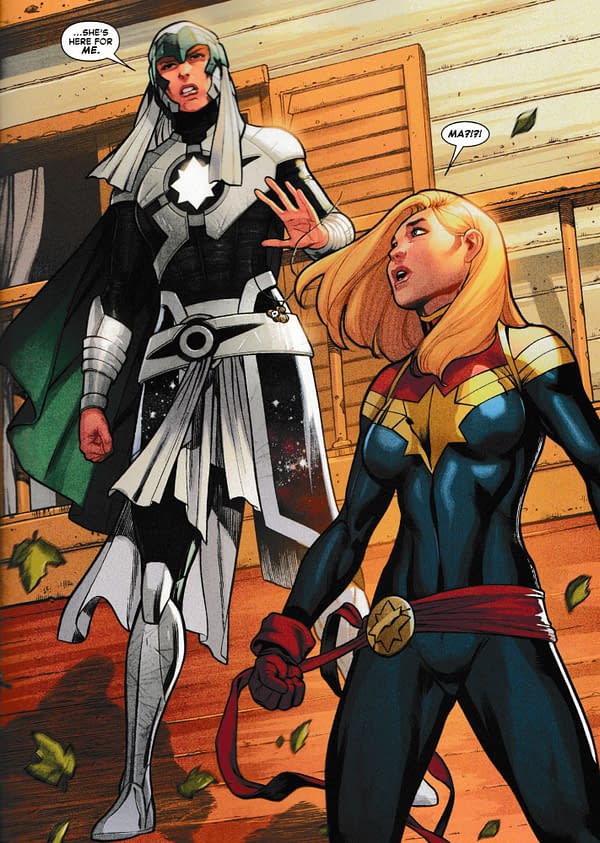 But what does Car-Ell mean? Superman's symbol means 'hope' now, and Kal-El is often interpreted in Hebrew as meaning vessel of God, or Light God. Well, today's Captain Marvel #4 lets us know what Car-Ell means in Kree…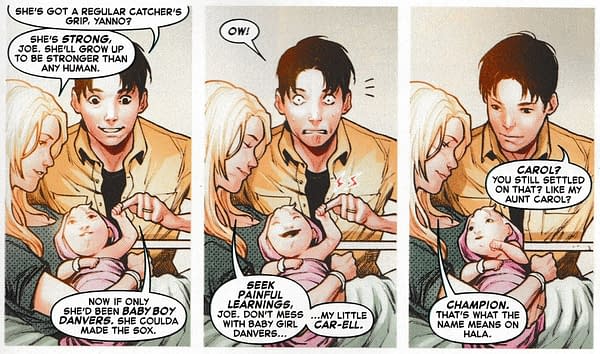 Champion. Say, is this a prelude to her leading the Marvel teen-team the Champions? Or does it sound more like a horse? Find out more in today's Life Of Captain Marvel by Margaret Stohl, Carlos Pacheco and Erica D'Urso…
LIFE OF CAPTAIN MARVEL #4 (OF 5)
(W) Margaret Stohl (A) Carlos Pacheco, Erica D'Urso (CA) Julian Totino Tedesco
It was an accident of fate. A mysterious bonding between a super hero, a human and an alien machine. Mar-Vell and the Psyche-Magnitron that gave her Kree powers have been part of Carol's story since the beginning – but that's just the story you know. The true tale of Carol Danvers and her journey to becoming Captain Marvel begins years ago, on a star-filled night in a sleepy town. A night that no one knew would change the world. Rated T+ In Shops: Oct 17, 2018 SRP: $3.99
Enjoyed this article? Share it!