Chilling Adventures of Sabrina Teaser: Yearbooks or Satan's Book? Decisions, Decisions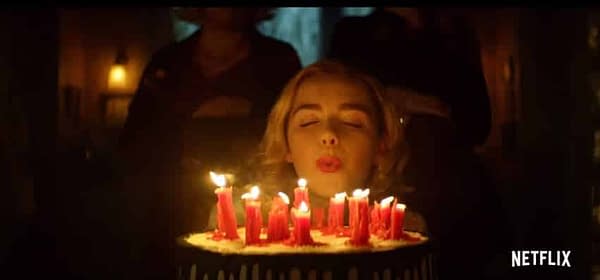 With "The Witching Hour" descending upon us next month – and after a not-too-subtle tweet yesterday teasing "something witchy" for today – our "eyes of newt" are getting their first official teaser look at Netflix's upcoming Kiernan Shipka-led supernatural horror series Chilling Adventures of Sabrina. With a pilot script ('October Country') written by Roberto Aguirre-Sacasa and Arrow's Greg Berlanti serving as executive producer, the possible Riverdale spinoff series received a straight-to-series order from Netflix with a minimum commitment for 20 episodes over two seasons.
The Chilling Adventures of Sabrina imagines the origin and adventures of Sabrina the Teenage Witch as a dark coming-of-age story that traffics in horror, the occult and, of course, witchcraft. Tonally in the vein of Rosemary's Baby and The Exorcist, this adaptation finds Sabrina wrestling to reconcile her dual nature — half-witch, half-mortal — while standing against the evil forces that threaten her, her family and the daylight world humans inhabit.

Kiernan Shipka, Ross Lynch, Jaz Sinclair, Michelle Gomez, Chance Perdomo, Lucy Davis, Miranda Otto, Richard Coyle, Bronson Pinchot, Tati Gabrielle, Abigail Cowen, Adeline Rudolph, and Justin Dobies star in the upcoming Netflix series.

With the series set to make its Netflix debut on October 26th, Shipka (Mad Men, Feud) and Aguirre-Sacasa sat with Vulture to discuss Shipka's experiences with the project – and tease some things viewers can expect when Chilling Adventures of Sabrina premieres next month. Here are some highlights from the article: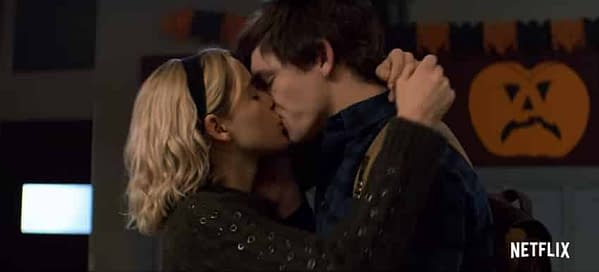 ● Production is currently underway in Vancouver on the second season, and Shipka believes that viewers are going to like what they see: "It's gonna be great, and people are gonna love it."
● In case you thought the series was just going to be a 2018 version of ABC's "TGIF" Sabrina the Teenage Witch, think again: Aunt Hilda (Lucy Davis) and Aunt Zelda (Miranda Otto) are die-hard devil worshippers whose idea of a "sweet 16" theme for Sabrina is "dark baptism" – where she would sign her name in Satan's book and pledge eternal loyalty to him.
● The pilot introduces us to our half-witch, half-human lead on the eve of her 16th birthday, when she's expected to renounce her human side and all the mortal trapping that come with it – including boyfriend Harvey Kinkle (Ross Lynch) – and embrace her supernatural side. Except no one stopped to ask Sabrina what she wants – and it's that conflict that Aguirre-Sacasa likens to a classic television series: "It's sort of like The Sopranos, as if you were telling it from Meadow's point of view."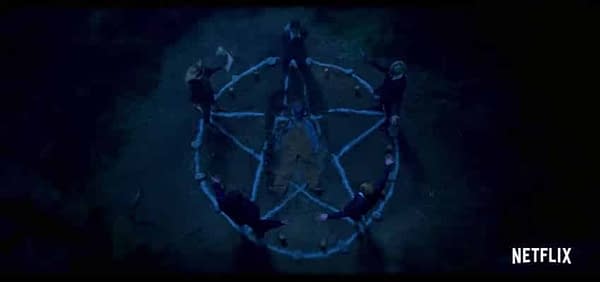 ● Shipka had a great time working with the crew and her castmates – well, maybe not all of her castmates (sorry, Salem): "The cat is the one cast member I don't get along with." Her response is light-heartedly understandable: during her first month on set, the actress discovered she was allergic to cats after picking up one of the animal actors and breaking out in hives.
● Shipka and Aguirre-Sacasa had several conversations about the series' themes and direction; from there, stronger feminist aspects were integrated into the story: for example, Sabrina forms a club at her high school called WICCA (Women's Intersectional Cultural and Creative Association); and the Satan story arc explores the character as an abusive, controlling patriarch in a way that speaks to a number of current societal issues (Sabrina: "I have reservations about saving myself for the Dark Lord. Why does he get to decide what I do or don't do with my body?")
● While Shipka stresses that her work doesn't leave her much time for a personal life ("That's the one thing that is all acting — I do not have a relationship. I'm too busy, man."), she still relates to Sabrina's love triangle difficulties: "It's not very hard to like either of those boys, to be honest. They're really cute."