Posted in: Recent Updates | Tagged:
---
Comics We Just Can't Wait For… But Have To, Part Two
The article last week listing comic projects that have never been published or are still waiting in the wings spurred many of you to share your own "most wanted".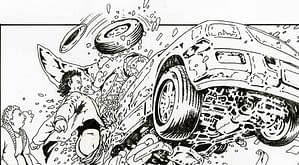 Warren Ellis and Colleen Doran's Stealth Tribes, a sci-fi cloudsourcing cyberpunk original graphic novel. Officially Collen is still drawing it for Vertigo – but it has also suffered after Warren Ellis' notes and scripts were destroyed last year.
The above image is from 2008… it is coming. One day.
B Clay Moore, Seth Peck, Ed Tadem and Tigh Walker's two-strip retrocomic '76 that disappeared after the first four issues had a few takers. And my mention of Pretty, Baby, Machine's movie signing brought the notice from some that they are still waiting on the second issue of that series (though I reckon the movie money may help smooth that along and generate its own sales.
Warchild by Alan Moore, yes that's a big one. The series script bought by Rob Liefeld, he hasn't progressed publication because he says he hasn't found an artists who is up to the script. My suggestion that he just get Eddie Campbell didn't go down well… Tyrant was the slice-of-dinosaur life self-published title by Steve Bissette. Bissette is selling original Tyrant-based art to fund a new volume, both reprinting the original three issue series and extending it, of which he already has a stack of unpublished pages. He is currently looking for a publisher.
King Hell Heroica final three volumes seem an age away. With Rick Veitch's Maximortal and Bratpack making up the first two chapters in this early superhero deeconstructive narrative. The third chapter has been slowly coming out as a series of special issues… but one hasn't been seen for years.
Warren Ellis' final issue of Hellblazer, "Shoot" was pulled in the light of the Columbine massacre, leading to Ellis to pull himself off the book. Unpublished, it did make it's way round the internet.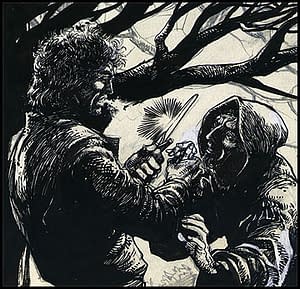 Barry Windsor-Smith started an epic The Real Robin Hood graphic novel.. but shelved in in favour of painting back in the eighties.
A Phoenix mini series (or two) by Chris Claremont and Rick Leonardi – referenced in various Excalibur issues but never saw the light. I was mystified at the time.
A second Longshot mini by Ann Nocenti and Art Adams was intended to be published by Marvel, and this was the reason that Longshot left the X-Men book shortly before Uncanny X-Men #250.
The Grant Morrison and Peter Milligan series Bizarre Boys is still mourned, as is Morrison's planned Marvel Boy 2 which was Jemas-rejected, possibly encouraging Grant to jump ship.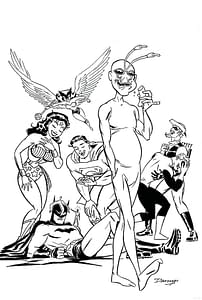 There was the Jim Shooter & Jim Starlin, the never-to-be-completed Unity 2000, three out of the six issues."The Blue Lilly" and was by Angus McKie. Only two out of the four issues came out and I remember much wailing and gnashing at the time. Kevin Nowlan is still painting that Man-Thing Graphic Novel written by Steve Gerber. Ambush Bug Year None #6, the final issue, remains bafflingly unpublished by DC Comics.
As someone pointed out, I published Dirtbag Pasts and Dirtbag Presents but never the promised Dirtbag Futures. What can I say, you never got to see my Holed Up sequel, Zebra: One Hundred Hits With A Baseball Bat. And the lost Event Horizon Volume Three killed the third chapter of Chase Variant…or did it?
Frank Miller's JESUS! was supposed to be a more historical take on Jesus, Matt Wagner's porn comic was a more porny take on Grendel, then there was Wagner's Aerialist series for Dark Horse and of course Mage: The Hero Denied.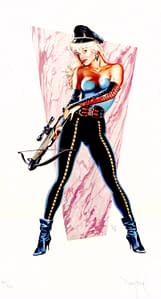 Dave Stevens was supposed to do a series called Mimi Rodin. A pin-up appeared in the back of DHP #100.
John Byrne's The Last Galactus Story was never finished in Epic Illustrated but he did tell people the ending of the serial here.
Alan Moore's Twilight proposal was bought but never published as Alan Moore and DC parted company. The series did seem to inspire certain aspects of other stories, such as Kingdom Come. Then there was the 1963 Annual by Alan Moore than would have been drawn by Jim Lee, but he pulled out from the possibly-mocking possibly-deconstructing series, pitching the sixties against the nineties.
Warren Ellis received a kill fee for his End Times series for Marvel, but then years later would rework it for the Ultimate Galactus trilogy, getting paid twice!
More to come… keep adding your favourites…
---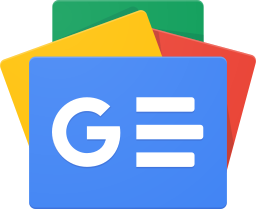 Stay up-to-date and support the site by following Bleeding Cool on Google News today!