Cosmic Ghost Rider is one of those comic books that really should not exist.
A spinoff character series from a taken over series that was heading for cancellation, by a new writer to Marvel who until recently was filing convention reports (and not enough of them) for Bleeding Cool.
It's a big day for Donny Cates with The Death of the Inhumans also launching today. And while the Batwedding may be taking some of the headlines, he is making sure that he'll be getting his fair share with these two titles.
We'll leave off the big spoiler for Cosmic Ghost Rider #1 (in this article at least), but this is an attempt to make you, anyone, care about this most ridiculous of characters — who, if you recall, is the future Frank Castle who died and went to hell, given new powers by Mephisto before swapping his allegiance through Thanos and Galactus and eventually dying again. And, if you weren't up to speed, channelling the opening of All-Star Superman to remind us of his origin.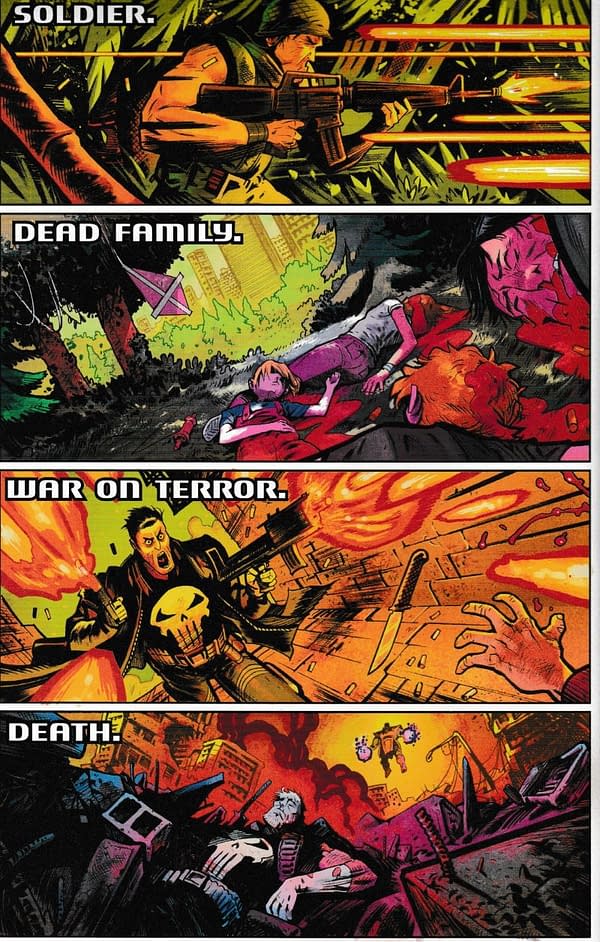 But unlike the Death of the Inhumans, he got an instant revival. Another one, courtesy of the kind of person who does that kind of thing — and giving an All-Father a most unexpected turn of phrase.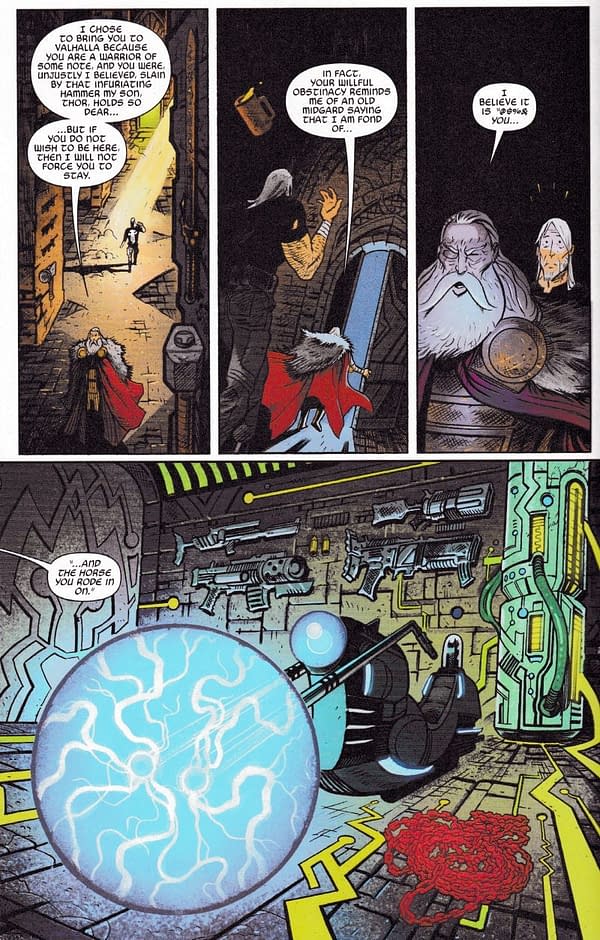 I think that phrase was meant to be "knull you", right, Donny? It's a different age. And all praise to Dylan Burnett, who draws vastly differently set series of scenes — few have jumped around different realities so convincingly without losing the story thread. It's a triumph.
So, in a fashion that may seem closer to Deadpool, Cosmic Ghost Rider sets out to do what he's done best — which is to basically cause a lot of trouble for those he deems deserve it. The Punisher with the mission of the Ghost Rider and the power of Asgard behind him. Oh, and a time machine. We all saw the end credit scenes of Deadpool 2, right? Well, the Punisher goes on a similar journey.
One deleted scene was Deadpool going to a maternity ward in Germany in the early twentieth century to murder Adolf Hitler as a baby. Even when it was Hitler, early audiences reacted badly and it was cut. Cosmic Ghost Rider has a very similar (but more personal) idea that will play off people who saw the recent Avengers movie very strongly.
But with a solution that is both classic comics and utter genius transforming this from a comic you quite liked the idea of, to absolutely having to buy the second issue.
Although maybe the New York Times won't run this in the headline. Shame, it may have a better effect on sales that what they did for Batman #50…
COSMIC GHOST RIDER #1
(W) Donny Cates (A) Dylan Burnett (CA) Geoff Shaw
EXPLODING FROM THE PAGES OF THANOS!
Frank Castle was the Punisher. A deal with the devil made him Ghost Rider. A deal with Galactus made him cosmic. A deal with Thanos made him…DEAD?!? Not to worry, he's coming back, and he's got a plan to make the universe a better place that's going to lead him into an even CRAZIER adventure than he's ever been in! Join hot new comic (and cosmic?) writer Donny Cates (THANOS, DOCTOR STRANGE) as he pushes his wildest creation past the breaking point!
Rated T+In Shops: Jul 04, 2018
SRP: $3.99
Enjoyed this article? Share it!