Crossing America With Drawn Away – The Genesis Of A Comic Artist With Luke Foster
By Shawn Perry
Recently, I had the pleasure of meeting with local artist Luke Foster at our local comic shop, A Hero's Legacy. In recent years, Foster has produced an impressive body of work, both with web comics and self-published graphic novels. He has also become quite the journeyman, but as he explains, it took Foster a long time to harness his passion and get out into the world – both literally and creatively.
Much of Fosters' work is based on personal experience. For example: one of his first web comics, The Gang From The Store was based on his humorous experiences as an employee at the store. He has since packaged that series into a graphic novel, along with his insightful travelogue Drawn Away which follows his journey across America.
As he explains, in regards to exploring and producing, the last few years are a trek he does not regret.
Shawn Perry: So Luke – I know you've got books to ink so I will cut to the chase – how did you get started in comics?
Luke Foster: I started out in 2008 with the web comic called Moon Freight 3 – a science fiction comedy strip about being twenty-something with a job that you hate. I thought there were too many stories about the galaxy's greatest starship captain and I wanted to produce something different. That strip ran for about four years and during that time I did one called The Gang From The Store and, as the name implies, that was all true stories of things that happened while I was working here with Scott Prentice, Marc DiPietro, Lita Rebello and Brian Kozicki.
SP: So I really enjoyed Drawn Away – can you tell me how you came up with the idea to do a travelogue about your cross-country adventures?
LF: One day in November 2012 I was with my parents and in a bit of a rut with my job and my personal life. I felt like I was treading water and was considering a move to Portland, Oregon just so see something different for a while. My mom said 'don't move somewhere without visiting you should travel for a while' and I said "OK – I think I will' and to justify quitting my job I had to do my comic book travelogue so that was the genesis of Drawn Away.
So I packed my bags, set up some stops with friends and spent four months on the road. Most of the time I slept rough at campgrounds and produced Drawn Away as I went along. There were times when I got anywhere from 1-3 weeks behind because I was driving a lot and found it difficult to find service or a place to plug my computer in the desert. When I got home I finished it and since then reception has been extraordinarily positive. A couple of stores that carry it have almost sold out which shocks me! It's very flattering and humbling. Now it's just a task of getting it out to new readers and if anyone out there reading this is interested they can contact me (lukejfoster@gmail.com) and I will make the arrangements. SP: It sounds like a lot of your work comes from your own experience, do you find that you have a natural inclination towards personal storytelling?
LF: Sort of. It is kind of an indirect thing where I find the more exciting things I am experiencing at the time. the more interesting my stories become. Personal storytelling is kind of my thing, as opposed to some giant epic fantasy story where the fate of three thousand kingdoms is up for grabs. Stories that follow smaller sets of characters where interesting things happen but a lot of focus is on their personal journey.
SP: You have been getting out there on the comic book convention scene recently can you talk about what it has been like to get more attention for your work?
LF: It is always fun to meet new people with the same passions like kids in costumes who are experiencing all this for the first time and adults who are finding a way to have fun with friends they might not see much outside of cons. I love introducing people to my books and I love drawing for them. When I am at conventions I tell people that I will draw anything they want as long as I can see a picture so I know what it looks like. Even if it doesn't exist as long as they give me a good idea of what it should like I'll take care of it. Thanks to smart phones it's easy to do that sort of thing.
SP: What do you think about comic book culture and how it has developed since you first started reading?
LF: I think in terms of mainstream acceptance it is fantastic with respect to their maturity and potential. I don't think there has ever been a better time to be a fan – not since the Seduction of the Innocents back in the forties – I also think the industry internally is developing with campaigns to make comics better reflect diversity. At conventions I see so many young kids in costume and as many girls as boys now. It's just so matter-of-fact now that girls are welcome and it doesn't occur to them there might be people there that think that they shouldn't have things that cater to them. Comics are for everyone and I don't want anyone to ever have to feel unaccepted reading comics and anyone.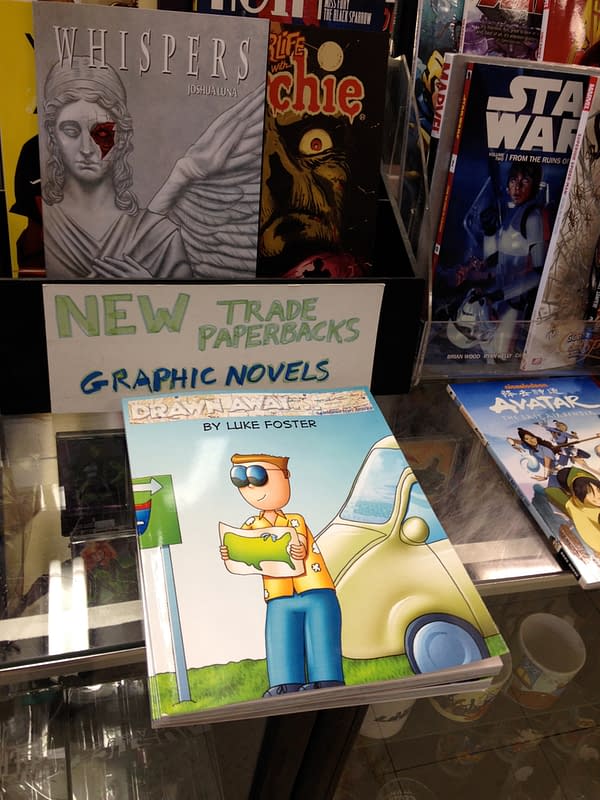 SP: Can you tell me more about your experience as a self-published comic creator, which is something that you dedicated the time to make happen and not many people today can say that as there are so many closet writers and artists out there who give up because they're afraid to fail or just can't find the time. What motivated you to go for it and get over the proverbial hump of second-guessing?
LF: I've wanted to do comics my whole life but for a time there I had let myself get convinced that I could never do it because a) I could never make money at it and b) because I just wasn't a good enough artist. Then right around when web comics started to become a thing I said 'I really want to do this – I know I'll just write something and find someone to draw it for me.' I tried to do that a couple times and initial meetings would happen but things would sort of just fizzle out. So then I thought 'the heck with it I'll draw it myself.' My first attempts were very rough but I kept at it and like to think I have gotten better. I have learned a lot I've learned anatomy, movement, color and how to make characters look less stiff.
SP: What's it like now that you have a few books under your belt – have people come asking you to draw their work?
LF: Not yet but I am open to it! My art style is very cartoony, similar to what you see in a newspaper and I think people sort of see me as doing my own thing right now…but my dream is to do comics full-time with a mainstream publisher or one of the larger indie publishers. I'd love to not be self-published but for now I have my day job and I get a lot out of being on the convention circuit.
SP: Speaking of conventions, what's on tap for you in the coming months?
LF: I am going to be at Insta-Con in Kennett Square in PA later this month and I will be at Baltimore Comic-Con in September. I will also be doing a Drawn Away signing right here at A Hero's Legacy on Saturday, July 19th.
It is always exciting to meet people who have taken something they love and found a way to engage with it in a personal way. We live in a society where personal consumption is everywhere and it can be easy to get caught in the trap of feeling lived by society. While it might be hard to invest the time I believe that these stories and people like Luke Foster prove we can't afford to ignore our calls to adventure in life because, like a comic book, our lives are vessels for incredible experience and if we don't fill them up – who will?
I challenge you to get Drawn Away.
Shawn Perry is a comic book and film enthusiast striving to be here now. He currently resides in East Hartford, Connecticut. Tweet him @thesperry and feel free to email at Shawn.Perry88@gmail.com.