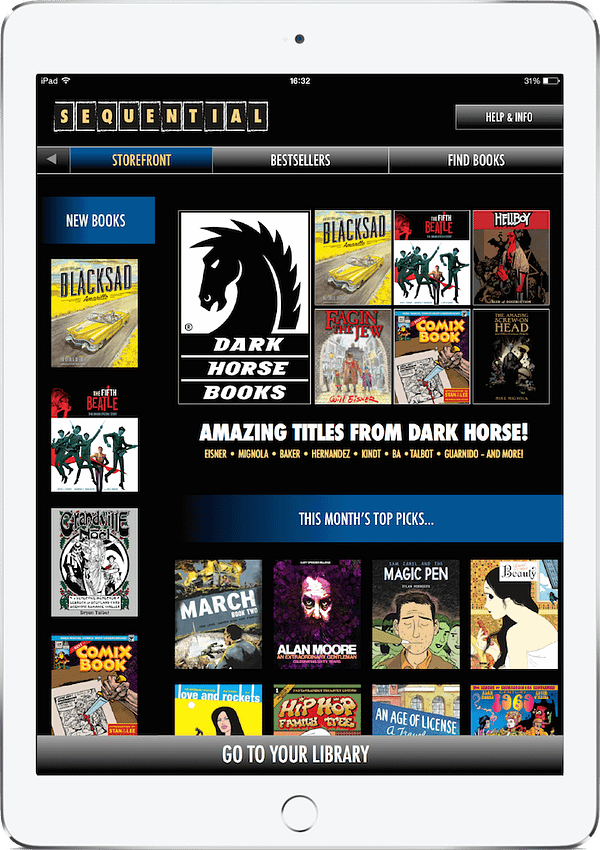 The Sequential App is an iOS boutigue digital graphic novel service, curating a number of select graphic novels for a discerning digital purchaser. Fantagraphics, Top Shelf, Knockabout, Blank Slate, Self Made Hero, those are the kind of publishers you expect to find there.
Well, now they have sold out to the man. Because they had done a deal with Dark Horse to list their graphic novels as well.
Which means Dark Horse, which prided itself on its own independent digital app, away from the likes of ComiXology, have also sold out to the man.
I'm not exactly sure who this man is, but he seems to buy out a lot of things.
The first graphic novels, which seem rather in keeping with the exclusive range of products offered include Will Eisner's Fagin the Jew, Bryan Talbot's Grandville Noël, Gilbert Hernandez's Speak of the Devil, Vivek J, Tiwary's The Fifth Beatle: The Brian Epstein Story, Canales and Guarnido's Blacksad, Mike Mignola's Hellboy and more.
SEQUENTIAL is free to download from the App Store here:
Enjoyed this article? Share it!