Bleeding Cool knows that David Tennant will be appearing in the 50th Anniversary of Doctor Who this year. And clearly so does Jonathan Ross.
Well, David Tennant appeared on the Jonathan Ross Show on ITV last night. In which we saw a couple of Christmas gifts from his wife, Georgia, which Jeremy Piven also seemed to enjoy.
So Ross decided to press him on the issue…
Jonathan: This year is the Fiftieth anniversary of Doctor Who

David: Is it? I hadn't noticed

Jonathan: I believe they're planning something special

David: I believe, I don't know

Jonathan: I know you're an honest man, so if I ask you directly, so no one has spoken to you about…

David: No one has spoken… I know nothing.

Jonathan: No one has spoken to you?

David: I know nothing.

Jonathan: No one has spoken to you, saying its the fiftieth anniversary"

David: In make up tonight this lovely lady came in, who I'd never met before and aid "hello I'm from the BBC" I went "oh hello, nice to meet you." "I've been sent to say that anything that the Doctor Who 50th anniversary must not be mentioned on television." That's how scared they are. I don't know anything, they're sending out spies to shut me up from telling you things I don't know.

Jonathan: They haven't said to you are you free, do you have a gap in your work diary at any stage this year.

David: I have not had a conversation like that

Jonathan: Has anyone had a conversation on your behalf about your diary, is there someone who keeps your diary who for the sake of honesty ininterviews like this who would not yet have spoken to you about chunks of time you might have put by to visit Wales this year

David: I don't know if I'll be going to Wales, I couldn't…

Jonathan: So you're going to film it here in London?
(LAUGHTER) and then onwards… talking about how Tennant deals with Who fame, then listing Tennant's upcoming projects, Broad Church and Spice Of War (below).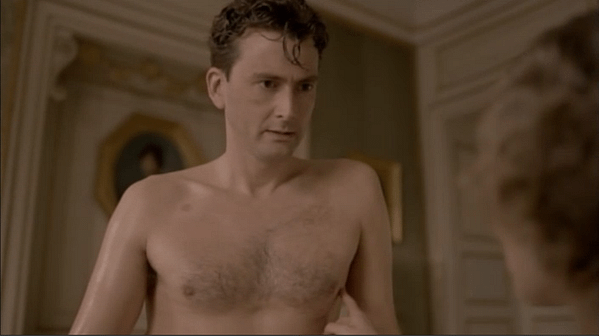 Jonathan: You've got the Doctor Who 50th Anniversary to film…"

David: I didn't say that.

Jonathan:But you didn't deny it…
And the news that David Tennant is going to be a dad again… looks like those Christmas presents may have worked.
Enjoyed this article? Share it!