Feel The Power Of The Sights And Sounds Of Boston Comic-Con
By Shawn Perry Last weekend Boston Comic-Con blew the roof off the Seaport World Trade Center and my heart. On one of the most beautiful weekends of the year thousands of descended on the overmatched venue and the city Fire Marshals had nary a moment's rest but it was awesome…
It was the most fun I have had at a convention and I credit that to the obscene number of amazing artists in attendance. My favorite moments were getting my copy of Punk Rock Jesus signed by Sean Murphy, seeing a panel with Gail Simone and waxing nerdeloquent with Indie creators like Boots and Pub scribe John Yuskadiz. Yuskadiz is a life-long comic book fan that has attended Boston Comic Con for years and, as he explains, this year's convention may have been the best ever.
It's been a great crowd. I've been coming to this event for years and this is definitely the biggest it has ever been. It has been so popular that the organizers actually had to send out a message on Saturday alerting fans that they could not let any more people in. " –John Yuskadiz
Boston Comic-Con began in 2007 at the Back Bays Events Center and the first event attracted just under a thousand fans. Since then it has grown exponentially and was extended to three days this year in response to popular demand. While there were more celebrities this year than in past years, including Doctor Who star John Barrowman and Lord of the Rings star Sean Astin, co-founder Nick Kanieff has stated that keeping the emphasis of this event focused on comic books is a priority – and, in my opinion, it shows clearly in the product.
The comic fans were with us when the Boston Comic Con was in 13,000-square-feet at the Back Bay Events Center and we didn't have any major guests. They were there then and they are here now so we are keeping the comic in comic-con.
The city of Boston has been a stronghold of comic book culture even before Aimee Mann was selling Sandman at the original Newbury Comics in-between rehearsals with Til' Tuesday. According to artist Jesse Farrell, who along with Sean K. Downey was there promoting their upcoming book Frankenstein vs the Zombies, Boston and comics go together like a Fenway Frank and a Sam Adams on a cool summer night.
Boston has one of the most comics-literate crowds I would say in the entire country. The people here love comics, understand comics and make this a fun place to be every year. " –Jesse Farrell
This year Boston Comic-Con was expected to draw 40,000 fans but the interest actually exceeded those early expectations. Thankfully they had a well-organized staff who managed to get fans inside as soon as building regulations would allow and as far as the line goes this past weekend had to be one of if not the most beautiful weekend of the summer so waiting in Boston Harbor wasn't the worst thing in the world. But with that said, the event organizers did send out a message apologizing to fans for the long wait and promised improvements for next year.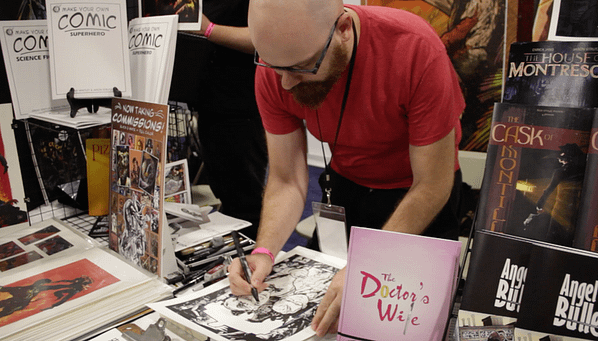 Now take this with a grain of Bleeding Cool branded salt but the early word on next year is that the convention will be moved to the much-larger Boston Convention Center to accommodate this unprecedented demand. While on the subject of the wonderful world of Bleeding Cool on Saturday I met Fist of Justice scribe Mike Imboden who recently included our own Rich Johnston in his book just to give fans the opportunity to kill him – as an already undead zombie, no less – through an extremely creative Kickstarter campaign.
As Imboden explains, the campaign was a total success for everyone involved…well except Zombie-Rich who got the ol' Jason Todd treatment from fans.
So I go on Bleeding cool and see all the kickstarter articles and they're just trying to be creative and I went 'what hasn't been done?' Zombies are like the big thing right now so I said 'lets turn rich into a zombie' and based off how much we raised Rich would either escape or we'd kill him. By the end of the kickstarter he just got killed."
Overall I had a great time repping BC at BCC – yeah I've been waiting to unleash that gem on the world for a while – hanging with my favorite artists and meeting new ones like Jennie Wood (Flutter), Liz Plourde (How I Made the World), Jason Strutz (House of Montresor) and superhero-themed songwriter Allen Shervelle. Not to mention galumphing the streets of Boston after-hours while it was filled with cosplayers, gamers, bleeders and all the other tribes of geek-kind.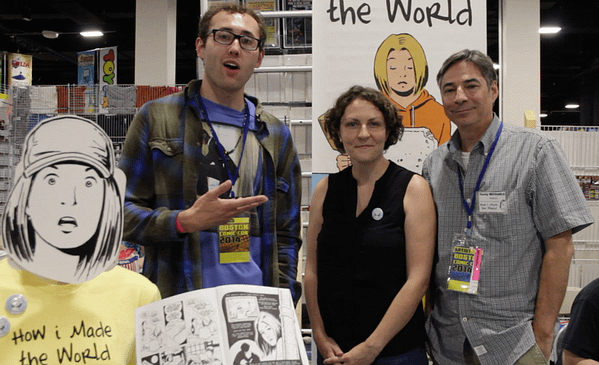 As I always do after having a powerful comic-con experience, I left feeling filled with a sense of encouragement as well as a burning desire to pursue my dream of writing my own comic book. Then one of my heroes died and it got me thinking about how important it is to follow the fire in your heart and to never let it burn out. I don't know what my future holds so until I earn my place on the other side of the booth, I want to take this opportunity to say that having the amazing platform that is Bleeding Cool to share my experience and passion with all of you fills me up in a way that I am not capable of fully expressing here and I cannot thank Rich Johnston, Hannah Means-Shannon, David Dissanayake, Victor De Leon and all of you bleeders enough for the opportunity and encouragement.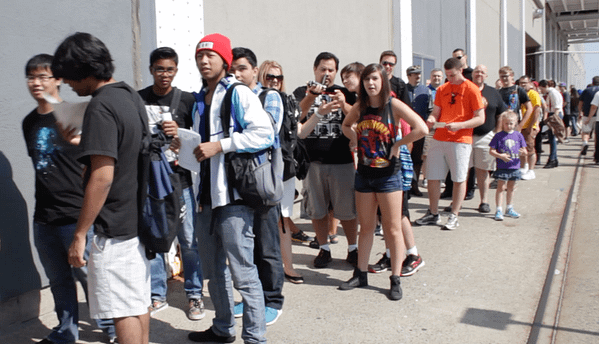 You are the lifeblood that makes this place Bleeding Cool – and I thank you.
For more info on the sights and sounds of Boston Comic-Con check out this video coverage and be on the lookout for additional coverage of Boston Comic-Con including my interview with Jason Deeble of Monster Haiku, Oliver Mertz and Mike Isenberg of First Law of Mad Science.
[youtube]http://youtu.be/HaingIm5vts?list=UUiOYVfq9FD8zfrjq_2mV2Jw[/youtube]
Peace Ya'll!
Shawn Perry is a proud geek striving to be here now. He currently resides in East Hartford, Connecticut. Tweet him @thesperry and email him at Shawn.Perry88@gmail.com.