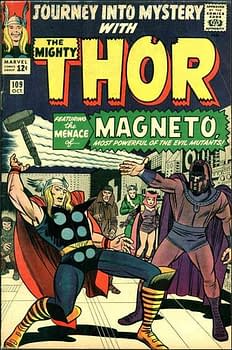 In the middle of a very DC-centric week, there's still been an awful lot of excitement about the US opening of X-Men First Class. Brendon told you this was a good movie a couple weeks ago, and it seems that pretty much everyone agrees with him. And with the acclaim comes some controversy as well, as the question of who wrote the film is one of today's trending topics here.
That aside, they're off to a promising start according to the Hollywood Reporter. X-Men's midnight opening edged out Thor's by a few bucks. We'll know soon what that means for the weekend.
Most-Read DC Relaunch Stories Today
The Secret Origins Of The DC Relaunch
So, I was told recently that the original decision for DC to relaunch all their titles with 52 new issue ones was originally planned to follow the Final Crisis series, with emphasis on the 52 worlds therein. But, at the time, though pushed for by Dan DiDio and others, it was nixed by then-publisher Paul Levitz.
DC Relaunch: Four Green Lantern #1 Comics In September
On the Source blog and in an interview with Associated Press, DC have announced four ongoing Green Lantern #1 books to start in September.
DC Relaunch: What An Evil Pitch
But the timeline seemed interesting – Gail seemed to suggest she and Ethan had been working on it for a longer period than Clevinger's departure. How come? The tweets seemed to make it clear.
DC Relaunch: Scott Lobdell, Brett Booth and Norm Rapmund On Teen Titans #1
So yes, we have Scott Lobdell and Brett Booth on Teen Titans #1
Most-Read Other Comic Stories Today
Power Girl Pushes Out People Magazine
A Barnes & Noble employee writes to tell Bleeding Cool about the hapening-right-about-now stocking and stacking of comic books as part of a new move into the sector that Bleeding Cool has been covering for the past few months, as a direct result of the success Hastings has found in this area. Looking at the floor plan for the new comic book positioning, I'm told;
A Few Extra Preview Pages For Daredevil #1
Well Bleeding Cool has that last page in colour, and a couple more to boot…
Swipe File: Black Cat And The Birthday Card
On the left, the cover to Harvey Comics classic, Black Cat #1.
Most-Read TV/Film Stories Today
Who Really Wrote X-Men: First Class?
When you go and see X-Men: First Class (and do go and see X-Men: First Class, it's superb) you'll see a whole raft of writing credits in the opening titles. There's been some real controversy about some of these names, and when Bleeding Cool recently got a chance to speak with four of the individuals credited, it would have been remiss of us to not ask about it.
Full Theatrical Trailer For Rise Of The Planet Of The Apes
I've been feeling pretty good about Rupert Wyatt's Rise of the Planet of the Apes and this new, theatrical trailer does nothing to undermine my enthusiasm.
Captain America Storyboards Show How Thor Continuity Ties In
And he's put some of his work online… which also gives us a glimpse as to how the movie will tie in with continuity seen recently in Thor. Spoiler goggles on.
Most-Clicked Pics Today:

Enjoyed this article? Share it!