Geoffrey Thorne, a Big New Name For DC Comics?
Geoffrey Thorne was an actor through the eighties and nineties, most prominently as one of the leads in long-running In The Heat Of The Night TV remake cop show as Sgt. Wilson Sweet. In 2000, he changed careers to become a writer, initially a Star Trek novelist, finalist in the Writers of the Future contest, he went on to write for Law & Order: Criminal Intent, Leverage and The Librarians, which he produced. He also wrote for animated series Ben 10 Ultimate Spider-Man and Avengers series. He went on to create the Avengers: Black Panther's Quest series and the character Mosaic for Marvel Comics as part of their Inhumans push. He has also written episodes of Super Dinosaur, Niko and the Sword of Light.
Thorne is also a co-founder and writing partner of Genre19, a studio he formed with artist Todd Harris in 2008 and he is also the co-creator of Phantom Canyon, an audio drama from Pendant Productions. He is also the co-exec producer on the upcoming Power: Book II: Ghost show from STARZ.
For comics, as well as Mosaic, he also wrote Solo, Knight Rider, Black Panther, Dark Horse Presents and more, including his recent Battlebooks comics, and last week's Marvel's Voices.
But we hear he may be becoming one of DC's Voices instead. Bleeding Cool has learned from well-connected sources that it is expected Geoffrey Thorne will be a major figure in upcoming DC Comics titles. Like Tim Sheridan, Ken Kristensen and Kevin Shinick all of whom we mentioned earlier, he is one of a number of new creators to DC Comics that Bleeding Cool is profiling, brought into DC by Dan DiDio in recent months. Possibly 5G/Generation Five titles, possibly Black Label titles, that kind of detail will come later. Geoffrey is part of DC's Big Change that we were talking about over the weekend, a move at DC Comics away from the usual comics writer talent base, to TV, film and animation writers, with the intention to bring in new energy – fans of the comics but people who who have pursued that interest in other directions, with other influences and voices.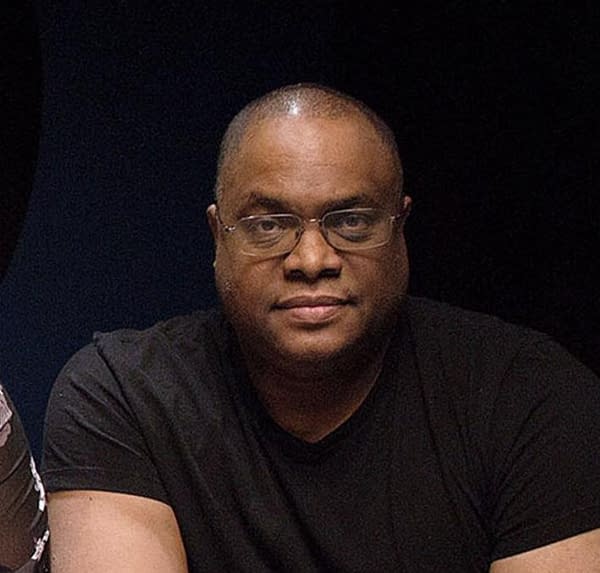 What books Geoffrey would be working on, I don't yet know.
Keep up with what – and who – Bleeding Cool are reporting about DC's Big Change in the next few days, with this tag.