So you're going for a drive in the Shetland Isles in the UK. You approach a remote coastal village, there are fishing boats, small dwellings, an approaching pub… hang on… what's that ahead? Brightly coloured chaps, looking very peculiar… let's go take a closer look. Surely this is the secret hiding place of the new Justice League/Avengers crossover, or something like that! The Pierhead Restaurant & Bar in the village of Voe in the Shetland Isles. No one will find them here!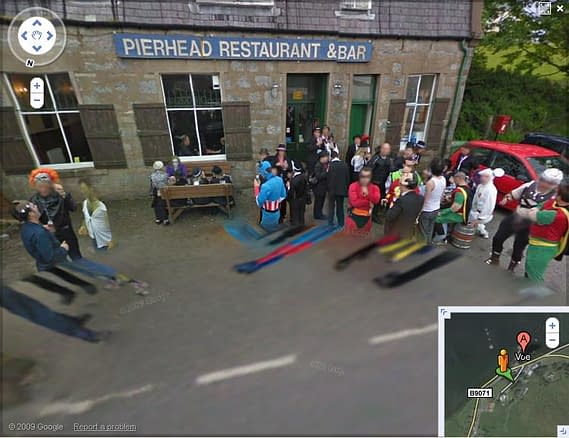 Apart from Google Street View that is. Goodbye everyone, we won't tell!
UPDATE: I spoke to the manager of the Pierhead who tells me that this scene occurred a couple of weekends ago, and was most likely a stag do/birthday party – it's common for themed events to travel through the island stopping off at various drinking holes. That's the cover story anyway…
Enjoyed this article? Share it!