Happy! Season 2: Production Under Way, Blood Confirmed for Second Season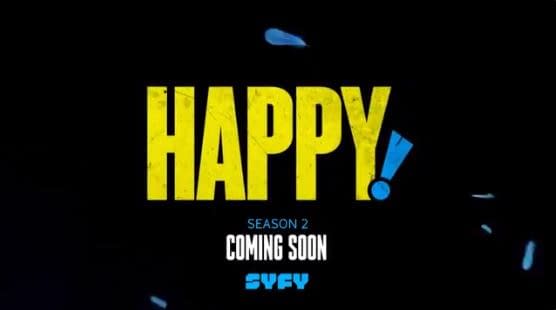 So Sax (Christopher Meloni) vanquished Very Bad Santa (Joseph D. Reitman), reunited with Amanda (Medina Senghore), Hailey (Bryce Lorenzo), and Happy (Patton Oswalt), and worked with Merry (Lili Mirojnick) to get Francisco "Mr. Blue" Scaramucci (Ritchie Coster) off the streets for good… and they all lived happily ever after!
Except that wouldn't make for a very interesting second season of Syfy's Happy!, would it?
Three things made it pretty obvious that Sax's story was far from over: his bad habit of snatching defeat from the jaws of victory; Blue's new-found insatiable "hunger," thanks to a post-credits visit to Rikers Island from Mikey (Gus Halper); and of course there were these:
But that was six months ago, so let's flash-forward to today-ish as director/executive producer Brian Taylor took to Twitter to "warn" Happy! fans that production on the new season currently under way:
Though Oswalt appeared a bit shaken by the news, Meloni made sure Taylor was aware of where the real blame lies:
While comic book series writer/executive producer Grant Morrison looks ready to ride the Happy! trails one more time:
Meloni has been updating fans and followers on Instagram during the series shoot, starting with this group selfie during the first cast read-thru and offering visual teasers as production continues. Check out some of the highlights below:
But before anyone thinks Happy! is going full-on "namaste," Taylor tweeted out a "friendly" reminder the upcoming season was going to get a little – messy:
Looking for a down-and-dirty recap of Happy! Season 1? No worries: your friends at Syfy have you covered:
Happy! is based on New York Times best-selling author Grant Morrison and Darick Robertson's graphic novel of the same name. The series follows Nick Sax (Christopher Meloni, Law & Order: SVU) – an intoxicated, corrupt ex-cop turned hit man – who is adrift in a world of casual murder, soulless sex and betrayal. After a hit gone wrong, his inebriated life is forever changed by a tiny, relentlessly positive, imaginary blue winged horse named Happy (Patton Oswalt).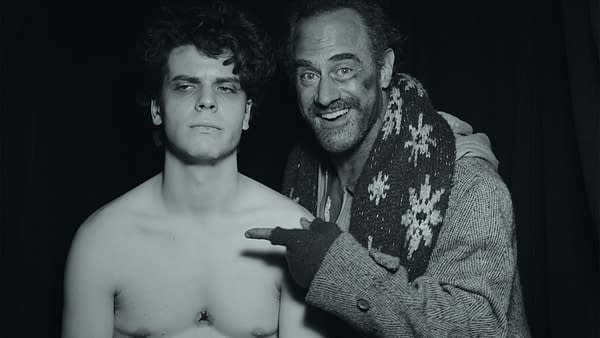 Syfy's adaptation of Happy! stars Christopher Meloni as Nicholas "Nick" Sax; Patton Oswalt as the voice of Happy; Ritchie Coster as Francisco Scaramucci; Lili Mirojnick as Det. Meredith "Merry" McCarthy; Medina Senghore as Amanda Hansen; Bryce Lorenzo as Hailey Hansen; Patrick Fischler as Smoothie; Debi Mazar as Isabella Scaramucci; and Christopher Fitzgerald as Louis "Sonny Shine" Sheinberg.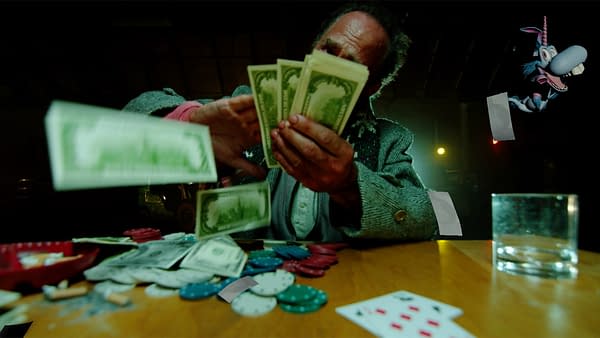 A cooperation between Original Film, Littleton Road, and Universal Cable Productions, Happy! is executive produced by Meloni, Morrison, Neal H. Moritz, Pavun Shetty, Toby Jaffe, Brian Taylor, and Patrick MacManus; Thomas Sellitti, Jr. and Bill Butler are producers.