We've got an exclusive clip this week from 'Carry Tiger to Mountain', which is episode 5 of AMC's Into the Badlands! Castor (Dean-Charles Chapman) launches an assault on the refugee camp, but the camp is not quite defenseless as Tilda/Iron Rabbit (Ally Ioannides) is there to face him down.
First things first: where do we get a motorcycle with blades attached to the handles? If anyone knows, please let us know ASAP.
You know the stunt coordinators were giddy when they found out they'd have to choreograph this scene. Does this mean that the detente between The Widow (Emily Beecham) and Pilgrim (Babou Ceesay) and Cressida (Lorraine Toussaint) is over? Or does it mean that Lydia (Orla Brady) has completely abandoned the refugee camps now that she's working for The Widow?
We also know this episode will see Sunny (Daniel Wu)and Bajie (Nick Frost) seek help from a reclusive former Master. The Widow (Emily Beecham) confront a spectre from her past as Chau's slave. Lewis Tan is also back as Gaius Chau this week. You can also catch him on the big screen in a little film called Deadpool 2…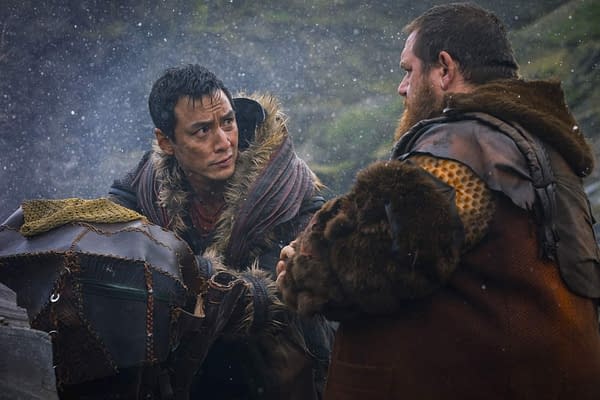 Into the Badlands airs Sundays at 10/9c on AMC.
Enjoyed this article? Share it!