Joe Quesada Announces Black Captain America On Colbert Report – Respectfully We Informed You Of This Event At A Previous Juncture (UPDATE)
Well, we did inform you, so when we heard that there would be an announcement on the Colbert Report by Joe Quesada himself tonight, given the fact that Colbert sports a Captain America shield on set, it was a fair bet that the reveal would be this very one in the lead up to SDCC. And we even supposed that he would be Sam Wilson, the Falcon, given his popularity as a character in Captain America: Winter Soldier.
We also respectfully remind you that this is not the first official black Captain America, that having been Isaiah Bradley, presented as the first Captain America before Steve Rogers, also the progenitor of Patriot in the The Young Avengers. The show opened with Colbert at full-tilt of his own obvious fandom saying: "Big news from the world of comic books. You're going to want to save tonight's show in a plastic sleeve!" When it came to the comics portion of the evening, he said, "We are losing one of our greatest [heroes], Captain America", pointing out that the Hulk was nowhere to be found during the Holocaust. "Unfortunately Cap's days are numbered", he said, "and the number is 21", pointing to the comic issue.
His rendering of the plot of #21 was rather hilarious and did read like political commentary, and suggesting that Cap will now be drinking Ensure punctuated the storyline. "Who among us is prepared to step in?" he asked, to raucous chanting of "Stephen!" from the crowd. "Obviously, you'd have to be extremely patriotic", he said, look decades younger than your age and "own Captain America's actual shield", he concluded, pointing to his own, which he's had since 2007. Joining him to say who the next Captain America will be was Joe Quesada, Chief Creative Officer at Marvel, who arrived by "helicarrier", according to Stephen. Quesada said that with Steve Rogers handing the mantle over, "Sam Wilson, his partner, The Falcon", will be the next Captain America.
Colbert pointed out that Sam Wilson is black, and so asked if this makes him the next "Captain African America"? "Doesn't that mean a new Falcon?" Stephen asked. The opening is "available", said Quesada, and the crowd started chanting "Stephen" again, at which point Quesada produced an image of Stephen Colbert as the Falcon in response. Colbert's new catchphrase for the Falcon was "Why did the Falcon cross the road?" Quesada shook his head to the question. "For Justice, motherfucker!", Colbert cried, to more loud applause. So there you have it folks. Sam Wilson as Captain America and Stephen Colbert as the next Falcon. Now that would be a comic and Sam Wilson would have his hands full keeping that Falcon in check.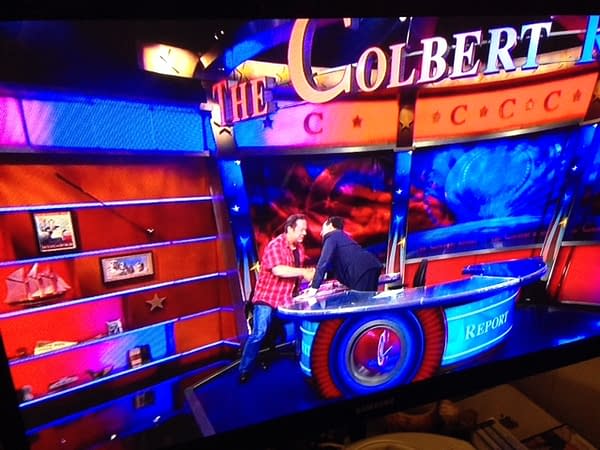 Well that's not all there is to say or show, actually, since Marvel shortly thereafter posted the official artwork on Twitter to accompany the announcement:
Read exclusive comments from @Remender & @TomBrevoort about the #AllNewCaptainAmerica: http://t.co/48PgAL2m7n pic.twitter.com/87NnsOFNSj

— Marvel Entertainment (@Marvel) July 17, 2014