Look! It Moves! by Adi Tantimedh #46: The Cult of the Good Weird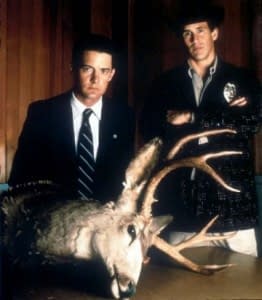 Cult media – cult movies, cult novels, cult comics – hold a fascination for me. They're the extreme definition of Termite Art. They're often not mainstream for some reason, sometimes conscious, sometimes not. It's easier to create a cult novel or comic because it's easy and cost very little to put down on paper to produce compared to movies, which have lots of money decisions behind it. Cult media display an off-the-tracks viewpoint or sensibility because their creators can't help it, even the movies that started out trying to be mainstream but end up too weird or singular to succeed. Cult media doesn't get rave reviews. They have to have middling reviews, outright negative reviews, and then fanatically enthusiastic reviews and a following from those people who "get" it. They're cults because they're not commercial hits but acquire a hardcore following.
The thing about cult media is that they're made by people who can't help it – they can't do it any other way, even when they try to be mainstream and straight. Storytellers – writers and filmmakers – that try on purpose to be "cult" tend to fail because it's too self-conscious and calculated, the down-market version of pretentiousness. Audiences can smell it. The pre-eminent cult filmmaker is probably David Lynch, who absolutely refuses to make anything that doesn't dance to his own tune. And TWIN PEAKS is, after THE PRISONER (original Sixties version), the one TV series that is cultish to the point of inspiring feverish devotion.
In fact, it has such devotion that it's even inspired a video game.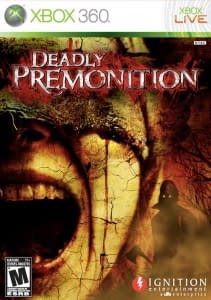 DEADLY PREMONITION feeds off and riffs on TWIN PEAKS the way a bizarro clone feeds off Superman. The game has a strange, chequered history. Produced by what must be some seriously nuts Japanese TWIN PEAKS fans with a small budget, the game was originally announced back in 2007 but only finally quietly came out in the US back in March on the Xbox 360. It even has a different title in Japan, RED SEEDS PROFILE. It was released without any fanfare or publicity, with the vibe of a failed game unceremoniously dumped into the market and at the way-low price of $20.
You play Francis York Morgan, an FBI agent sent to a small town called Greenvale to investigate the murder of a popular high school girl. York finds the town is full of eccentrics and weirdoes who each have their own story that become sidequests the way a TV show would feature their stories as subplots. Then York gradually discovers the supernatural dimension behind the town and the increasing number of murders and the gameplay falls into the Japanese Survival Horror genre.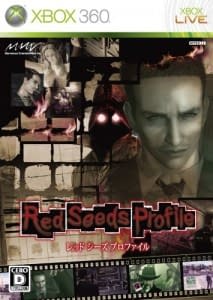 Reviews of DEADLY PREMONITION have been mixed, including IGN's, which published an outright pan for its awkward and almost broken game controls. The graphics look murky and outdated, like this was originally a Playstation One game. Yet other websites have given it rave reviews despite the bad controls, and the game itself is getting a passionate following from people who love it. They say that the awkwardness might actually be deliberate. There are so many things wrong with it on the gaming level: the maps don't quite work, the music is wildly inappropriate, and the dialogue is completely surreal and incongruous. The game may not sell many copies, but its sales are increasing through sheer word-of-mouth. All of this fits the criteria of a cult.
There are so many other elements all over the game that are downright loony from a game design point of view and this is what the fans love about it. Agent York isn't just quirky and eccentric like Dale Cooper from TWIN PEAKS – he's a rude dickhead to everyone he meets and has a tendency to talk to himself, addressing someone named "Zach", and then none of the one-sided conversations have anything to do with the plot or the murder mystery at all, but meandering, deadpan monologues about 80s movies and how cheesy they were. He's obsessed with coffee. And smoking. Basically, you're playing a character who is batshit insane. How can you not love that?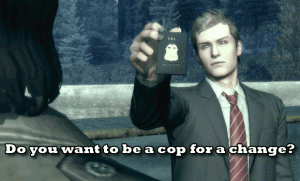 The atmosphere of the game feels surreal and eerie just like TWIN PEAKS does, even at the expense of making the game playable, but the fans who stick with it say that's the whole point. It's as if the designers are out to recreate the show at the expense of a proper video game, since it's one thing for a game to have elements that work and others that don't in a big way, it's another thing to have that high a miss-rate without the sneaking feeling that they did it on purpose. Even the leaderboard elements where the gamer's progress is recorded are surreal: you're rewarded for how far you drive aimlessly on the huge town map, how often you smoke cigarettes, how much coffee you drink, how often you clean your suit, since if you don't, eventually you will stink and flies will waft around you wherever you go. Virtually every aspect of this game is completely nuts. It's like it was designed to pleasurably torture the player, which is something the Japanese are particularly adept at. The surreal view of American weirdness is filtered through the eyes of crazy Japanese otaku whose experience of America is almost exclusively from American TV and pop culture.
What fascinates me about DEADLY PREMONITION is how this game could have been allowed to be made at all, let alone released. There are enough elements from TWIN PEAKS in it that you wonder how they managed not to be sued for plagiarism. Given how expensive video games are to make and how many copies need to be sold for them to break even, the definition of cult that you apply to books and movies should not be applied to games for practical business reasons. It's one thing for the occasional oddball detail or broken gameplay control, but for a game to be nothing but sheer insanity and unwieldy gameplay controls that don't do what they're supposed to is virtually unthinkable. DEADLY PREMONITION is either a very brave artistic experiment or a serious mistake, and that gives it its strange appeal. I've been mesmerized by the gameplay videos posted on Youtube. It makes me want to fork over $20 just to see what it feels like to have a 100% WTF game. There has never been a game like it and I doubt there will be again. There's a strange kind of cultural value in that.
Tempted by the control stick at lookitmoves@gmail.com
© Adisakdi Tantimedh