Of all the pop culture franchises with huge followings out there, there's one that has been under the noses of mainstream comics and movies for years, yet has a following as big as any you could think of.  That figure is the Japanese pop idol Hatsune Miku.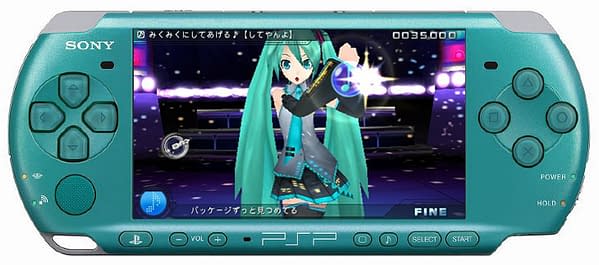 Hatsune Miku is a character that's beyond what William Gibson first wrote about in his cyberpunk novel IDORU.  Her look is unashamedly anime and moe.  She's the lead character in a Sony Playstation music and rhythm game series called PROJECT DIVA.  The series has seen several versions go through the PSP, then the Vita and now a PS3 version about to be released.
[youtube]http://www.youtube.com/watch?v=IxgCSsn3-7I[/youtube]
PROJECT DIVA enables players to not only play the song and dance moves of Hatsune Miku but also create new dance moves and new songs for her to sing as well though the vocaloid program.  This is what has fuelled the massive fan following the game has enjoyed.  Players have been creating and sharing through open source new songs and dance moves online, with the encouragement of the games's company Crypton, through its servers where fans can download and resample or revise songs and dance moves for themselves. None of the PROJECT DIVA series has been released in the West, yet it still managed to garner a following among the gaming and manga/anime crowd.  Fans either imported the games, discovered her concert footage online or feel in love with the images and fashions posted online.  Hatsune Miku is so popular that she actually has sold-out concerts all over the world, not just Japan.  She has played stadiums as far as Los Angeles, Florida, Singapore.
[youtube]http://www.youtube.com/watch?v=DTXO7KGHtjI[/youtube]
There was a Hatsune Miku panel at New York Comic Con last October.  The room was filled to capacity with even more people having to stand at the back.  Miku fans are primarily preteens and teens.  I sat next to a teenager who had the game on her PSP, which means she either earned the money or got her parents to import it for her.  There was a 13-year-old girl who was there to film the panel on her minivideo camera, her mother there to support her, despite not understanding what this pop trend her daughter was into was all about, but happy her daughter has a passion.  The kid held her camera steadily and framed the panel and presentation screens as meticulously as any cameraman.  There were entire groups of teens and 20somethings dressed in bright, poppy clothes they made themselves based on Miku and other Project Diva idols.  The fans greeted every announcement of new songs, new modes, new vocaloid characters with joy.
Hatsune Miku is, when you think about it, the perfect Pop Idol.  She has no backstory, no storyline, only an image.  She is a tabula rasa on which gamers, fans and artists can invest any meaning into.  She has become such a phenomenon that even WIRED magazine has written about her, with a bafflement and ambivalence that comes typically from an outsider who doesn't understand the fandom.
 [youtube]http://www.youtube.com/watch?v=wCumYYj4A3k[/youtube]
If you think it's creepy, it's not for you.  If you're a preteen or teenage kid who's into music and games and anime, it makes perfect sense.  What sets PROJECT DIVA and Miku apart from most other pop trends is that rather than just fan worship, it encourages fans to be proactive and creative, to make new songs for her and new dance moves. Fans get to have active participation in the heroine's act.  They get to become her songwriters, sound engineers, choreographers, practically her manager.  Artists practice drawing her and design new clothes for her.
Tara Knight is an animator, filmmaker and Professor at the University of California San Diego who is currently making a series of documentaries about the Hatsune Miku phenomenon to be released online.  She does not take an aloof academic's stance but a fan and insider's view.  She loves Miku as much as any teenager and has friendships with both the fan community and Crypton.  Professor Knight sees Miku as a positive social force that encourages creativity and self-expression, and wants to explore that in her documentary.  After all, the kids who create with Miku are learning basic computer programming.  In creating dance moves, they're learning choreography.  With remastering or creating songs, they're learning songwriting.  In making clothes based on Miku's dresses, they're learning fashion design.  It's entirely possible that from Miku fandom, we could see the next great pop songwriters, choreographers, fashion designers, filmmakers, though interacting with the Miku social media network, some of them could be the next Mark Zuckerberg or Bill Gates.  It's a living, evolving fandom that is creating artists.  And that is a good thing.
The first episode of Mikumentary has been released online, free for everyone through Creative Commons license.  I hope to interview Professor Knight somewhere down the line when further episodes of Mikumentary are released.
Meanwhile, I leave it to the first episode to sum it all up.
[youtube]http://www.youtube.com/watch?v=2-nJABvZlO8[/youtube]
Between the digital and the real at lookitmoves@gmail.com
Follow the official LOOK!  IT MOVES! twitter feed at http://twitter.com/lookitmoves for thoughts and snark on media and pop culture, stuff for future columns and stuff I may never spend a whole column writing about.
Look! It Moves! © Adisakdi Tantimedh
Enjoyed this article? Share it!