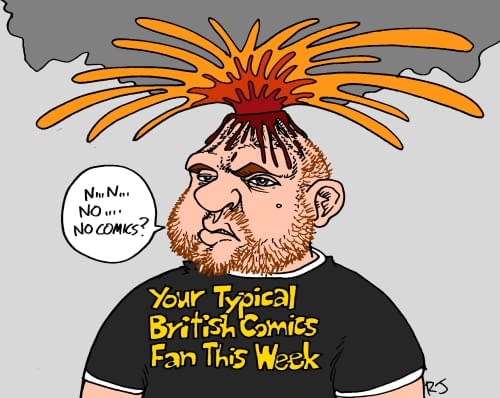 It's going to be an American comic-free week in the UK, thanks to a certain cloud of volcanic ash doing its business all along the western front. Still, we've had blue skies without a wisp of airplane trails across the sky – something I can't remember ever seeing,
Okay. so welcome to Lying In The Gutters, a run through the week on Bleeding Cool. And yes, it's been a busy week. A lot of C2E2 coverage and stuff besides. You'd have been mad if you'd have caught it all.
Top Ten Most Read Posts Of The Week
Bit of a slow burner this one, but a few pertinent links saw this possible explanation of a few of the oddities in the first episode of the new Doctor Who written a couple of weeks ago get a big boost by the American airing of the show. Even if Steven Moffat seemed to completely dismiss the theory.
And it wasn't even in full. But this first look at artwork with Steve Rogers in Fighting American style garb ahead of official C2E2 announcement was a popular one. There were a lot of those week.
That's how it started anyway. Confirmation of the vampires vs mutant plotline in upconming Xbooks. It then transmuted into Mark Millar's reaction to his publisher running competing storylines to his own. That may have been fuelled by a visit to the pub.
The visual reveal that, apparently, doomed everyone who get advance comics to review from reviewing them. Sorry folks, I didn't know. STill it all went official on Sunday anywhay, where's the harm?
Again, an advance accouncement before it was official. When it was, I could replace the chopped-from-the-Secret-Avengers Steve Rogers shot with the official one. Again, never underestimate the power of leaking a story a day before its official announcement. It's not journalism. But it is popular.
And this is the power of a link from Whedonesque, when all you do is repeat as an aside what has already been stated, that Buffy Season 9 would be published from Dark Horse next year. And whump, here comes the JossWave. Currently lapping on the shores of this Buffy/Swamp Thing/Promethea thematic swipe file.
Marvel doing a live transcript of one of their C2E2 panels? Cut paste, cut paste, cut paste, add a little snark for seasoning and let Twitter do the rest.
Ah that's more like it. A collection of rumours circling around a particular stort, given a little examination. After further conversation, I'm currently going with the JMS-only-wanted-Superman-in-Superman-not-in-Action-Comics theory as the most likely. Look for a Lex Luthor arc in Action Comics from Paul Cornell.
Again, another pre-announcement. a couple of days ahead of time. Does the business and I get to use the word "paradigm" in a headline which is always good. Hell, the Daleks used it the day after, too.
Explaining four little letters.
Bubbling Under
So what else is popular – but not quite popular enough? Mark Bagley's rumoured return to Marvel, Jack Kirby Never-Animated Characters getting worked on, Roger Ebert goes postal on Kick Ass while John Rogers gets a bit more personal, while Bleeding Cool predicted lower-than-expected results, Pat Lee Returns and boy that will make for some interesting panels, a rather tabloid look at the very talented Karen Gillan which, yes, I am slighly embarrassed by, Marvel putting out nothing but X-book #1s… oh but I forgot X-23 #1l…, a look at how DC may be promising writer credits to hot artists, Shrek getting lingerie shots, Jim Lee sketching for charity, then challenging people to find his latest pieces. Usually all those pieces would have had a shot at the top ten. Just not this week…
Ten Other Things You Might Like
1. Greg Baldino's Floor–Up Review of C2E2 in many many many many parts…
2. Geoffrey D Wessell's diary of pitching at C2E2
3. The Hunt For Bill Sienkiewicz's Batman: City Of Crime Original Art
4. The Doctor Who General Election, Budget Scandals, new episode and iDaleks!

5. The San Diego Hotel Scam – creators being conned by these conning con artists.

6. Alan Moore cover to his new Dodgem Logic #3.

7. French Cartoonists To Take To The Streets – will there be riots? Here;s hoping!

8. Harvey Pekar Vs Israel – the man does like to pick his fights, doesn't he?
9. Avatar announcing he return of Lady Death and the Crossed movie.

10. Having fun with Margaret Thatcher's face.
That was the week that was folks. I'm off to watch Shameless.
Enjoyed this article? Share it!