Mark Waid Defends Pirates, Gets It On With Sergio Aragonés – Oh And Harvey Awards Results Announced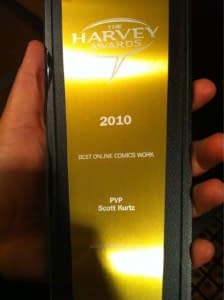 Mark Waid's keynote speech at the Harvey Awards at Baltimore Comics Con last night started by pointing out that copyright was all about putting work into the public domain, rather than preserving it for company ownership, and the concept of public domain should be embraced again. That illegal downloading is inevitable leading to a new culture of sharing. Lines such as "culture is more important than copyright" and "there are more ideas in one week at your comic shop than three years in Hollywood."
Sergio Aragonés was later to counter Waid's theme face-to-face which led to a rather loud contre temps between the two and a bit of a storm off on Waid's part, with Aragones acclaiming that you don't just give your work away.
Anyway, some level of controversy never did an award ceremony any harm. And here are the full Harvey Awards
Best Writer – Robert Kirkman for The Walking Dead

Best Artist – Robert Crumb for Book Of Genesis

Best Cartoonist – Darwyn Cooke for Richard Stark's Parker: The Hunter

Best Letterer – David Mazzucchelli for Asterios Polyp

Best Inker – Klaus Janson for Amazing Spider-Man

Best Colorist – Laura Martin for The Rocketter: The Complete Adventures

Best Cover Artist: Mike Mignola for Hellboy

Best New Talent – Ron Guillory for Chew.

Best New Series – Chew.

Best Continuing Or Limited Series – The Walking Dead

Best Original Graphic Publication For Younger Readers – The Muppet Show by Roger Langridge

Best Anthology – Wednesday Comics

Best Original Graphic Novel – Asterios Polyp

Best Previously Published Graphic Album- Mice Templar by Bryan JL Glass and Michael Avon Oeming

Best Syndicated Strip Or Panel – Mutts by Patrick McDonnell

Best Domestic Reprint Project – The Rocketeer: The Complete Adventures

Best American Edition Of Foreign Material -The Art Of Osamu Tezuka

Best Online Work – PVP by Scott Kurtz

Special Award For Humor In Comics – Bryan Lee O'Malley for Scott Pilgrim Book 5

Special Award For Excellence In Presentation – The Rocketeer: The Complete Adventures

Best Biographical, Historical Or Journalistic Presentation – The Art of Harvey Kurtzman

Best Single Issue Or Story – Asterios Polyp

The Dick Giordano Humanitarian of the Year Award – Tim Sale and Jerry Robinson

Hero Initiative Lifetime Achievement Award – Walt Simonson