Marvel Cosmic Celebrates Christmas With the Silver Surfer in Avengers #28 and Guardians Of The Galaxy #12 (Spoilers)
Today's Guardians Of The Galaxy takes on all of Donny Cates' big plotlines across Thanos, Death Of The Inhumans, Silver Surfer and Guardians Of The Galaxy, culminating in this one issue. While over in Avengers #28 it's just as cosmic, because it's Christmas has Silver Surfer, Firelord and Terrax, as Three Wise Heralds following Yonder Starbrand. Ho ho ho. Tis the season, etc etc.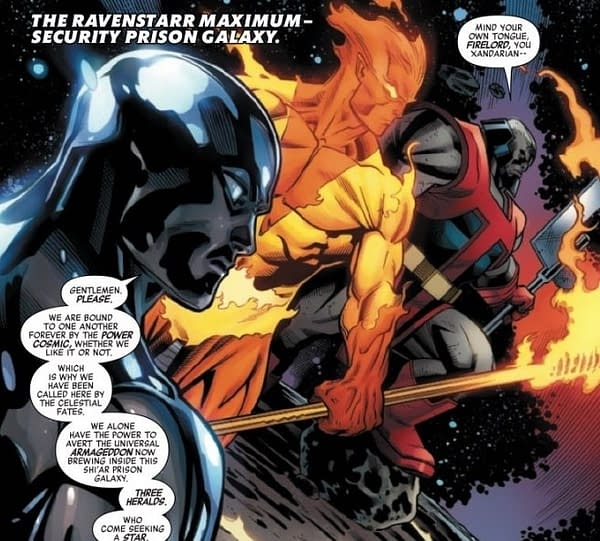 While the new Ghost Rider has been unwrapping his presents early and has a new vehicle to transform, courtesy of Norrin Radd.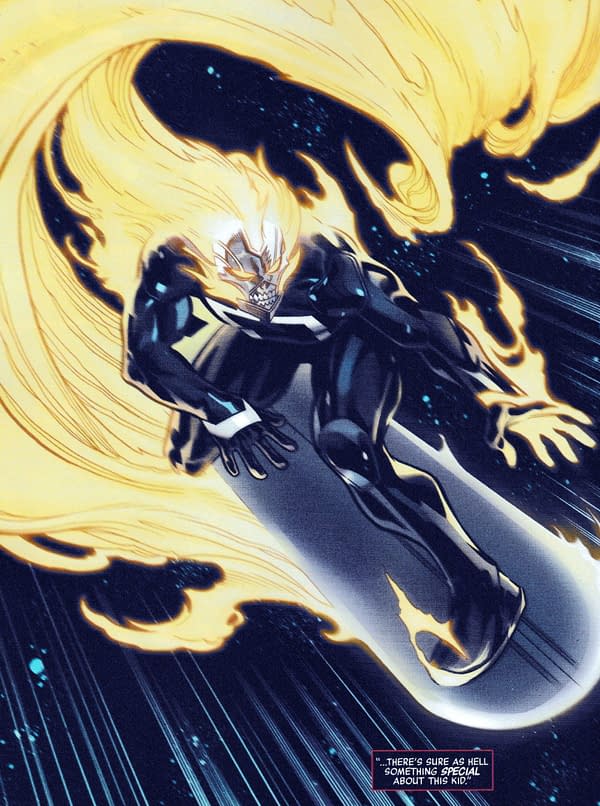 While over in Guardians Of The Galaxy #12, Donny Cates wraps up all his cosmic storylines…
With Cosmic Ghost Rider, Thanos, Death Of The Inhumans and Silver Surfer: Black… in one big bow.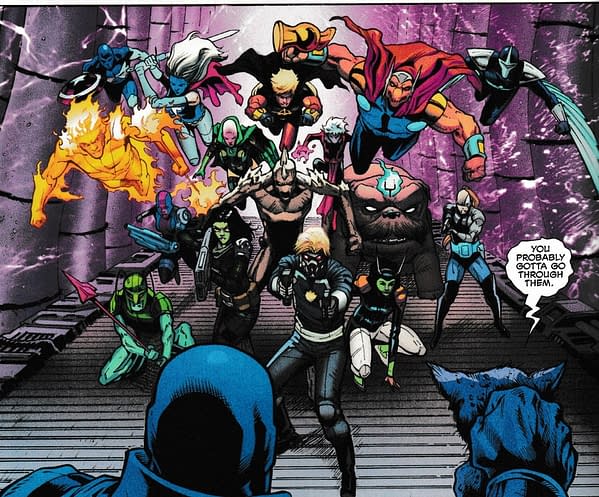 Ho ho ho…
AVENGERS #28
(W) Jason Aaron (A/CA) Ed McGuinness
STARBRAND REBORN PART TWO: THE DRAWING OF THE HERALDS!
A mysterious new wielder of the all-powerful, cosmic super-weapon the Starbrand has arisen inside a space prison the size of a galaxy, drawing the attention of Earth's Mightiest Heroes, along with some of the most powerful figures from beyond the stars. Behold the coming of the Three Heralds. Also, Thor is a Brood now…
Rated T+In Shops: Dec 18, 2019
SRP: $3.99

GUARDIANS OF THE GALAXY #12
(W) Donny Cates (A) Cory Smith, More, Dylan Burnett, Ariel Olivetti (A/CA) Geoff Shaw
THE "FAITHLESS" STORYLINE ENDS HERE!
Thanos Wins…Cosmic Ghost Rider…The Death of the Inhumans…Silver Surfer: Black…Guardians of the Galaxy…It's all been leading to this.
Rated T+In Shops: Dec 18, 2019
SRP: $4.99
Avengers and Guardians Of The Galaxy are published today from Marvel Comics. I bought mine from Piranha Comics in Kingston-Upon-Thames. Piranha Comics is a small south London comic store chain with a small south-east store in Kingston-Upon Thames's market centre, which runs Magic The Gathering nights on Fridays, and a larger south-west store in Bromley, which also runs Magic nights and has an extensive back issue collection and online store. If you are in the neighbourhood, check them out.