Marvel Crisis Protocol from Atomic Mass Games has been on my radar for quite a few months now, and I was fortunate enough to be employed at one of the game stores selected to run demo games for the weeks leading up to the market release date on November 15th. We just got our demo copy of the core set last week, so I dove head-first into the box to see what was inside!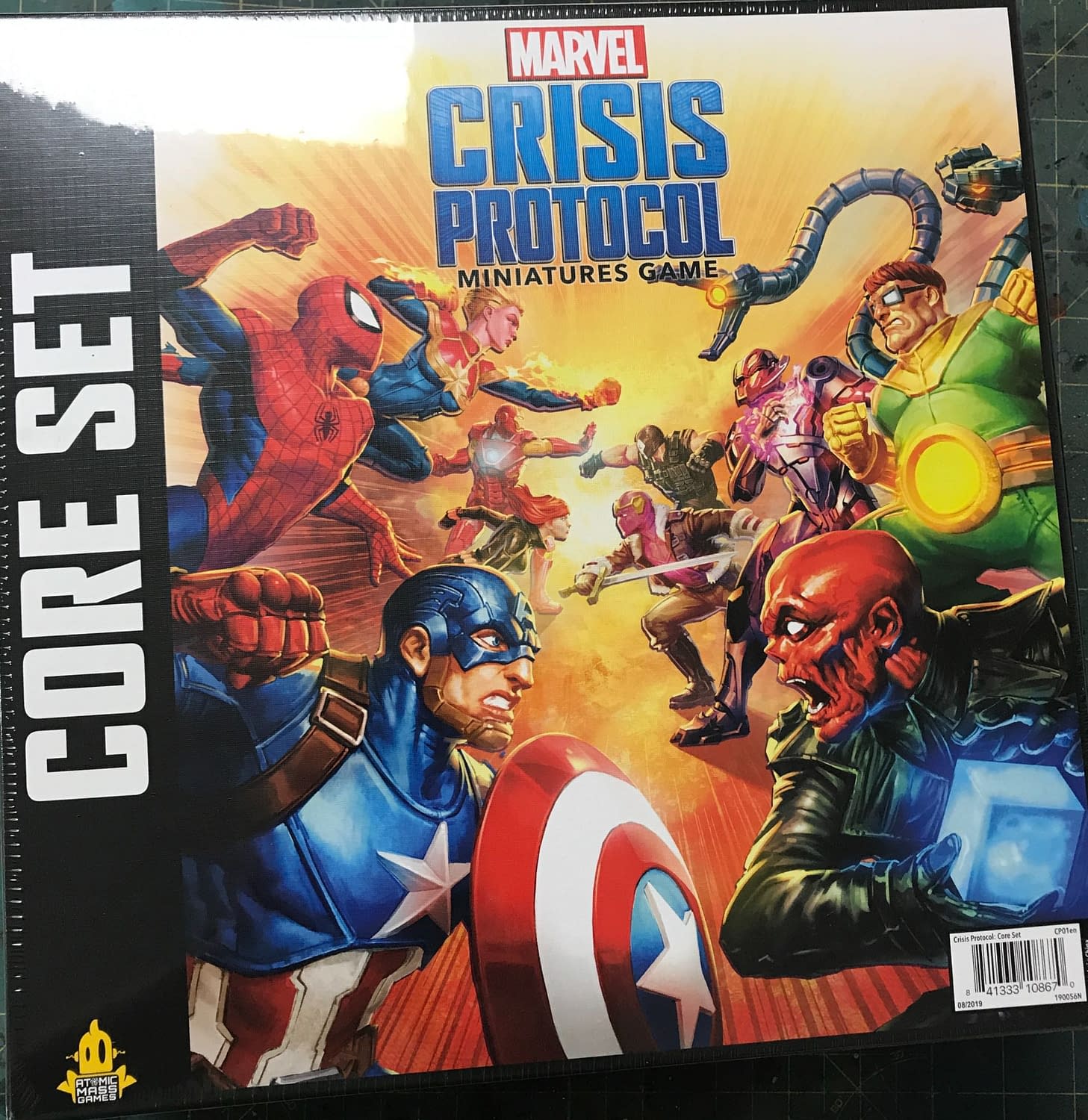 The Marvel Crisis Protocol box is sturdy and gorgeously illustrated, but that's nothing compared to what's inside. Once you get that big lid off the box, there is a whole lot of hobby fun waiting for your happy little hands: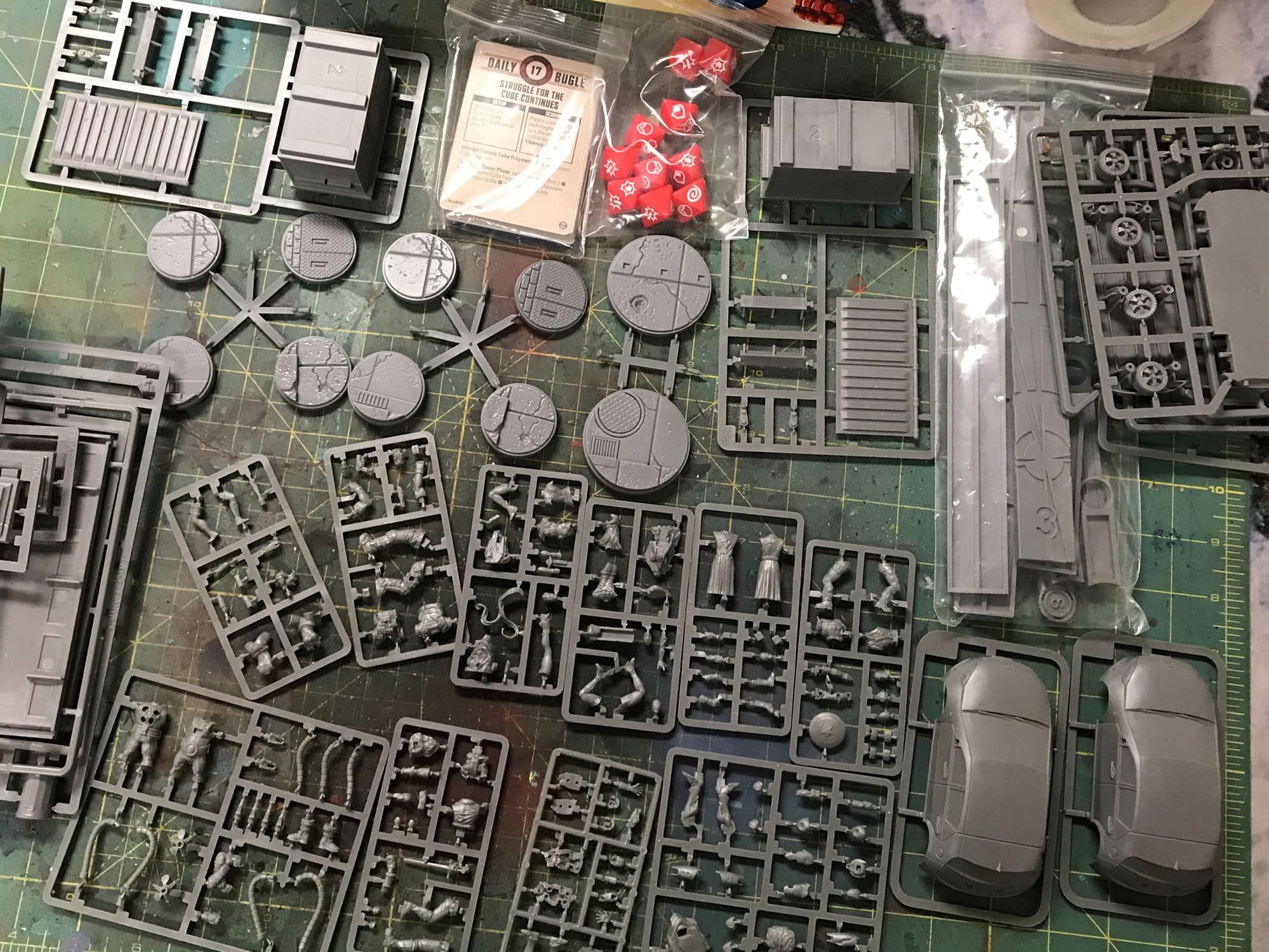 So, what exactly is all of that? You get a quick-play rule book, 10 heroes and villains from the Marvel Comics universe, character stat cards, mission cards, some measuring tools, a bag of custom dice, and some terrain pieces, which include a Daily Bugle news stand, a couple of cars and dumpsters, some traffic lights, and a couple of light-posts.
I'm not used to seeing terrain worked into a table-top skirmish game, let alone quality pieces. The sprues for the miniatures and models included in the box are a sturdy hard plastic, and everything looks pretty nicely put together.
The miniatures are the real reason that most people are going to be drawn to this game, and I am happy to report that they look fantastic: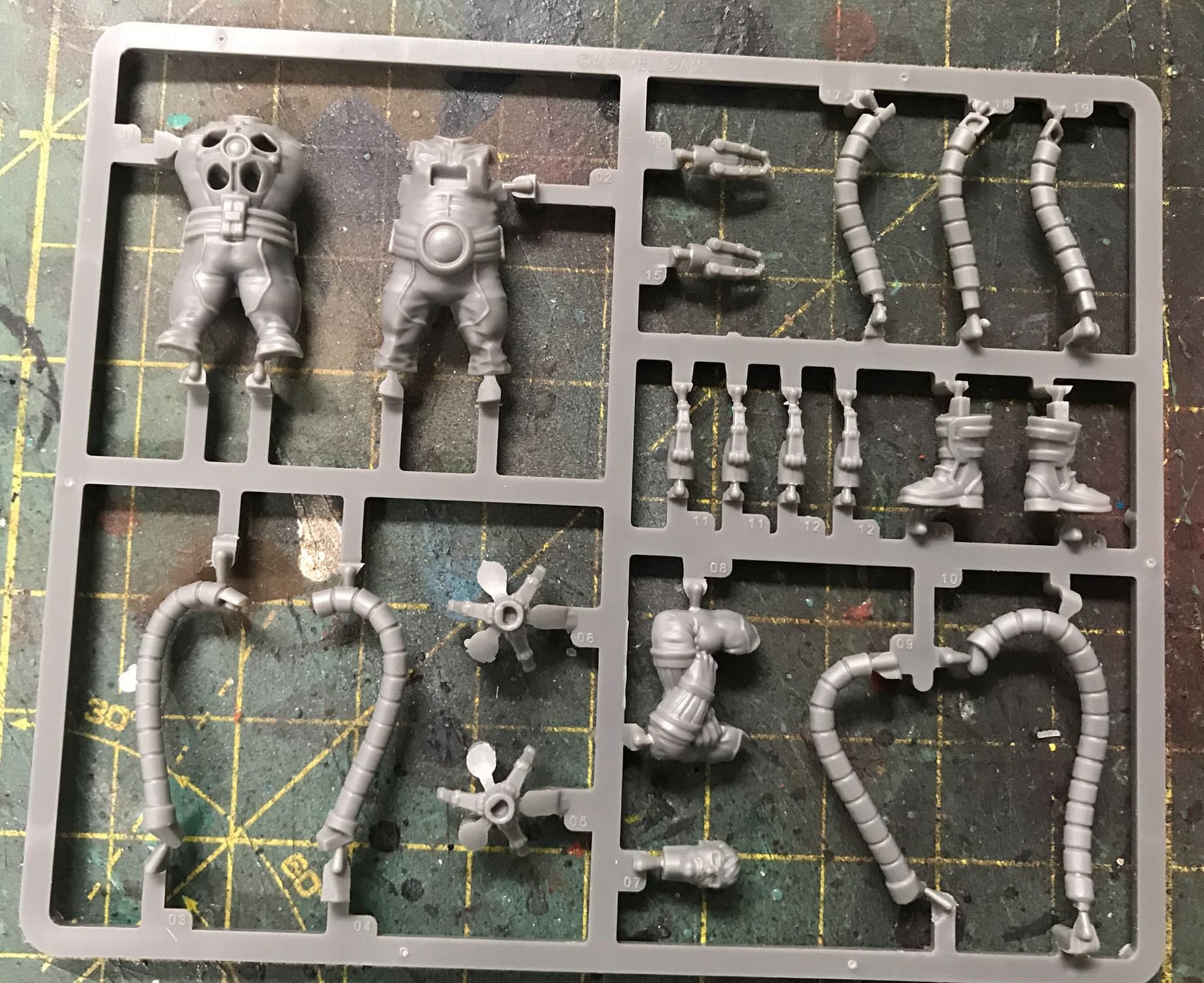 Doctor Octopus here was the only tricky figure to put together, since his tentacles have a pretty specific way that they should be assembled. Still, if you are patient, they shouldn't be too tricky to get together.
The last few pages of the quick-play booklet have instructions that do a pretty good job of showing how the figures go together, and I would strongly advise that you give that a look as you assemble the minis.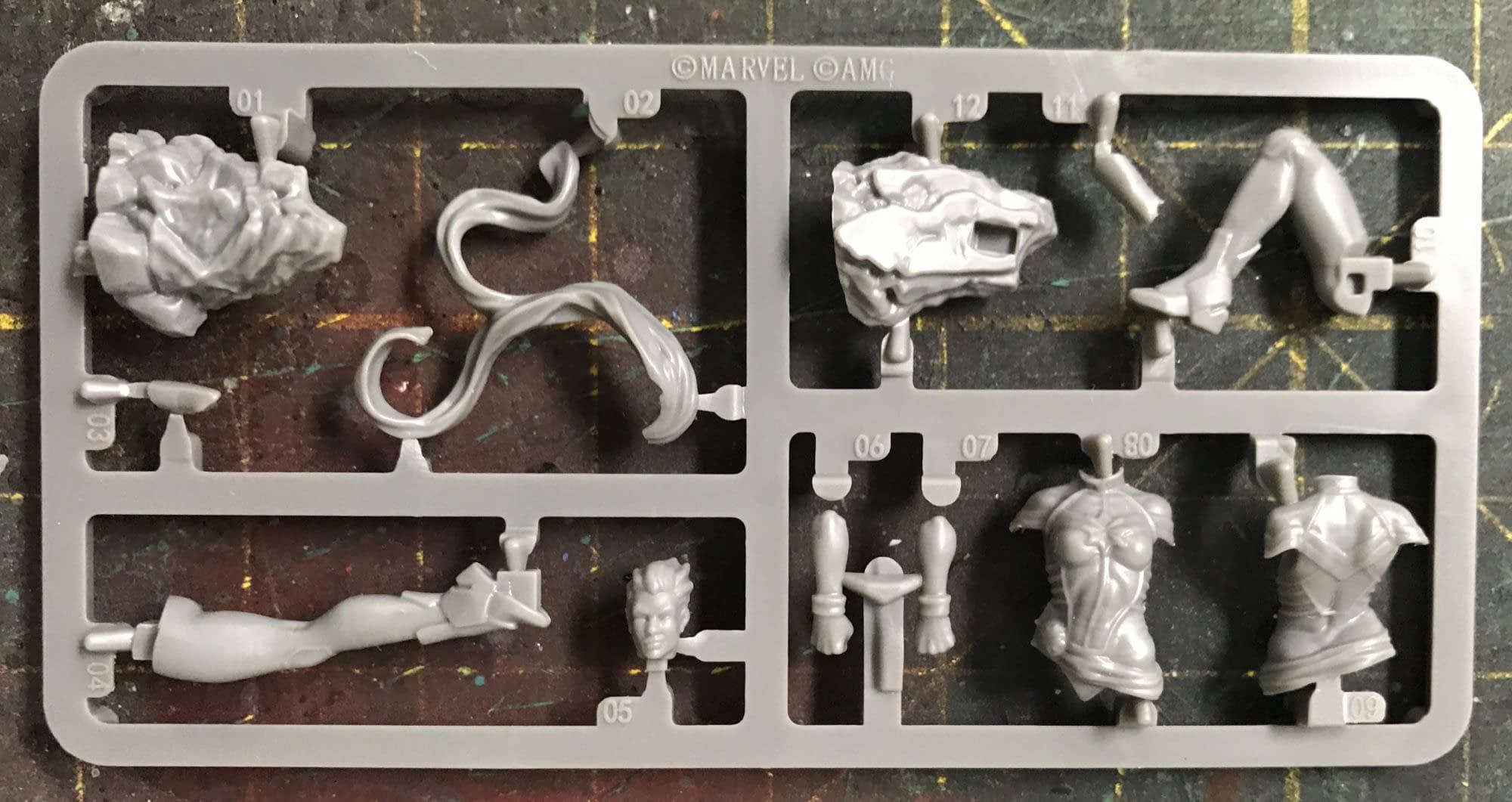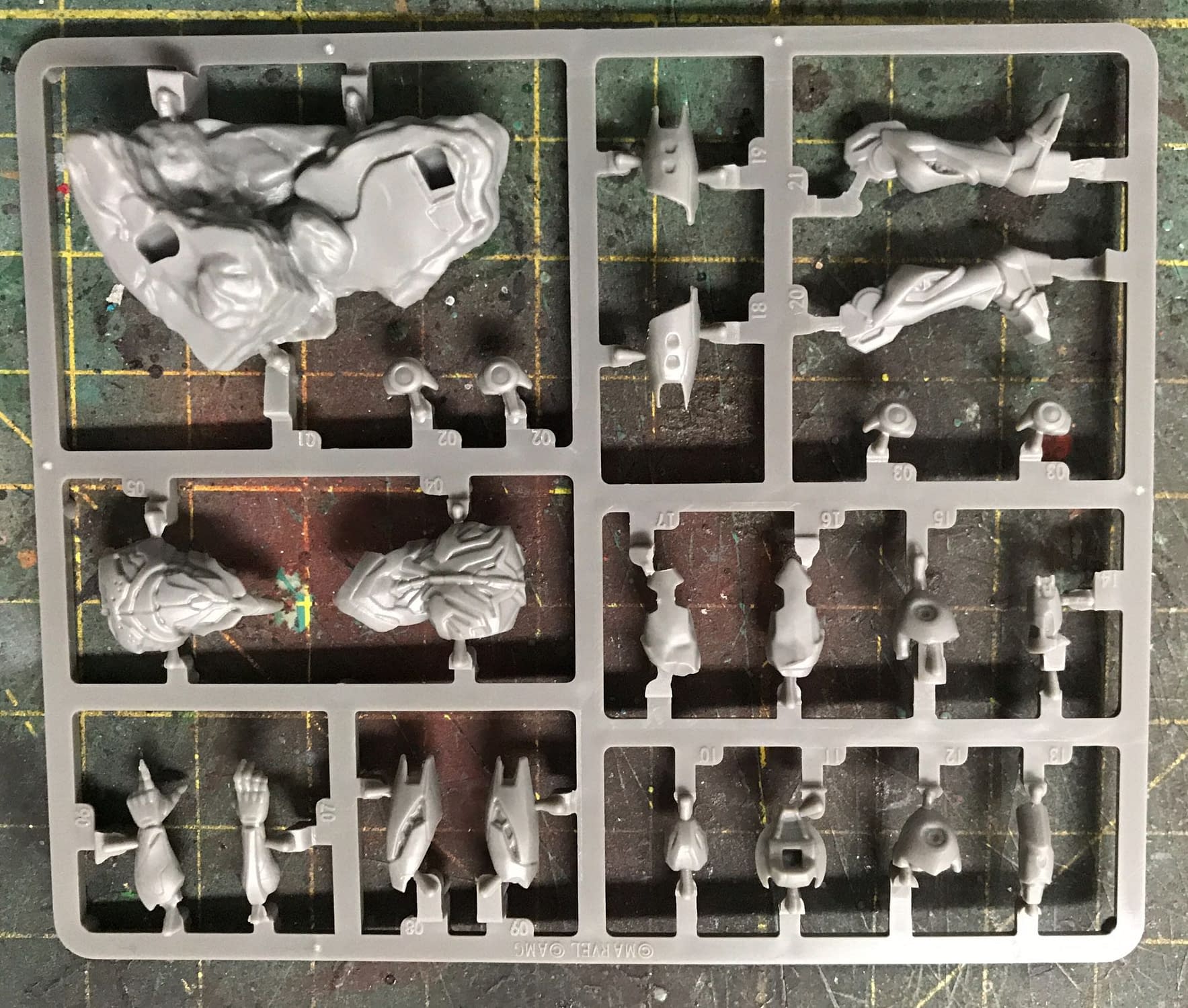 The Marvel Crisis Protocol miniatures are modeled at 40mm scale, which is O scale in model railroading. The figures are quite a bit bigger than most table-top miniatures, which I will get in to on the next article. Each of the 10 figures takes about 15 minutes to assemble, and that includes cleaning up mold lines, which were minimal.
One of my favorite unexpected surprises, though, were the bottles and cups molded onto the model frames for the figure bases! It's a nice touch, and lets a modeler throw a little rubbish onto the model's base: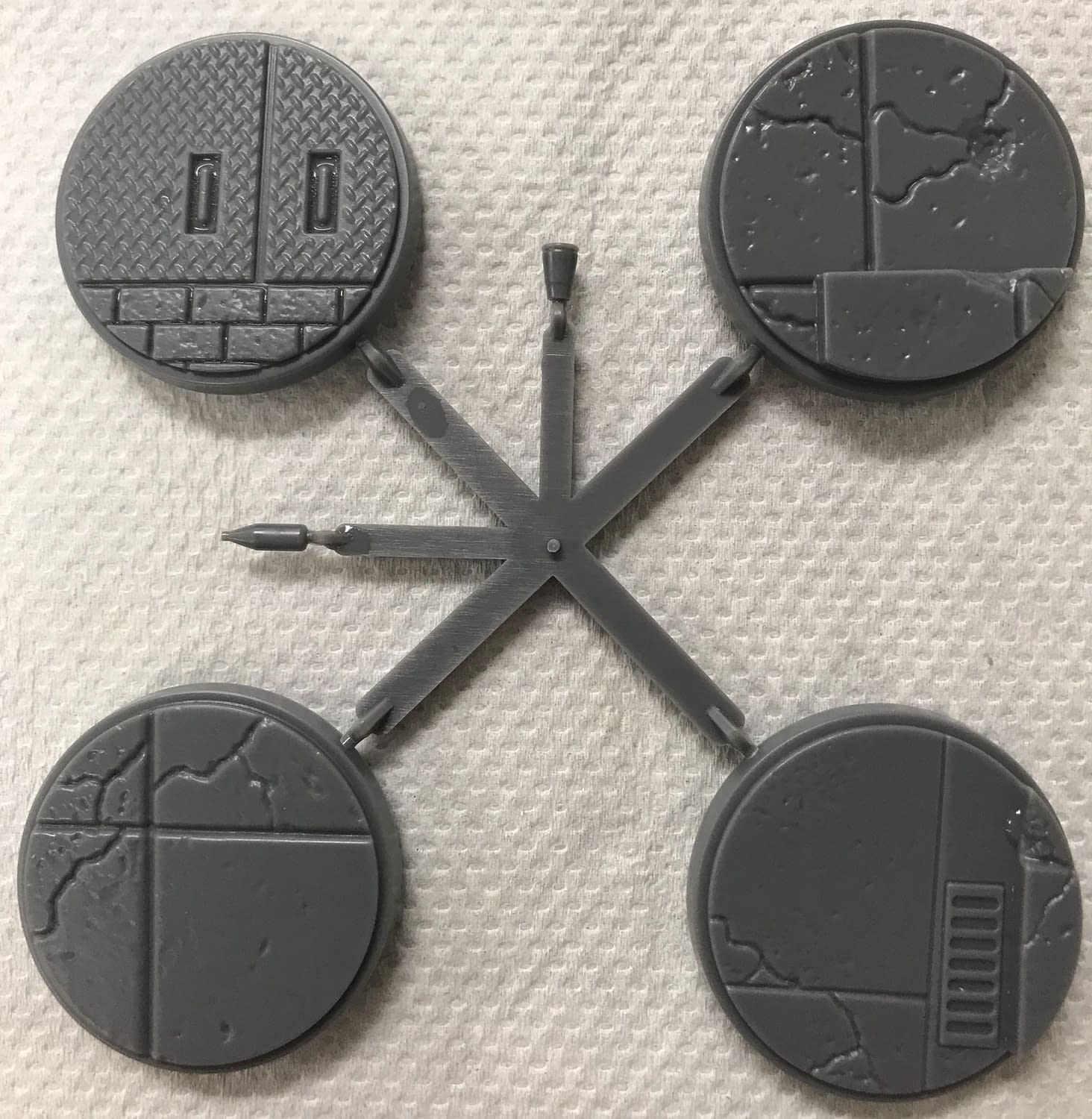 It's also pretty nice to get minis with pre-modeled bases— no need to glue sand onto your base, or assmbled some fiddly detail base together that takes as much time to paint as your miniatures. The bases that come with the Marvel Crisis Protocol core set come pre-molded and ready to rock right out of the box!
In our next Marvel Crisis Protocol article, we'll take a detailed look at the miniatures in the core boxed set, and I'll let you know if there are any tricky areas when it comes to assembly or painting!
Marvel Crisis Protocol is scheduled to hit stores around the world on November 15th. If you're interested in checking out the rules of the game, you can read them for free at Atomic Mass Games' website!
Enjoyed this article? Share it!