The Massive Party List Of New York Comic Con 2017… So Far
New York Comic Con 2017 week is here, and there are parties to attend! If you have any we should add, please contact me or comment on this post and they will be added to this master list.
Monday, October 2nd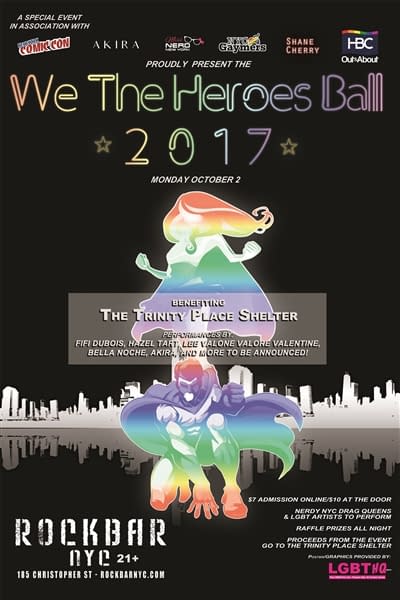 We The Heroes Ball, Rockbar 8 p.m. $7
Queer fans gather at Rockbar to watch an ensemble of cosplaying Drag Queens serve cosmic avenger realness on stage. Check out insane performances from the likes of Fifi Dubois, Hazel Tart, Lee VaLone and more, and be sure to participate in the raffle, which benefits the Trinity Place Shelter for homeless LGBTQ youth.
Thursday, October 5th
The 2nd Annual Cosplay Ball Hosted by io9 and Kotaku 9pm- late, YOTEL New York
NYCC Comics & Cocktails Reception by Women in Comics NYC Collective International, 8 PM – 11 PM, Ovest Pizzoteca
We're hosting our 4th Annual NYCC Comics and Cocktail Reception and Dinner! Stop by and say hello!
Ecoin Launch Party Terminal 5, 7-10 p.m. Free for NYCC badge holdes. RSVP is mandatory. Must be 21+ to attend. We're proud to have E Corp as they roll out their new cryptocurrency Ecoin. To celebrate the national launch of Ecoin, you are invited to join CEO Phillip Price for the official launch. Shipwreck: Jurassic Park, The Bell House 8 p.m. $20, VIP $45
Shipwreck, the San Francisco-based literary erotic fan-fiction competition. We'll take on noted theme park-enthusiast and climate change denier Michael Crichton's seminal work on Dinosaurology, Jurassic Park. Featured writers: 2016 winners Katie Heaney and Arianna Rebolini, plus Alana Massey, Anne Elizabeth Moore, Alisha Rai, Erin Gloria Ryan, and Rakesh Satyal. All fics will be read by Dylan Marron (WTNV, TruTV).
Epic Rap Battles of History, B.B. King Blues Club & Grill 8 p.m. $30
The YouTube series that playfully acts out rap showdowns between historical figures (past hits have included Barack Obama versus Mitt Romney and Oprah Winfrey versus Ellen DeGeneres) has attracted a following of more than 12 million subscribers and guest appearances by the likes of Snoop Dogg, Weird Al and Key & Peele's Keegan-Michael Key and Jordan Peele. The live show hits B.B. King's with fan-favorite battles, fast-lipped improv and audience participation. Mashfest Kick Off, SonicBoomBox, MI-5, $5
Kicking off NYCC off Mashfest-style with drink specials, fighting games & much more! Hosted by Miss Gidget, Maki Roll, & Meevers Desu SPONSORED BY NSURGO
TreeHaus Illustrators AfterParty, The Set NYC, 7 p.m. to 11 p.m. $5
Connect with artists, performers, illustrators, comic book artists, singers, musicians. An illustration art exhibitions, art sales, & live music. Helping end NYC depression with Freedom Ladder. Featuring Ellesaur Arts, Dionisios Kavvadias , Henry August DuRocher, Haejin Park, Dave Libb, Jasjyot Singh Hans, Lady Hearts Studio, Ping He, FU FANG. Music by 8pm: Katie Garringer Martins 9pm Henry August DuRocher 9:45pm: Fort Vine
New York Comic Con SCAD Alumni Networking Event, New York Beer Company, 6:30 p.m. – 9:30 p.m., Free
Reconnect with alumni, SCAD staff and sequential art professor Tom Lyle at this alumni networking event in the Big Apple. Enjoy refreshments as you catch up, network and discuss ways to make the most of the convention. HRTS Associates-NY Presents: 2017 Comic Con Mixer Stitch Bar & Lounge 7.30 – 9.30 p.m.
Join us for a social event during this year's Comic Con! Costumes and friends welcome! TO BECOME AN HRTS ASSOCIATES NY MEMBER CLICK HERE Middle-Earth: Shadow of War Community Meetup by Warner Bros. Interactive Entertainment & Monolith Productions Free, Flatiron Hall, 7-9 p.m.
Join Warner Bros. Interactive Entertainment & Monolith Productions at New York Comic Con for the Middle-earth: Shadow of War Community Meetup! Come grab some free food and drinks with your fellow Shadow of War fans. The first 100 guests will receive a limited edition gift! Ages 18+, Casual dress code (but come dressed as an Orc if you wish). Limited capacity, so be sure to arrive early. WWE x IGN eSports Showdown by IGN & WWE, The Garage, 7-8.30 p.m.
IGN proudly invites you to attend the first WWE x IGN eSports Showdown, live from New York City on October 5th, 2017! Beginning at 7pm EST, gaming and wrestling fans alike will gather at The Garage, located just blocks from New York Comic-Con, to witness WWE Superstars virtually battle against one another in one of today's biggest fighting games! The Showdown's General Manager is no other than New Day's Xavier Woods, host of WWE's Up Up Down Down podcast and one-third of the reigning WWE Tag Team Champions. Along side Woods will be IGN's very own Max Scoville, former IGN'er Greg Miller and "Golden Boy" Alex Mendez. WWE Superstars set to attend are A.J. Styles, Sasha Banks, Cesaro, New Day's Kofi Kingston, as well as a surprise or two! Doors open at 6pm EST, so please arrive early and remember that a free ticket through Eventbrite is required for entrance. New York Comic-Con badges however are not.
Friday, October 6th
Comic Booked NYCC After Party, Hudson Station, $50, 7-10pm
Join us for great drinks, raffle prizes, food, and conversations! We have reserved the basement of Hudson Station for this special occasion. Wrist bands will be sold at the door for $50, which gets you unlimited beer and drinks for 3 hours and a raffle ticket for our once-in-a-lifetime prizes. Food will be available at additional cost. NYCC Afterparty, SonicBoomBox, Bowlmor $15-$30
Our fourth year at Bowlmor Times Square
Venue takeover — two floors, 90,000 square feet, 50 lanes of free bowling
FREE swag from Funimation, Kidrobot, Infinifan, & Tentacle Kitty
FREE Thor Ragnarok posters – plus chance to win an advance screening tix
FREE arcade card for the first 500 fans (arcade features multiplayer sit-down Mario Kart and much more)
Drink special from Revolution Brew: $5 Mosaic Hero cans all night
Photobooths and much more! Comic Con Pub Crawl With Brooklyn Defender, The House of Brews $40
The pub crawl is free to attend. Your ticket gets you an open bar wristband good for all of the featured Brooklyn beers on draft and margaritas you can responsibly drink. If you don't want the open bar, you can just show up at any stop on the crawl for great drink specials and swag giveaways. The crawl kicks off at House of Brews on 51st Street at 5 p.m. and goes on to House of Brews on Restaurant Row at 6:30PM and finish the crawl at New York Beer Company at 8 p.m.with tunes from Fletch the DJ. The open bar is from 5-9 p.m. so don't be late to take full advantage. Open Bar guests are encouraged to participate in the crawl but you can stay as long as you like and enjoy the open bar at any of the locations until 9 p.m. Plan 9 From Outer Space Live Reading, Littlefield 8 p.m. $20
Beware and take care for this fan reading of one of the worst movies ever made, Ed Wood's legendary Plan 9 from Outer Space. A stellar lineup of comedians take on the lines of Bela Lugosi and Maila Nurmi, including Scott Adsit, Gilbert Gottfried, John Hodgman, Jean Grae, Michael Ian Black and Janet Varney. 3rd Annual CEG COSPLAY CRUISE featuring Kristen Hughey , Soni Aralynn, Kristen Lanae, Brit Bliss, Ming Chen 9 p.m. | Doors: 8 PM Pier 84 $30 Comic Con Vixens, City Winery 11 p.m. $20–$75
Now in its fourth year, burlesque diva Dangrrr Doll's ingenious geek revue promises to take striptease parodies of X-Men, Stranger Things and Game of Thrones to an even more bodacious level. This year's tassel-twirling stars include Stella Chuu, Stormy Leather, Maki Roll, Bastard Keith, and more.
Saturday, October 7th
Fun Girls Night Out 4 by Geek Girl Brunch NYC, Social Bar And Lounge, 7pm-late, $10We're hosting all of Gotham's geeks – women, men, transgender, gender fluid and non-binary – for a night of fun and firewater with:
We're hosting all of Gotham's geeks – women, men, transgender, gender fluid and non-binary – for a night of fun and firewater with:
Gift bags by Fanmail for the first 50 attendees. Amazing raffle prizes from Infinifan, Black Phoenix Alchemy Lab, Jordan Dene, Geeky & Creepy and more. A special performance by Sammus Music. Tasty cupcakes from Sugar Sketch Bakery. Nonstop musical bangers. Custom Cocktails. Geeky Trivia. And more!!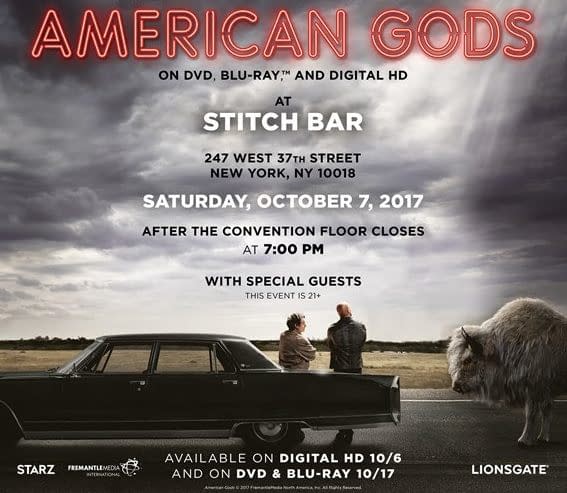 American Gods Event, Stitch Bar, 7-11 p.m.
Acker & Blacker's Star Wars: Escape From Vodran Book Release Party Variety Show Doors: 9:30 p.m. / Show: 10 p.m.
$30
Music, comedy, variety, outer space stuff, the force and it will all be canon! NYCC 2017 Carnie After Party, Connolly's Pub and Restaurant – 47th 8 p.m. $10
Enter a carnival of outrageous costumes at this after party, with legendary burlesque diva Dangrrr Doll welcoming inventive cosplayers to show off their work. Shake your armor on the dancefloor with bellydancer Amara and a band of merry, tipsy geeks ready to party.
Snikt, Rockbar 10 p.m., suggested donation $5
The gay nerds of Geeks OUT offer their annual dance party inspired by the inexplicably sexy mutant Wolverine. Check out high-volume drag and burlesque performances and dope beats courtesy of DJ Tikka Masala, and don't forget to work a super look for the cosplay contest. Toonami vs. Adult Swim NYCC After Party, 5th & MAD 8 p.m. $10–$15
Dance like Bulma and Vegeta on their wedding night at this lit tribute night to Space Ghost, Inuyasha, Rick & Morty and the other diverse denizens of Cartoon Network's mature programming universe. During dance breaks from sets by DJ KaGroosiv, Professor X, Parallax and Lil Buddy, meet Dragon Ball Super voice actress Erika Harlacher, play Marvel vs. Capcom and Super Smash Bros and mingle with fellow fans. 5th Annual Cosplay Dance Party, SonicBoomBox, Slake, $15-$30
The return of NYCC's most lit party. Venue takeover — two floors, four bars. Two separate dance floors with different music/djs. Photobooth and more! SEXY NERDS' COMIC CON HOUSE PARTY! Jack Doyle's Restaurant & Bar 8 p.m.-3 a.m. 21+/$15 TICKETS ADV+DOOR/ FREE GIFT BAG!
Kids get your headgear: it's a Comic Con House Party! Come party with Sexy Nerds this New York Comic Con Weekend! No VIP, no bottle service, just video games, dancing, and snacks! FREE GIFT BAGS on your way out the door, but wait–there's more! $4 Jungle Juice! Booty bass and classic jams all night long! Costume Contest and Parade… Super Smashed Bros VI : A New York Comic Con 2017 Afterparty Manhattan 7 Room Venue TBA $19 – $29
NYCRavers and Nocturnal Events inc.present the 6th installment of our Annual NYC Comic Con afterparty : Super Smashed Bros! Featuring 7 rooms of amazing art, music, food and themed drinks combined with over 30 djs including DJ Assault, Dj CUTMAN, Spinscott Empress,Satronicavs John Bas representing every subgenre of the EDM spectrum! All going down in the heart of NYC just 10 minutes from NYC Comicon and Steps from Grand Central Station!
2017 NYCC Pop Party (Fugitive Toys & Funko) Time Square Hotel,: $125 6:30 p.m. — 11:00 p.m.
RTNY NYCC After Party, Blarney Stone, $11, 8pm-late
This year's RTNY NYCC After Party will be held Saturday night at the Blarney Stone same as last year, which is walking distance to The Javitz Center and just 2 blocks away from Penn Station. Come hang out with the RT community, have a few drinks, order some food, and just mingle with some friends, old and new. We may even have some special guests.. *wink wink*ma
Sunday, October 8th
X-Files NYCC 2017 Super Fan Event Fundraiser with Mitch Pileggi, Broadway Comedy Club, 7:30 p.m. WWE Hell In A Cell Viewing Party at Legends Bar in NYC (NYCC AFTERPARTY), Legends Bar, 6 p.m.
DRINK & FOOD SPECIALS ARE AVAILABLE.NO COVER w/purchase of food/drinks ($25 min per person). HELL IN A CELL will be shown with FULL Audio, beginning with the Pre-Show Kick Off. MAKE YOUR TABLE RESERVATIONS NOW! Doors open at 6 p.m., Reservations guarantee your table until 6:45 p.m.