Matt Hawkins Talks About Robbing Churches & Religion In The Tithe
By William Wright

Matt Hawkins and Rahsan Ekedal, the duo responsible for the criminally underrated Think Tank, have release the issue #2 of their modern twist on a heist story in The Tithe in shops this week. The story tracks a pair of FBI agents tasked with tracking down a morally ambiguous hacker group known as the Samaritan, who rob corrupt churches and give the money away. The first issue of the series was a fresh twist on a crime caper with Hawkins delivering some stellar characterization and Ekedal providing jaw-dropping visuals that leap off the page. Bleeding Cool caught up with writer Matt Hawkins to talk about the inspiration behind the series, working with Rahsan Ekedal, and he revealed that the series has been so successful that there could be plans to continue it past the first four issues.
William Wright: Tell us a bit about the inspiration behind The Tithe. I find it interesting that you grew up going to church and believing in god, but have since changed views and are now atheist…
Matt Hawkins: Heat and The Town are two of my favorite films. I really enjoy a good heist story and have always wanted to do on, but I didn't just want to do another bank or art heist story. So started thinking about twists on the classic storyline and thinking about where there were sources of cash. Churches came to mind and the story sort of unraveled itself. WW: How much of your own views on religion influence the book and the characters?
MH: I was a devout Christian until I was 28 before losing my faith so the book combines my early adult beliefs with my current lack of beliefs in two different characters. I don't want to offend people too much, so I have an angle that will hopefully mitigate some of the angst Christians might have over the material.
WW: The book opens with a blurb about televangelist Jim Bakker from 700 Club and his acts of financial impropriety. How much of the book was based around real of fraud in the church?
BH: There's no direct correlation to any real fraud although I did laugh when Creflo Dollar did his plane thing a few weeks ago when we have that in the first issue. That book was drawn over a year ago, always fun to see life imitate art and vice versa. WW: We don't know much about the core group The Samaritan who are robbing churches, but I found it interesting that they were led by a woman named Sam who is somewhat morally ambiguous. She also appears be taunting the FBI agents as they attempt to track her down, almost as if she gets a thrill from the chase. What can you tell us about her character and The Samaritan?
MH: The second issue digs into who she is and where/how her Samaritan group got established, etc. Not to give too much away but her crew were in the foster system together in Texas…and so was Dwayne Campbell.
WW: Dwayne Campbell and James Howard are the FBI agents assigned to the case and tasked with hunting down The Samaritan. What can you tell about their relationship and how their different backgrounds and views on life drive the supporting cast?
MH: Dwayne is first a family man, second an FBI agent so that affects everything he does. Dwayne has four daughters and Jimmy is his pseudo-son. They have a solid relationship and are tight. They've been working together for a few years now before the story starts.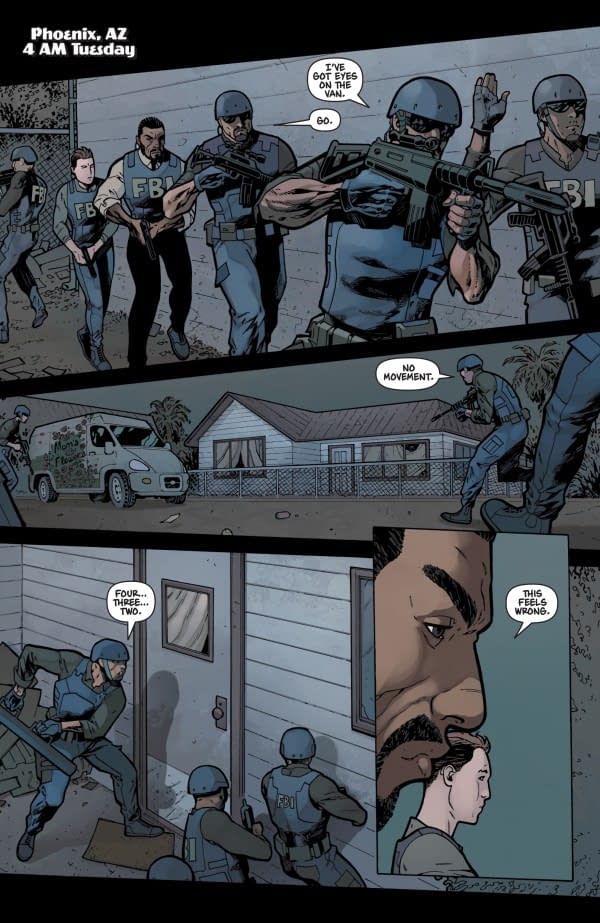 WW: You've worked with Rahsan Ekedal before on your previous creator owned series Think Tank, which was published in black and white. This book is in color and Rahsan Ekedal's art really leaps off the page. What was the decision to go full color for this series verses black-and-white?
MH: When we did Think Tank in black and white we did that primarily as an economic reason since we didn't expect the book to sell. We've built a fan base for these books now that allows us the luxury of doing them in color.
WW: What did Rahsan bring to the table when fleshing out the story and coming up with the visual look for the book? The Jesus masks that the Samaritan wear look amazing for a team of thieves.
MH: Rahsan designed everything so he adds a lot! His storytelling is second to none and I love working with him. He makes me look good.
WW: This is a 4-issue mini-series, and I know you said in the past that Think Tank wasn't finished. Are there plans to re-launch the series after this?
MH: Yes! This book has launched very well, we're looking at possibly continuing it now.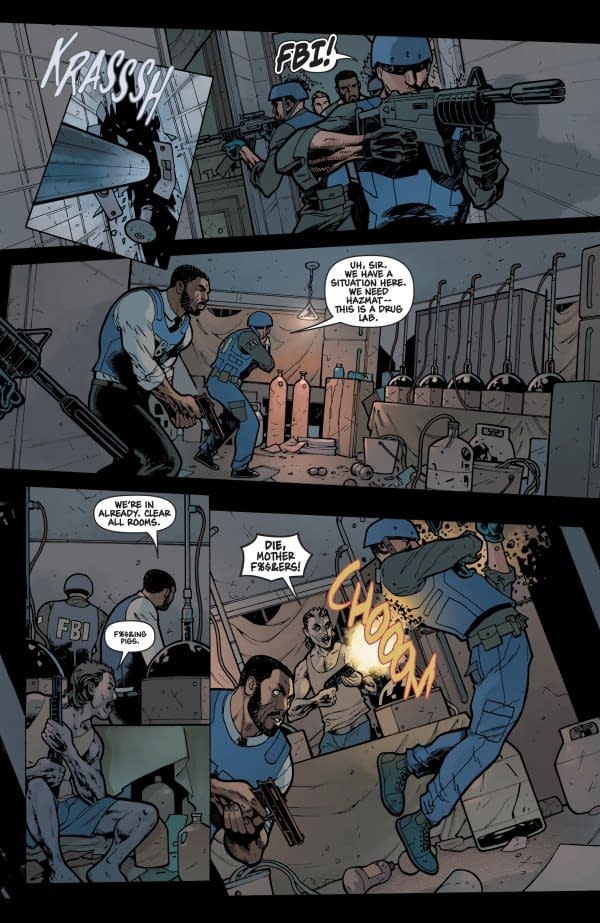 WW: Tell us about your other Top Cow series Postal. You now have two issues out o the stands and in fans hands. What has the reaction been like so far and how is it holding up in terms of sales to previous series you've done?
MH: The response to Postal has been very positive and we recently went back to press with second printings of both issues 1 and 2. That one I co-write with Bryan Hill so he makes that one easy on me. I tell people that Postal is WitSec for villains where bad guys can go get plastic surgery and a new identity and be reinserted back into society with their ill-gotten gains. Why would anyone want to retire to some backwater area when you can build a new identity and live wherever you want. It's run by a family and the town is remote and has a unique set of rules and cast of characters.
You can read a full preview of The Tithe #2 right here on Bleeding Cool.
William Wright (aka BigJ) has been working as a freelance writer since the days when magazines were actually physically printed. William actively writes about comics for Bleeding Cool, Bloody-Disgusting, and is a huge fan of all things horror.