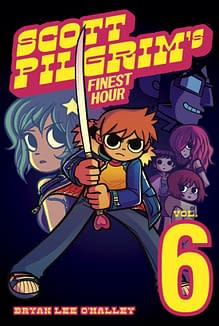 A number of comic shops are gearing up to open at midnight on Monday July 19th, to sell the final sixth volume of the Scott Pilgrim series by Bryan Lee O'Malley. Scott Pilgrim's Finest Hour.
The midnight opening has become common for certain anticipated movies, or fantasy novels such as the Harry Potter or Twilight series and for games such as Call Of Duty and World Of Warcraft. If there's a street date for a title, then if shops are legally allowed to sell copies at one minute past midnight, and if they have them in stock, then that's what they'll do.
But it's far less common for comic shops. Indeed, comic shops that get their stock the day before it's allowed to go on sale are often not even allowed to sell stock before 10 in the morning. There have been a couple of small experiments, with Avengers and Stephen King comics but nothing that has really caught on.
But with Scott Pilgrim, it looks like it will be different. The series has created quite an obsessive fanbase over the years, and, yes, I include myself in that number. The movie on the way has only increased that hype, especially with the trailers that have been released giving us everything we wanted and more. And publisher Oni has created a promotion that will see comic stores get their stock in advance on the same day as bookstores, for sale on Tuesday July 20th.
But most bookstores may not have the obsessive Scott Pilgrim fans that the comic stores have. Not yet anyway.
So a number of comic book stores are taking advantage of that and opening on midnight when they are allowed to sell the book. Such as Secret Headquarters in Tallahassee, Florida, A Comic Shop in Winter Park, Florida, Chapel Hill Comics in North Carolina, Austin Books & Comics in Texas and Comickaze in San Diego. Once people realise this is on the cards – and that traditional bookstores and supermarkets may be blindsided on this one – expect the idea to catch on.
Will your store be opening at midnight? Will you go? Will you dress up as an evil ex?
Enjoyed this article? Share it!