Misfits Gets Second Season – Confirmed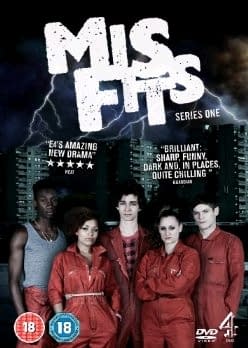 It's been called the greatest, cleverest, most successful attempt to put the superpower on screen to date. Admittedly by me, but still. None of the clumsiness of Watchmen, the tongue-in-cheesyness of Iron Man, the unconvincing prosthetics of Hellboy, the soap operaness of Smallville or the unconvincing earnestness of Heroes.
Misfits take four or five members of the underclass, those rejected by society and quite literally empowers them. But decides that actually no more responsibility comes with those powers, and hell, why should it? It looks superb, the casting and acting has been tip-top and no one has even bothered to look into the mysterious origin of said powers – because it doesn't matter.
The fourth episode, highlighting Curtis and his time travelling powers, has instantly joined the pantheon of great time travel stories of all time, along with Time Machine, By His Bootstraps, All You Zombies, Back To The Future, Bill And Ted, Primer, Time Traveller's Wife and Blink.
And for E4, a relatively small cable/satellite/digital station in Britain, it has been a hit. Misfits has received very positive reviews, not just from me, and has been responsible for some seriously heavy torrents to our friends in America. That it came from Howard Overman, an occasional writer for the oft-lacklustre Merlin and risible Demons , albeit a writer with a superheroic name, has been quite surprising too.
And now it's got a second series, as the final episode of the first airs tonight. Head of Drama of Channel 4, the parent station of E4 is quoted as saying "Misfits always felt like a perfect E4 show and the response has been phenomenal. I'm delighted to commission a second series, and like its fans, I can't wait to see where Howard's inventive scripts take us and the gang."
I'll be on board. The DVD is now available to pre-order here. What are you waiting for?