Monday Runaround – Just Say Naf Nao…
ContractWatch: Cullen Bunn, co-creator of The Damned comic and the writer Shawn Lee, who Bunn worked with on The Tooth, have gone exclusive with… Marvel? DC? No, Evileye Books. They will be creating and developing a dark fiction religious/plague/apocalypty thing called The Raze, putting out at least one novel and one graphic novel a year. The first graphic novel will be Raze: Cure in the spring, the first novel, Raze: Mother, Maiden, Crone will ship at the end of the year.
And will either hit the dump bins shortly afterwards or be adapted into a series of blockbuster movies that will baffle crituics. Your choice.
—
PsychWatch: Naturally, considering its coverage of psychology as well as mathematics and philosophy, bestselling graphic novel Logicomix hits the psychology community.
It's a beautiful story about the death of the 2,400-year-old dream of creating a system of logic that wasn't founded on the shaky ground of intuitive assumptions. The central character is Bertrand Russell. Though he failed, his Herculean effort did contribute to the invention of the computer.
—
CensorWatch: Okay we've had the Christian and the Islamic attacks on comics, now it's the turn of the Hindus to have a go…
On a trip to US, I happened to see erotic comics on Hindu mythological figures, but being in a foreign country, I could not do much. I am extremely anguished seeing this happen on my soil, I will certainly make an issue of this and take on the publisher now to prevent the book from circulation or have these illustrations removed from the book.
—
AnnoyinglyTalentedChildWatch: She may be only ten yeras old, but she has a year of industry experience under her belt. Olivia Wells, main character, Coffee Mama, a caricature of her mother, I plastered all over 6th Street Coffee in Prosser. Owned by her mother. See, it's handy to have contacts. But her comics have also appeared in local newspapers.
Cranky Girl, in one comic, tries to cheat the store with a fabricated frequent-purchase punch card. In another, Low Caffeine Man attempts to out-do 6th Street Coffee by "trying to make the best coffee in the world" by adding a secret ingredient. But "with lack of caffeine, he went crazy."
Why hasn't this girl submitted a pitch to Shelly Bond yet? Hmm?
—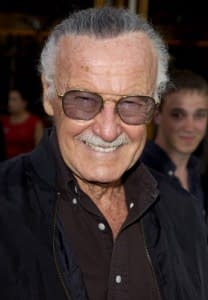 StanWatch: Enjoy the following confirmation from Stan Lee that he's in the Thor movie, in Stan's own inimitable… okay, fairly imitable way…
Kenneth Branagh (of course I call him "Ken!") said my cameo's set for the upcoming Thor movie. –To him, it's a cameo, to me– it's a ROLE!
I went easy on Ken Branagh when we discussed my role in Thor. Told him I wouldn't insist on my name above the title, I think he was grateful
Yeah, I mentioned Ken Banagh a few times, but I warned you I was a name driopper. Seriously tho', with him directing, Thor's a sure winner
Of course, my previous tweet revealed the extent of my innate modesty. I really wanted to add "With me doing a cameo, Thor's a sure winner"
Can't tweet anymore. Due to Thor, I must start rehearsing my thee's and thou's. So, if thou objecteth not, I wish thee well! 'Nuff saideth
—
CorruptionWatch: Recently the CTRL-Alt-Shift collective published a volume targeted against government corruption. Well, it seems that the Solomon Island government has been inspired, using comic stylings to target their own corruption.
This comic is targeted at helping Solomon Islanders understand that they can take action against some of the common forms of corruption they may come across in their daily working lives…

We are encouraging all Solomon Islanders who believe strongly in bringing to an end corruption to put these posters up in their workplaces, homes and in the street. It is time for every Solomon Islander to know that they have the right to say 'Naf Nao!' to corruption.
—
LocalWatch: Alaskan cartoonist of the Tundra strip in the Great Falls Tribune manages to mention Sarah Palin in order to justify an attention-getting headline despite having very little to actually do with the story. And it worked!
"You can always have an animal eating a human and nobody complains," Carpenter said with a chuckle. "Anytime you pick on an animal, somebody's offended by it."

If he shows a bear eating a deer, for example, Carpenter will expect an e-mailed complaint, "usually from Los Angeles."
—
ReallyLocalWatch: The Chattanooga Free Press report that a local Dalton lawyer is writing the introduction to the DC Super Hero Calendar for a second year.
—
Oh and apparently Quentin Tarantino turned down Green Lantern, Gossip Girl is being turned into a manga series. Just so you know.