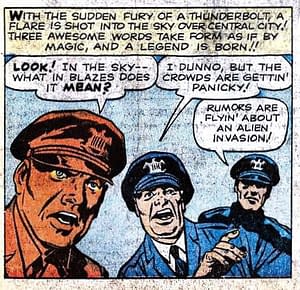 In day 2 of the X-Men: First Class skywriting campaign, the logos spread from LA to other parts of California. You have to wonder if they'll start appearing above cities around the rest of the country as the week progresses towards the June 3 US opening day. That would be pretty cool, even though the promo would be slightly more appropriate for Fantastic Four than it is for X-Men. Still, quite a lot of fun.
Most-Read TV/Film Stories Today:
X-Men Logos In The Sky Above Los Angeles [Updated With Video]
But it would appear that there is a rather unusual and ambitious marketing campaign for X-Men: First Class in progress right now in the sky above Los Angeles:
Hawkman Movie Plans Revealed – A Bit Like These Other Popular Movies
Warner Bros. are in the process of hiring writers for a Hawkman movie, but already have their most basic of basic pitches for the film in place
First Look At The Pinocchio Puppet From Gris Grimly And Guillermo Del Toro
Produced by The Jim Henson Company and Guillermo Del Toro, the next movie version of Pinocchio has some serious geek credentials right out of the gate. I also expect that it will make something of a fan hero out of its director, Gris Grimly, building on the love already earnt with his wonderful books.
Most-Read Comic Stories Today:
The Jack Kirby And Mike Royer Original Art That Isn't
While there is certainly a market for such an item, they have been sold by Rae without this explanation, as if Jack Kirby pencilled a piece and Royer inked right over it, signing the work, and also inking over Jack Kirby's signature. It's a very different provenance.
Ball Busting Action From Batman
Well, according to Batman: Jekyll & Hyde #4, it seems that Batman wants in on the action.
From the tweets of Steve Wacker. A page from the new Punisher series from Greg Rucka and Marco Checchetto.
Most-Clicked Pics Today: Enjoyed this article? Share it!