Mark Millar Takes Out Ad For Nemesis On Times Square (Or Not)
It's a fun way to launch a blog (though it hasn't quite launched yet.)
Mark Millar is known for his his various publicity stunts – whether getting The Authority onto the front page of The Times, running a mock-video to promote Kick-Ass, even selling off the identities of various characters in his comics, he's not exactly shy about coming forward.
But Mark Millar's promotion for his new comic book series with Steve McNiven, Nemesis, the first issue of which ships today in the USA and tomorrow in the UK has just stepped up a notch. In what Mark Millar calls "pretty much the most audacious marketing stunt in the history of comics" he's, well, he's apparently taken an ad out on Times Square with the tagline "Good Guys Don't Always Wear White".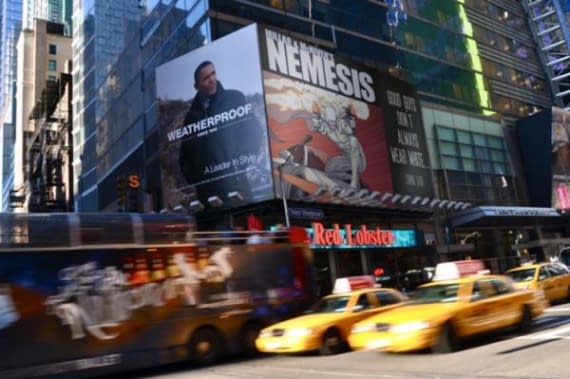 Okay I was expecting something a little less traditional in marketing terms, maybe shaving the word Nemesis into Obama's scalp. But that's still fairly high profile as far as comics go. I think the nearest store is Midtown – will they see the direct benefit?
Also, the ad says "Coming Soon" rather than "Out Now" which is a little odd.
So… can anyone get a video? Better shots?
UPDATE: Ha ha! Apparently not – Robot 6 have the photo as a Photoshop fabrication… anyone want to take a photo of the actual site this morning?
The real victim of course is Rich Ginter who designed the logo and got very very excited…
UPDATE UPDATE: Brian Knippenburg of the Millarworld board posts what the scene actually looks like today.