By Chris Thompson
[audio:http://popculturehound.net/podcast/OiCPodcastEpisode116.mp3]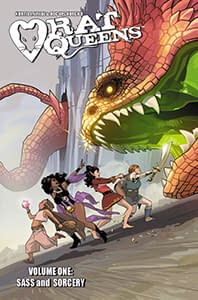 Hello and welcome to the first episode of the retitled Orbital in Conversation (OiC) podcast! To find out more about why this happened and what it means click here, but otherwise just strap yourself in to enjoy the same quality interviews and discussion you've come to expect from Pop Culture Hound.
On this week's show I sit down for a pint with acclaimed writer Kurtis Wiebe (Rat Queens, Peter Panzerfaust, and the upcoming Pisces) who is in town for this weekend's Demon Con in Maidstone, Kent.
Kurtis & I are joined by his partner Shannon, who runs the successful merchandise/clothing line at RatQueens.com – and Maria Norris, a PhD candidate who has been doing some excellent work on Comics & Human Rights for the London School of Economics blog.
Together we discuss the future of Rat Queens, the problem of unflattering clothing fits, how body image (and other issues) affect both men and women, and what else he has coming up in the near future. It's a fun and relaxed interview conducted in the way they all should be – over drinks!
And never fear, you can still enjoy the Pop Culture Hound back-catalogue right here, as we continue to put out the same quality interviews and discussion with Orbital in Conversation going forward. It's only gonna get better, folks!
To get in touch, send feedback or submit projects for consideration, please email chris@orbitalcomics.com. And if you missed last week's episode (or any others) you can find them right here or subscribe via iTunes. You can also support the Orbital in Conversation podcast by clicking here to make a donation or pressing the DONATE button below. Your contributions are greatly appreciated and will help us maintain the site, get new equipment, and encourage us to keep going on those cold lonely nights.
Chris Thompson's Twitter: @popculturehound
Chris Thompson's website: popculturehound.com
Orbital Comics' Twitter: @orbitalcomics
Orbital Comics' website: www.orbitalcomics.com
Kurtis Wiebe's Twitter: @kurtisjwiebe
Kurtis Wiebe's website: kurtiswiebe.com
Shannon's Twitter: @Shanjams84
Rat Queens' website: www.ratqueens.com
Maria Norris' Twitter: @MariaWNorris
London School of Economics blog: blogs.lse.ac.uk/humanrights
Enjoyed this article? Share it!
Editor-in-Chief at Bleeding Cool. Independent comics scholar and former English Professor. Writing books on magic in the works of Alan Moore and the early works of Neil Gaiman.