Persona Q2: New Cinema Labyrinth Launches in June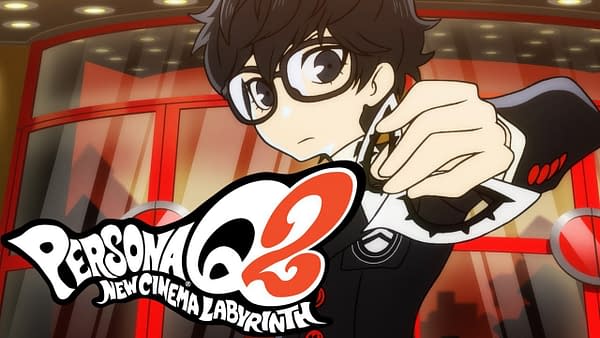 A new Persona adventure is coming to the Nintendo 3DS on June 4, 2019 when Persona Q2: New Cinema Labyrinth launches. Persona Q2 stars Persona 5's Phantom Thieves, but also includes several favorites from the rest of the Persona-verse.
The game's premise sees the Persona users trapped in a movie universe, which they have to fight their way out of. The official description reads:
While driving through Mementos, the Morgana Car suddenly loses control!

The Phantom Thieves stumble through a mysterious space and find themselves in an unknown, strange city filled with opponents they've never seen before. They barely escape with their lives by fleeing into a movie theater—with no exit.

Inside this theater, they meet Nagi, a genteel woman with elegant clothes, and Hikari, a quiet and reserved girl, who inform the team that they emerged from the movie screen. It is within the labyrinthine confines of this movie world that other Persona wielders are seemingly guided into meeting one another.

Will the Phantom Thieves ever be able to escape the theater?
The Launch Editionfor Persona Q2: New Cinema Labyrinth will also be available for all pre-orders and first-run copies of the game, while supplies last. This release will include a Nintendo 3DS copy of the game and an artbook.
You can check out the Persona Q2: New Cinema Labyrinth trailer below.
Persona Q2: New Cinema Labyrinth Features:
· Joker Takes Center Stage—Experienc ea thought-provoking story from the perspective of the protagonist from Persona 5 as you along with the other Phantom Thieves meet the S.E.E.S. from Persona 3 and the Investigation Team from Persona 4 in a cinematic world!
· Persona 3 Portable's Female Heroine Steals the Spotlight—Persona Q2: New Cinema Labyrinth will feature the long-awaited addition of P3P's female heroine who will play a pivotal role in your adventure through the silver screen!
· Paying Homage to the Classics—Explore a series of labyrinths parodying popular film genres with plenty of references true film fans will love!
· We've Got Company—Persona Q2 expands on Persona Q and Persona 5'scombat systems, including a new Unison feature. By completing side quests, certain groups and pairings will team up to unleash their own special attack!
· For the World Cinema Aficionados—Immerse yourself in Persona Q2: New Cinema Labyrinth thanks to its Japanese voice audio track with English subtitles. This will mark the first time many fans will hear the original Japanese voices of the Persona 3 cast!