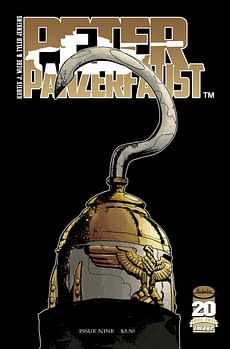 Apparently it was meant to be announced at Image Expo, but it got lost in the shuffle.
Image Comics will be publishing a Peter Panzerfaust oversized hardcover collecting the first ten issues of the Peter-Pan-In-World-War-Two series.
Also coming for your Christmas dollars, Fantagraphics are collecting the complete Peanuts Sunday strips in a series of ten hardcovers, beginning in November, in full colour. The listing states;
Since their original publication, Peanuts Sundays have almost always been collected and reprinted in black and white, and generations of Peanuts fans have grown up enjoying this iteration of these strips. But many who read Peanuts in their original Sunday papers remain fond of the striking coloring, which makes for a surprisingly different reading experience. It is for these fans (and for Peanuts fans in general who want to experience this alternate/original version) that we now present a series of larger, Sundays-only Peanuts reprints. As with most strips, Peanuts showed by far the quickest and richest development in its first decade, and Peanuts Every Sunday: 1952-1955, by compiling every strip from the first four years, offers a fascinating peek at Schulz's evolving creative process. Not only does the graphic side of the strips change drastically, from the strip's initial stiff, ultra-simple stylizations through a period of uncommonly lush, detailed drawings to something close to the final, elegant Peanuts style we've all come to know and love, but several main characters are gradually introduced — oddly enough, usually as infants who would then grow up to full, articulate Peanut-hood! — and then refined: Schroeder, Lucy, and Linus.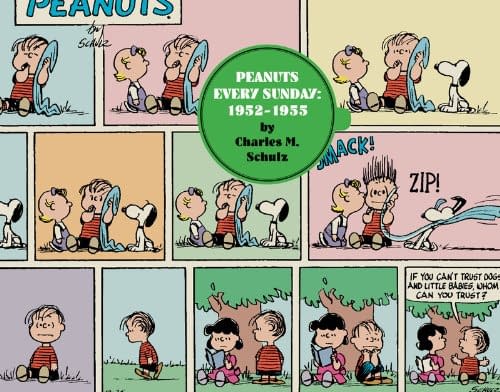 Enjoyed this article? Share it!