'Planet of the Apes: The Simian Age" #1 Review
In 1964 famed Twilight Zone writer/producer Rod Serling was asked to adapt Pierre Boulle's Monkey Planet for the big screen. Eventually becoming the story outline for The Planet of the Apes, Serling's script illustrated the darker sides of human nature, greed, and laziness through the looking glass of an alternate civilization; the great ape species are calling the shots, and the human race is little more than brutal, mindless savages.
Boom! Studios seeks to explore similar themes with their new anthology series, Planet of the Apes: The Simian Age. Boom! Has partnered with 20th Century Fox to commerate the 50th anniversary of the landmark film, and will tie stories from the original films to the more recent productions.
The first chapter of the book tells the story of Amy, a sad chimpanzee who has appointed herself the caretaker of a long abandoned lighthouse. Amy has had a terrible experience with the authorities that haunts her waking moments, and she is estranged from her husband. A chance encounter with a stranger changes everything. Written by Eisner Award winner Jeff Jensen, Mother of Exiles does masterful work of empathetic storytelling; we feel Amy's emptiness and it is devastating. Art duties are handled beautifully by Jared Cullum (Jim Henson's The Storyteller: Giants), who employs a loose watercolor dreaminess that portrays Amy's shattered spirit just as well as Jensen's words.
The second installment comes from writer Matt Kindt (Pistolwhip) and illustrator Matt Smith (Lake of Fire), and tells the story of Apex, a young gorilla soldier who has finished basic training and comes across a discovery that changes how he feels about ape society. The storytelling is sparse, but effective, and Kindt wisely allows Smith's thick, chunky line work carry most of the story's impact. Apex is a pure Planet of the Apes story, and I would love to see more with this character.
Ryan Ferrier (TMNT, D4VE) and artist Lalit Kumar Sharma (Planet of the Apes: Ursus) bring the book to a close with Cloud and Rain, the story of two chimpanzee friends who have a run in with a frightened human, and the ramifications of that experience when it is discovered by Koba, the terrifying chimpanzee right hand to Caesar. This is the sole story set during the modern Apes stories, but it is no less effective, illuminating the soul-wrenching division between pacifism and nationalism. Koba is portrayed wonderfully here, both in words and art.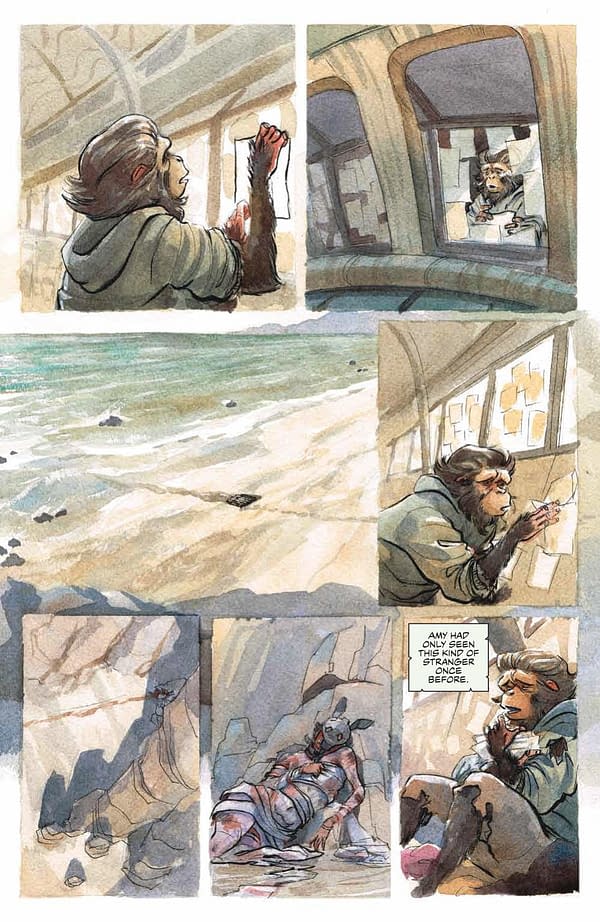 Planet of the Apes: The Simian Age perfectly captures the wistfully mournful exploration of human frailty that the best of the films embody, and could be the start of an exceptional series.
SUMMARY: Writers: Jeff Jensen, Matt Kindt, and Ryan Ferrier; Artists: Jared Cullum, Matt Smith, and Lalit Kumar Sharma; Colorists: Joana Lafuente and Gabriel Cassata; Letterer: Ed Dukeshire; Main Cover: Fay Dalton and John Keaveney; Variant Cover: Michael and Laura Allred; Editor: Cameron Chittock; Publisher: Boom! Studios; Page Count: 43 Pages; Release Date: December 12, 2018; Price: $7.99