Posted in: AMC, Recent Updates, Review, Trailer, TV | Tagged: actor, amc, Betty Buckley, bleeding cool, cable, Cassidy, celebrity, Colin Cunningham, comic books, Comics, dominic cooper, Episode 4, evan goldberg, Featherstone, garth ennis, Graham McTavish, Gran'ma, herr starr, hoover, Ian Colletti, Jeremy Childs, Jesse, Jesse Custer, Jody, Joseph Gilgun, Julie Ann Emery, l'angell, Madame Boyd, Malcolm Barrett, mamma mia!, Noah Taylor, Outlander, Pip Torrens, preacher, Prema Cruz, ruth negga, saint, season 3, seth rogen, Steve Dillon, streaming, tc, television, The Grail, the tombs, tulip, tv, warcraft
---
Preacher Rewind 304: A Look Back at Bleeding Cool's Thoughts on 'The Tombs'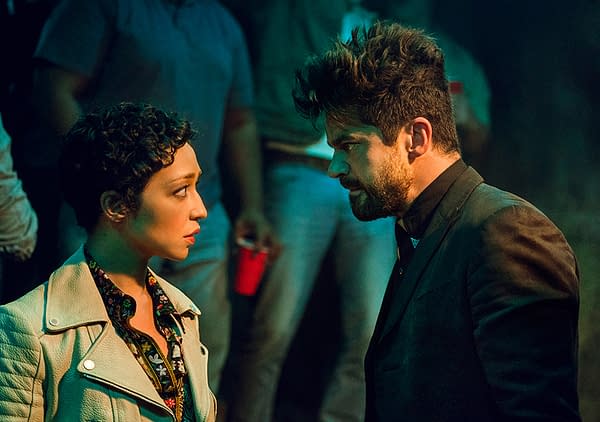 Well, it appears we have some new players on the field…
As if Jesse (Dominic Cooper), Tulip (Ruth Negga), and Cassidy (Joseph Gilgun) didn't have enough to deal with, it's time to welcome the Saint of Killers (Graham McTavish), Madame Boyd (Prema Cruz), and Satan himself to AMC's Preacher Season 3 'The Tombs.' With Jesse still knee-deep in Angelville nightmares, Satan is making a play in the power vaccuum created by doG's (Mark Harelik) walkabout and sending The Saint of Killers (after whipping him bare for his little trip to the living) back down to earth to "clean up" the matter of two escapees (guess who).
Meanwhile, Madame Boyd shares more of Jesse's past with Tulip than Tulip was ready for – and after seeing Jesse in fine form in The Tombs, she had even more reason to believe. But our dynamic duo made up, made out, chopped up/staked Cassidy to shuffle him off to New Orleans for his own safety; and started formulating a plan.
And that "plan" involves teaming up with Herr Starr (Pip Torrens) and The Grail. Yup. You read that right…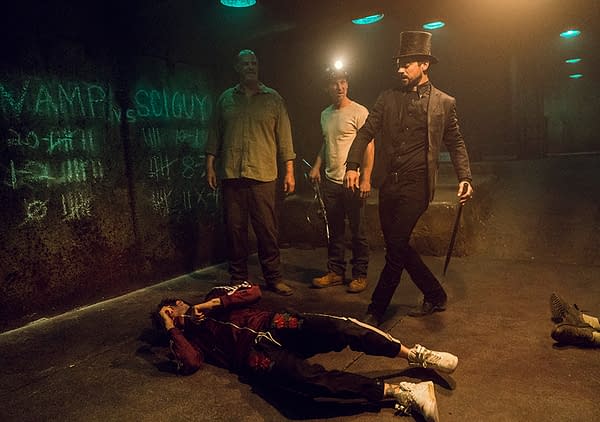 So as we get ready for this season's midpoint episode 'The Coffin,' get yourselves caught up by "rewinding" back to our review of last week's fourth episode of AMC Preacher's Season 3 'The Tombs' (below); followed by some episode highlights:
Preacher s03e04 'The Tombs': As Jesse helps re-invigorate business at Angelville, he tests Tulip and Cassidy's faith in him when Angelville brings out a darker side of him.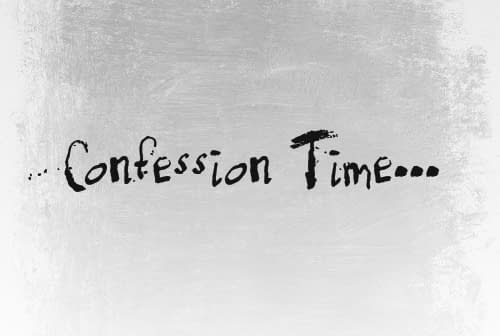 Here's a look at what to expect from this season's midway point 'The Coffin;' as well as a look ahead at what's still to come this season in this brand new San Diego Comic-Con (SDCC) trailer:
Preacher s03e05 'The Coffin': As Cassidy falls in with a group of mysterious strangers in New Orleans, Tulip and Jesse deal with the fallout of a failed escape from Angelville.
https://youtu.be/wgIEHlYD2w4
PREACHER is a dramatic thrill ride that follows West Texas preacher Jesse Custer (Dominic Cooper), his badass girlfriend Tulip (Academy Award nominee Ruth Negga) and an Irish vampire named Cassidy (Joseph Gilgun) as they embark on a road trip to find God and are thrust into a twisted battle spanning Heaven, Hell and everywhere in between.

The 10-episode third season follows Jesse's quest for God which takes him back to the place he's been avoiding his whole life: home. Jesse, Tulip and Cassidy return to Angelville, the Louisiana Plantation where Jesse was raised, and find old grudges and deadly obligations await them. With the help of his friends — and a few enemies — Jesse will need to escape his past…because the future of the world depends on it.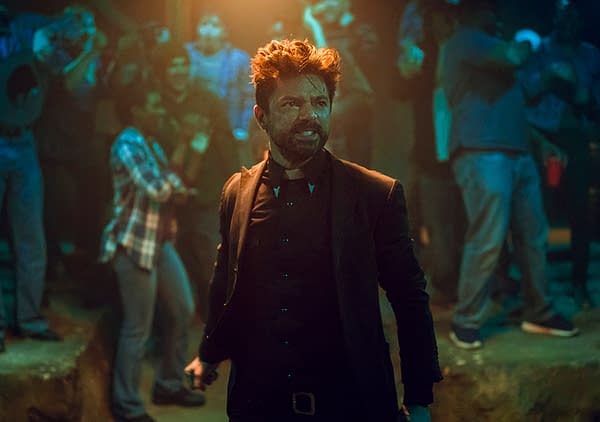 Ian Colletti, Graham McTavish, Pip Torrens, Julie Ann Emery, Malcolm Barrettand Noah Taylor also return for the third season; joined by new series regulars Betty Buckley (Supergirl, Split); Colin Cunningham (Blood Drive, Falling Skies); Jeremy Childs (The Last Castle, Nashville); Liz McGeever (Star, Nashville); Jonny Coyne (Turn, Alcatraz); Adam Croasdell (Reign); and Prema Cruz (Mozart in the Jungle).
---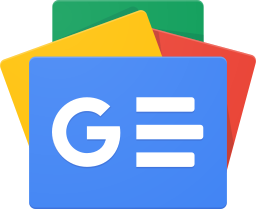 Stay up-to-date and support the site by following Bleeding Cool on Google News today!