Taking Confession 310 'The Light Above': Bleeding Cool's 'Preacher' Season 3 Live-Blog!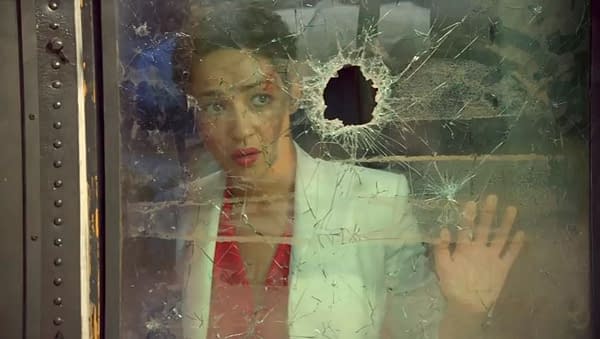 Welcome back to Taking Confession: Bleeding Cool's Preacher Season 3 Live-Blog!… and believe it or not, we've actually reached the series' third season finale as we take a look at 'The Light Above'.
So Jesse's (Dominic Cooper) got his groove back and a last dance with Gran'ma (Betty Buckley) waiting for him at Angelville; Tulip's (Ruth Negga) going toe-to-toe with Hitler (Noah Taylor), Hell, and The Saint of Killers (Graham McTavish) to avoid a one-on-one with Satan (Jason Douglas); and Cassidy's (Joseph Gilgun) trying to win over the "Children of Blood": a typical day for our trio, right?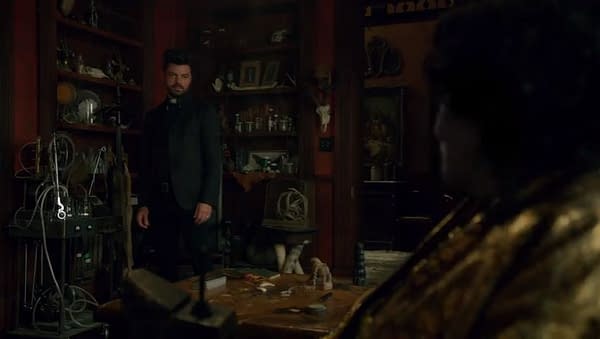 Throw in Herr Starr (Pip Torrens) rockin' trendy styles of "schwanzkopf" head-covering fashion, an Allfather (Jonny Coyne) having pulled off a way too believable Monty Python's The Meaning of Life homage, and "Crisis on Infinite Humperdoos (Tyson Ritter)" wandering the planet and you'll see why things are exactly as they should be going into our live-blog of tonight's season finale 'The Light Above':
Preacher s03e10 'The Light Above': Jesse returns home for what he hopes is the last time but angers Starr and endangers Cassidy in the process; Tulip battles hell and Nazis.

● This page should update…but just to be on the safe side, refresh occasionally to be certain because I've been known to ramble often and quickly.
● If you're going to social media to talk about what we're talking about here, go with: #preacher and #bcpreacher
● While you're waiting (or if you just need a breather from my raw, uncut cult-of-personality), check out some cool Preacher extras we have lined up for you below.

Before Jesse can get to Gran'ma, he's going to have to go through Jody (Jeremy Childs) – and before Jody, there's… TC (Colin Cunningham). As we can see from AMC's sneak preview for the season finale 'The Light Above,' TC's about to learn the hard way that Jesse's not the little boy he remembers:
In a very "memorable" scene from last week's episode, Jesse makes a final request as Allfather prepares to kill him:

https://youtu.be/wgIEHlYD2w4
PREACHER is a dramatic thrill ride that follows West Texas preacher Jesse Custer (Dominic Cooper), his badass girlfriend Tulip (Academy Award nominee Ruth Negga) and an Irish vampire named Cassidy (Joseph Gilgun) as they embark on a road trip to find God and are thrust into a twisted battle spanning Heaven, Hell and everywhere in between.

The 10-episode third season follows Jesse's quest for God which takes him back to the place he's been avoiding his whole life: home. Jesse, Tulip and Cassidy return to Angelville, the Louisiana Plantation where Jesse was raised, and find old grudges and deadly obligations await them. With the help of his friends — and a few enemies — Jesse will need to escape his past…because the future of the world depends on it.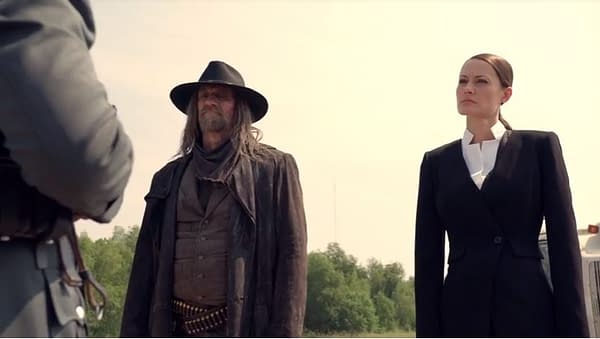 Ian Colletti, Graham McTavish, Pip Torrens, Julie Ann Emery, Malcolm Barrett, and Noah Taylor also return for the third season of Preacher, joined by new series regulars Betty Buckley (Supergirl, Split), Colin Cunningham (Blood Drive, Falling Skies), Jeremy Childs (The Last Castle, Nashville), Liz McGeever (Star, Nashville), Jonny Coyne (Turn, Alcatraz), Adam Croasdell (Reign), and Prema Cruz (Mozart in the Jungle).