Taking Confession 309 'Schwanzkopf': Bleeding Cool's 'Preacher' Season 3, Episode 9 Live-Blog!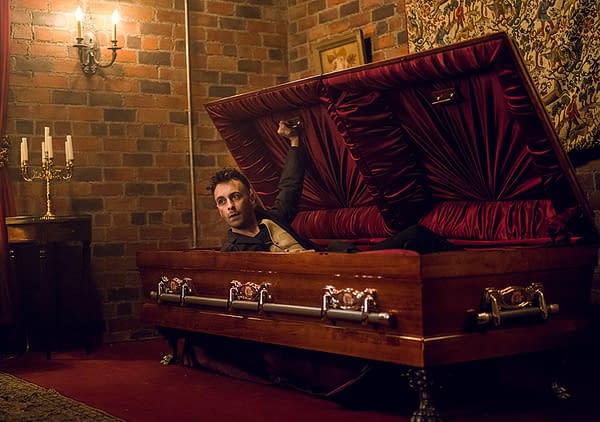 Welcome back to Taking Confession: Bleeding Cool's Preacher Season 3 Live-Blog! as we take a look at this season's penultimate episode 'Schwanzkopf'.
So stop me if you've heard this one before: The Saint of Killers (Graham McTavish), The Angel of Death (Erinn Ruth), Hitler (Noah Taylor), a member of an Illuminati-like clandestine organization, and a man whose failed suicide attempt left him with an arse for a face are waiting for a bus to Hell…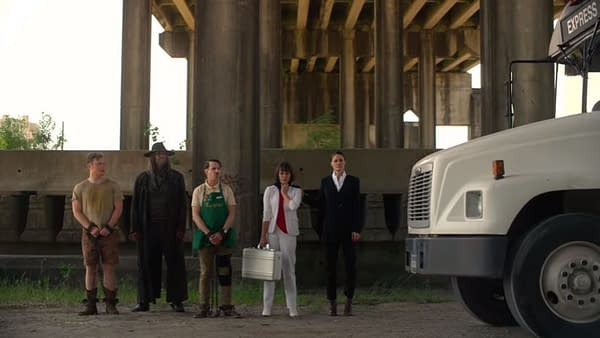 Except there's no punchline — that's where things stand for Featherstone (Julie Ann Emery), Eugene (Ian Colletti), and their travelling mates as we crash into AMC's Preacher s03e09 'Schwanzkopf'. That situation alone would be more than enough for an entire episode; as we can see from the trailer and sneak preview below, a bus ride to Hell seems like a vacation compared to Jesse's (Dominic Cooper) one-on-one with the Allfather (Jonny Coyne) and Cassidy's (Joseph Gilgun) painful attempts to expose Eccarius (Adam Croasdell).
Preacher s03e09 'Schwanzkopf': Divided and trapped, Tulip, Jesse and Cassidy battle old friends, new enemies and loved ones to escape certain death – or worse.

● This page should update…but just to be on the safe side, refresh occasionally to be certain because I've been known to ramble often and quickly.
● If you're going to social media to talk about what we're talking about here, go with: #preacher and #bcpreacher
● While you're waiting (or if you just need a breather from my raw, uncut cult-of-personality), check out some cool Preacher extras we have lined up for you below.

With Featherstone (Julie Ann Emery) within whip's length of The Angel of Death (Erinn Ruth), leave it to Tulip to pick that very moment to look the hellish bounty hunter in the eye and call her "Satan's bitch"…

https://youtu.be/wgIEHlYD2w4
PREACHER is a dramatic thrill ride that follows West Texas preacher Jesse Custer (Dominic Cooper), his badass girlfriend Tulip (Academy Award nominee Ruth Negga) and an Irish vampire named Cassidy (Joseph Gilgun) as they embark on a road trip to find God and are thrust into a twisted battle spanning Heaven, Hell and everywhere in between.

The 10-episode third season follows Jesse's quest for God which takes him back to the place he's been avoiding his whole life: home. Jesse, Tulip and Cassidy return to Angelville, the Louisiana Plantation where Jesse was raised, and find old grudges and deadly obligations await them. With the help of his friends — and a few enemies — Jesse will need to escape his past…because the future of the world depends on it.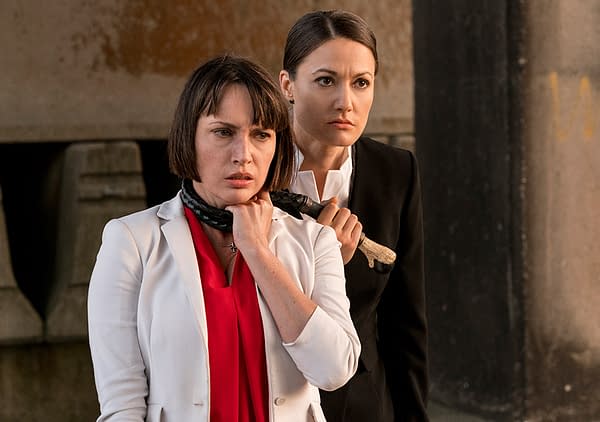 Ian Colletti, Graham McTavish, Pip Torrens, Julie Ann Emery, Malcolm Barrett, and Noah Taylor also return for the third season of Preacher, joined by new series regulars Betty Buckley (Supergirl, Split), Colin Cunningham (Blood Drive, Falling Skies), Jeremy Childs (The Last Castle, Nashville), Liz McGeever (Star, Nashville), Jonny Coyne (Turn, Alcatraz), Adam Croasdell (Reign), and Prema Cruz (Mozart in the Jungle).