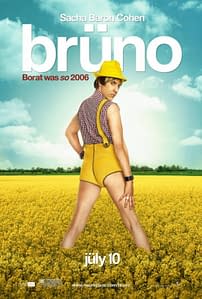 On seeing Borat, it instantly became one of my favourite funny films of all time. You know, Holy Grail, Life Of Brian, Spinal Tap, Blazing Saddles funny – and there it's stayed. But I was troubled. Not by anyone who was tricked into appearing into the film, that was fair game, but in the way the fictional version of Kazakhstan was portrayed, seemingly justifying the irrational stereotypes that Westerners were then shown to hold regarding anyone who comes from a vague East-European/Central Asian background. In the Sacha Baron Cohen TV show, these assumptions were clearly ridiculous, in the film, the assumptions were acted out as if they were part of the narrative. It's less cutting and possibly less funny to see people accepting that Borat brings his faeces in a bag back to the dinner table if we hadn't actually just seen the backwards culture that Borat comes from, played out on the screen.
But in Brüno, I just didn't care. Maybe by the character living in a Western environment, maybe, just maybe, I actually know some people who are closer to the character of Bruno and work for TV companies in the UK. He's slightly less of an impossibility. Hamsters, anal cavities that can take champagne bottles, and Thai midget partners that intentionally make it look like Bruno is dating a child are horrific, many will find offensive, and showing this on screen may dull the extremity of reaction the audience has to people's reactions to him, but I guess I don't care any more. And it didn't actually support being prejudiced against him. I just laughed instead. And kept laughing. At all the stupid stupid people.
And boy, are they stupid. In Borat, there were genuinely well-meaning people trying to cope with this idiot in the politest way they could, even if it meant agreeing with his anti-semitism, just to keep the peace. There's a lot less of this in Brüno. Here people are mostly homophobic, avaricious, blinded by celebrity and convinced of their own moral superiority. And because sex, whatever its variety, is slightly funnier than poo, Brünois funnier than Borat. And there is a lot of sex in this movie.
You've seen highlights in the trailers. But you haven't seen the funniest bits. And this is real watching-through-the-fingers stuff. Scenes that stick out for more than just slapstick appeal are the amazing charity PR specialists straight out of Heathers who have a shaky grasp on world events with some of the best lines in the movie, written and improvised on the spot by themselves. The parents of children who wish them to be models, prepared to put them in both morally offensive sitiations then scenes of real danger. You start off feeling sorry that they have been duped but that empathy fades away very quickly, you get very angry with them indeed and believe they deserve everything they get. Well, I did. I think you will too. There are two scenes of real palpable danger as well, Bruno being chased by Orthodox Jews after sporting his metrosexual Jewish stylings, and then a moment dealing with a Middle Eastern terrorist where after insulting Osama Bin Laden in a hilarious fashion, is told to run for his life. And then there's the much publicised pit fight which has a true moment of poignancy as one of the onlookers has his grasp on reality shattered. Never have you felt so much sympathy for a homophobe.
It's still funny though.
But sadly everything after that final highpoint is a letdown, and a celeb-filled ending seems lacking in punch. Maybe we're exhausted by the laughter, the cringing, oh and yes, those repeated shots of a revolving flapping penis that takes up the entire screen for a full minute with a hilarious punchline. And we seem to be denied any footage from the Prop 8 demonstrations despite some seemingly obvious lead ins, but thankfully there are some amateur shots of that day. Perhaps it was the amateur shots that made it unusable…
So there's a bit of a slow comedown at the end. But, you know, Holy Grail and Blazing Saddles have a rubbish endings too and no one cares. It's the same with Brüno, you will have so many moments to share, laugh at, be amazing by and generally enjoy. The water cooler will be overflowing with Brüno-based chatter this week.
Sadly one moment won't be talked about too much. I was lucky enough to see the Paula Abdul/LaToyah Jackson scene before it was cut for general release. So, since this won't be a spoiler, here it is, to the best of my recollection.
Bruno arrives at the house he will be filming his TV pilot from, to discover that there are no chairs or tables for Bruno's guests to sit at. So he calls some Mexican workers over and persuades them to be his furniture. Bruno manages to get his first guest Paula Abdul to sit on one but she is clearly uncomfortable and eventually leaves. LaToya Jackson has no compunctions however and is happy to talk about her humanitarian work while sitting on a Mexican. and then eating food off a naked Mexican wheeled in. In an attempt to up his celebrity quotient, Bruno asks LaToya if she would dress up as Michael and do his voice, but she refuses. So, while admiring her mobile phone, he scrolls down "M… Michael" and starts reading his phone number out in German. LaToyah grabs the phone back and shortly leaves herself.
Trust me, it was hilarious.
But the bit with the celebrity obsessed parents is better.
Brünois released in the USA (rated R), Canada and the UK (rated 18) 10th July, in Australia (rated MA) on the 8th and in Austria on the 9th.
Enjoyed this article? Share it!