Ron Weasley is more than just a sidekick to Harry Potter. He stands on his own and is funny and lovable as much as he is iconic. Good Smile Company has recently announced a new wave of Harry Potter Nendoroid figures. This time, unlike the previous versions and they are dolls. That means we will be getting the same iconic styled head but with a new doll-like body that is super-poseable. Ron Weasley and the other characters will seemingly get new fabric style clothing that can be interchangeable. Ron Weasley does come with a nice set of interchangeable clothing as well as magnets in his feet so that he can stick to his display stand without any hassle. As for interchangeable clothing as he does come with the scarf and robe and even they are replicated Hogwarts uniform. One adorable little accessory that Ron gets is his a broken wand that was featured in the film as well as mentioned from the books. Ron Weasley will be joining Harry Potter and Hermione Granger with these new Nendoroid dolls and are perfect for any fans of Ron Weasley or the Harry Potter franchise.
The Ron Weasley Nendoroid Doll from Good Smile Company is priced at roughly $55. He is set to release in September 2020 and pre-orders to magically acquire yours are already live and available here. Don't forget to check out all the other beautifully crafted Nendoroid figures from Good Smile Company. And while you're there check out the Harry Potter and Hermione Granger also announced too!
"Follow the spider?! Why couldn't it be follow the butterflies?!"
Ron Weasley, now in Nendoroid Doll form!
From the internationally popular "Harry Potter" film series comes a Nendoroid Doll of Harry's good friend Ron Weasley!
Nendoroid Dolls feature the same Nendoroid heads, but an alternate doll-like body that is highly articulated and can easily be dressed up into different outfits while still remaining a palm-sized action figure! Be sure to add Ron in his carefully recreated school uniform to your collection!
*Skin tone of this Nendoroid Doll is a special color to match that of the original character.
Set Contents:
Figure
Wand
Scarf
Robe
Shirt with Sweater Attached
Slacks
Socks
Loafers (with Magnets in Soles)
Interchangeable Hand Parts (Closed Hands (Right & Left), Hand Part for Holding Wand (Right), Pointing Hand Part (Left))
Magnetic Base (For Magnetic Soled Shoes)
Articulated Stand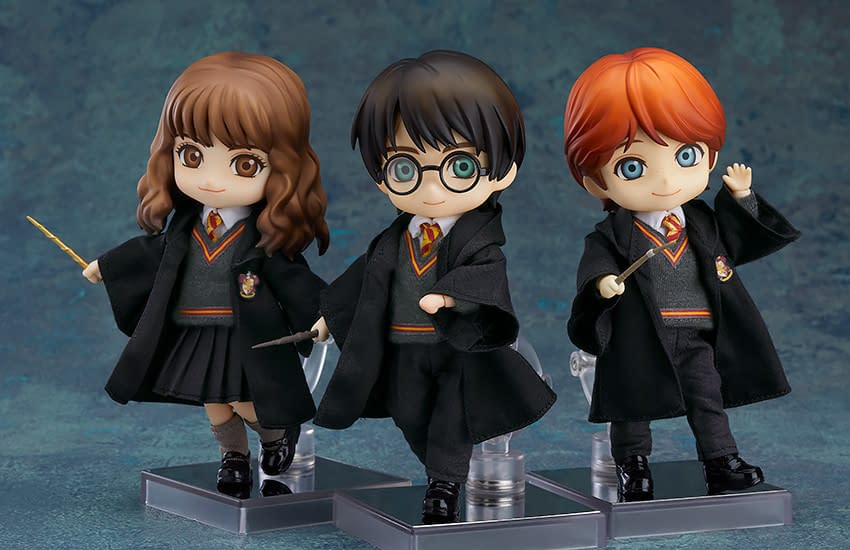 Enjoyed this article? Share it!