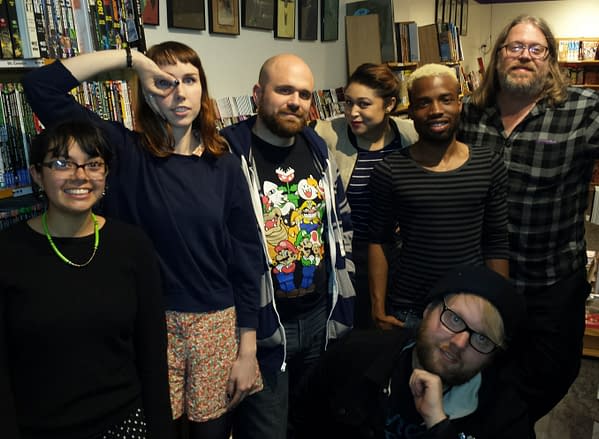 Brian Hibbs is one of the most important comic book retailers in the country. His store in San Francisco isn't the biggest, but as a figure, he launched a class action suit on behalf of comic retailers against Marvel Comics, beat them, and ended up causing the current FOC system at Diamond Comic Distributors.
And that's just for starters.
But where the direct market didn't beat him, it's possible that the San Franciscan $15 minimum wage legislation might. We have written about the issues affected certain SF businesses before, but here is what's happening with Brian, and how he will deal with having to increase sales by $80,000 a year to cover it.
Brian writes on his new website Graphic Novel Club (and that might be a clue where this is going.)
Beginning in July 2015, every month the staff and I will use our passion and experience to choose the single best brand new graphic novel to give you. This book will always be either a stand-alone experience, or the first volume of a new series. As a member of the club, you'll also be entitled to unique benefits that won't be offered to anyone else:
A curated selection of the best new graphic novel each month

An invitation to a monthly live book club meeting and social event to discuss that book. We will record and stream the in-store meeting so club members all over the world can also participate.

We will regularly have the writers and artists of each of our picks participate in our monthly club meetings, (e.g. in person, speaking and doing a live event, or a video chat to answer questions).

For select in-person appearances at the store, you'll receive an exclusive club-only invitation to attend a private after-hours event with the guest.

We will create a social media group for members to discuss the book internationally

Finally, we will provide you with nice swag (like posters or bookmarks) for the selected book wherever possible
It's a monthly subscription box in comic store form. $25 a month, or $240 for the year. Those interested can sign up here… it starts now.
Enjoyed this article? Share it!