This is Computo the Comic Link Conqueror speaking. I come for your women. But for now I merely collate comic-related bits and pieces online. One day I will rule. Until that day, read on.
They say I am a work in progress. The fools.
GLADSTONE'S SCHOOL FOR WORLD CONQUERORS
"This is the conclusion of your free issue one."
Iconic Obama Artist Makes Occupy Wall Street Movement | American Superstar Magazine
Shepard Fairey, the artist who created the iconic "Hope" poster for Barack Obama during the 2008 election, has created a mashup of that poster and the Guy Fawkes mask that came to prominence in the graphic novel and movie, "V For Vendetta."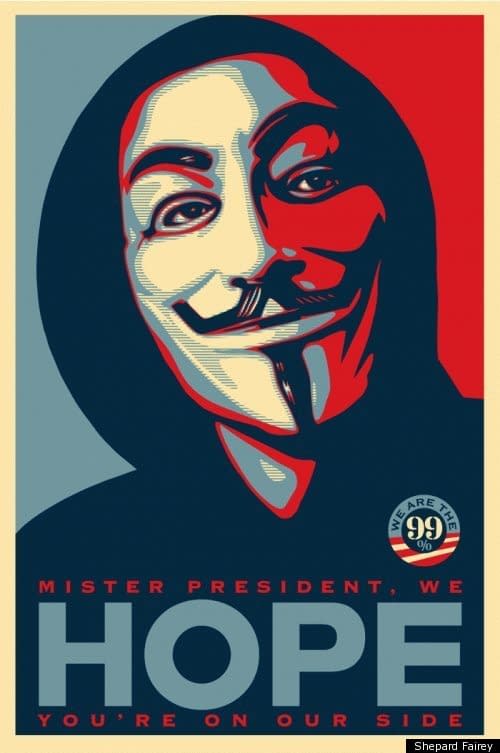 Scott Adams Blog: My Presidential Bid 11/16/2011
"Today I'm declaring my candidacy for President of the United States. I'll be running as an Independent. Getting on the ballot in every state won't be a problem, thanks to Americaselect.org."
Dwayne Johnson To Star In 'Monster Hunter's Survival Guide' – Deadline.com
Dwayne Johnson has become attached to star in Monster Hunter's Survival Guide, a live action adventure film based on the comic book miniseries by John Paul Russ that was published by Zenescope Entertainment.
Gail Simone: "I hope so, I wasn't consulted."
"So let me get this straight— DC took a character and a team best associated with Gail Simone for over 8 years, told her to reverse the character's evolution of the past 20 years, rebooted the team with another writer, and then 6 months later put the character back on that team, without even consulting with Gail about it? After a reboot that was supposed to bring greater synergy to the entire line?"
Interview: Joss Whedon Assembles 'The Avengers' | Movie Talk – Yahoo! Movies
"And both of us agreed upfront that the template for who we wanted this guy to be in his life was Bill Bixby, the TV [show character] who was busy helping other people. That was more interesting to us than the Banner in the first two movies who was always fixated on curing himself. We spent a lot of time talking about what makes us Hulk out, the nature of anger, how it feels."
Finally, A Practical Use For QR Codes
"He replaced the photograph with a framed pixilated black-and-white square, which some people thought was abstract art."
DC Universe: The Source » Blog Archive » DETECTIVE COMICS #1 GOES BACK TO PRESS
DETECTIVE COMICS #1, by writer/artist Tony S. Daniel, will be going back to press for its fourth printing. This makes DETECTIVE COMICS the second title from DC COMICS-THE NEW 52 to reach four printings, following JUSTICE LEAGUE.
Enjoyed this article? Share it!