"She-Ra and the Princesses of Power" Comic-Con Panel – Love, Swords, and Spoilers
DreamWorks Animation's Netlix Original She-Ra and the Princesses of Power put on a perfect crowd-pleasing panel at San Diego Comic-Con. Two weeks out from the show's August 2 Season 3 premier, showrunner Noelle Stevenson gave fans exactly what they wanted: exclusive new content and special insight from creators and actors. She-Ra panel attendees were also treated to a large dose of geek love and some big deal spoilers.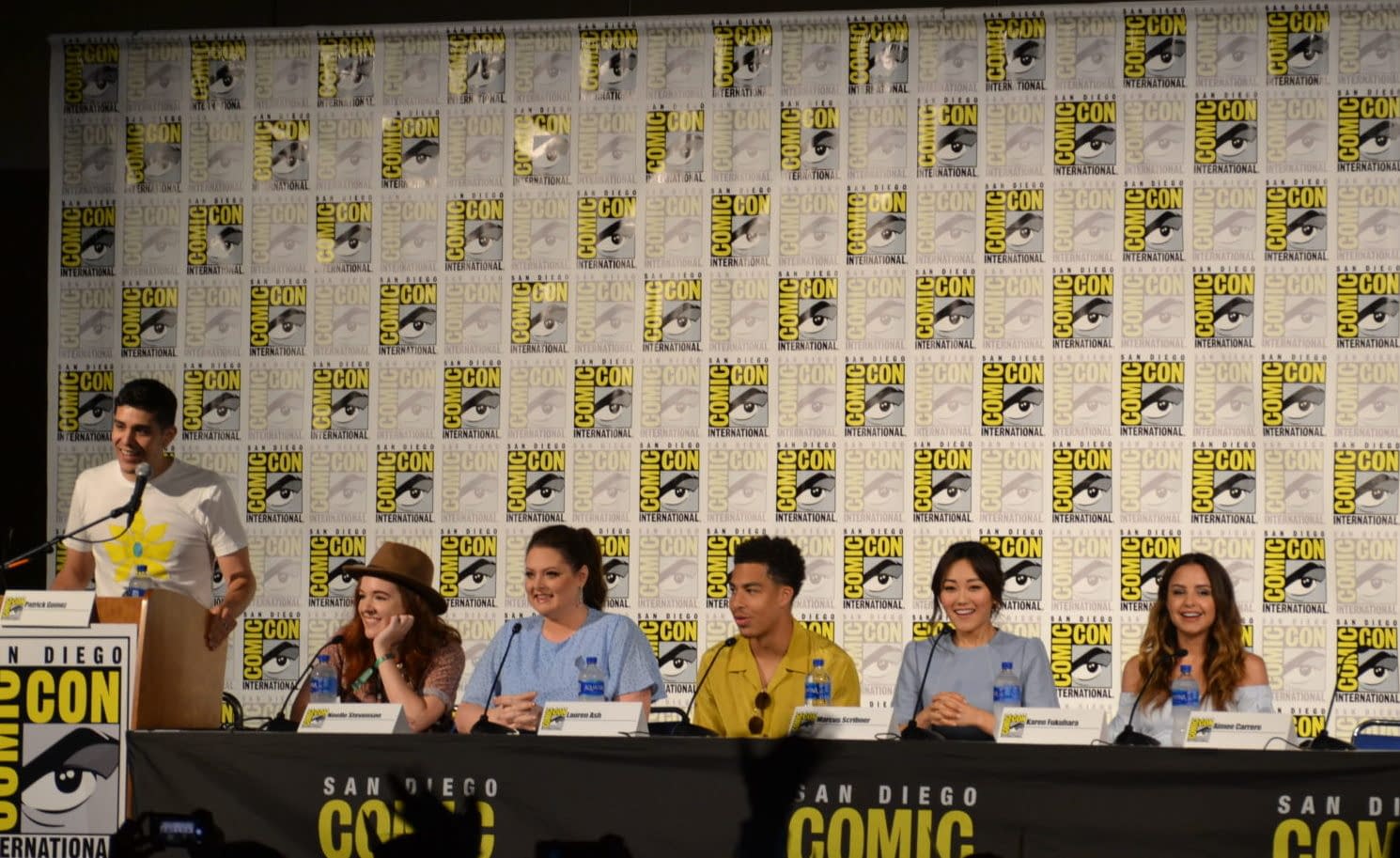 Moderated by Entertainment Weekly senior editor Patrick Gomez, the panel included Stevenson, Aimee Carrero (Adora/She-Ra), Karen Fukuhara (Glimmer), Marcus Scribner (Bow), and Lauren Ash (Scorpia). As an added bonus, each panel attendee was given a She-Ra crown and sword as they walked into the room. The audience was a sea of She-Ras, with a sprinkling of fans cosplaying other characters.
From beginning to end, the panel was a giant lovefest. Marcus Scribner shared that he felt completely overwhelmed at his first ever Comic-Con. Star Aimee Carrero teared up when she discussed how happy it made her to see She-Ra's fans out supporting the show. Stevenson asked all of the She-Ra cosplayers in the audience to stand up and be recognized. All five panelists reveled in seeing their love of the show and the characters reflected back in the eyes of the fans.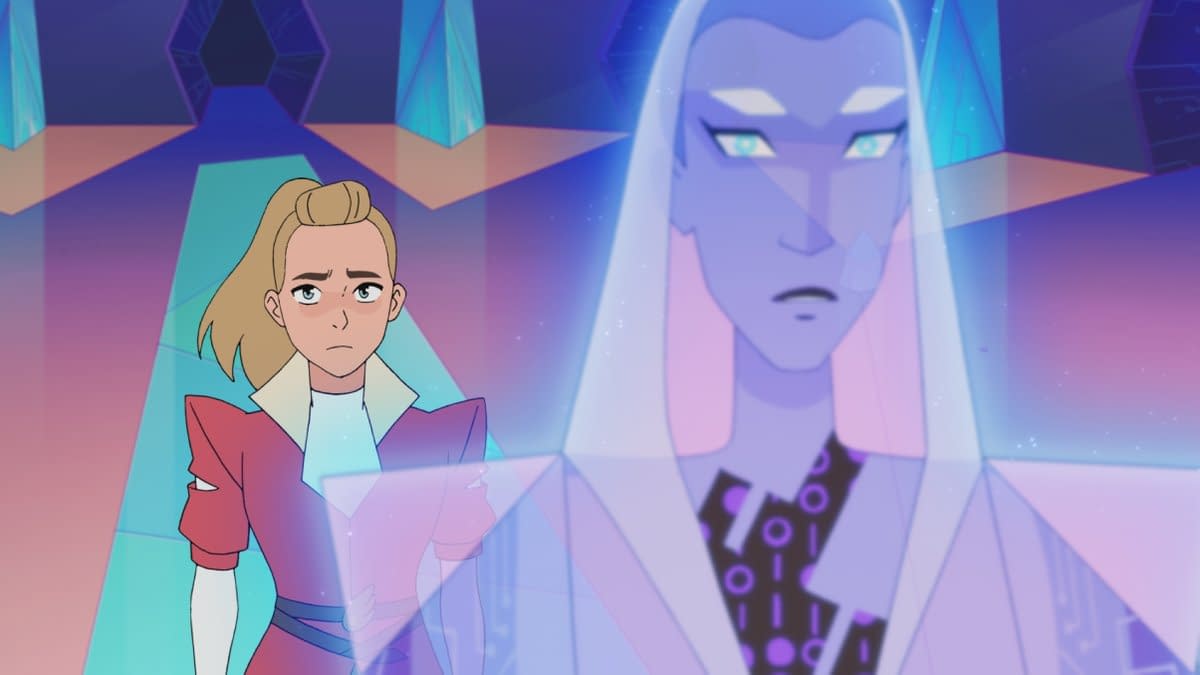 To begin, Stevenson opened up about her favorite show moments and episodes. The Princess Ball episode was a favorite of both the panel and the fans. Stevenson said multiple times that her favorite scenes are those when the whole cast, Horde and Princess alike, are all in one place. She likes to have them "bounce off of each other." Stevenson even teased that she got to write more of these scenes in Season 3 because Catra (AJ Michalka), Scorpia, Adora, Glimmer, and Bow are all in the Crimson Wastes.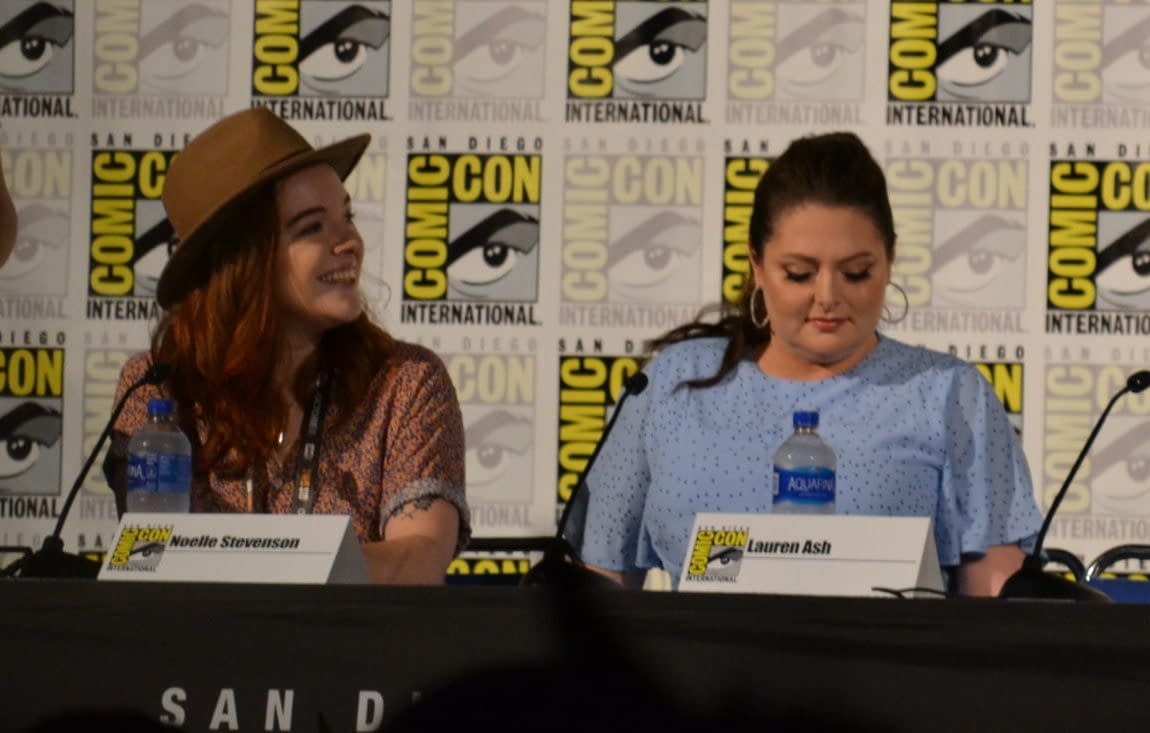 Lauren Ash, in response to a fan question, talked about the purity of Scorpia's loyalty to Catra. Despite the fact that Scorpia's love of Catra is often unrequited, Ash feels that the situation is one to which everyone can relate. She explained that everyone has tried really hard in a friendship or relationship, only to have it not reciprocated. Ash also discussed Scorpia's dedication to the Horde in similar terms. Scorpia's body and strength often made her feel left out, so the Horde's appreciation for her skills made her feel loved and accepted. As a result, Scorpia feels that the Horde is her family, much in the way Adora once did.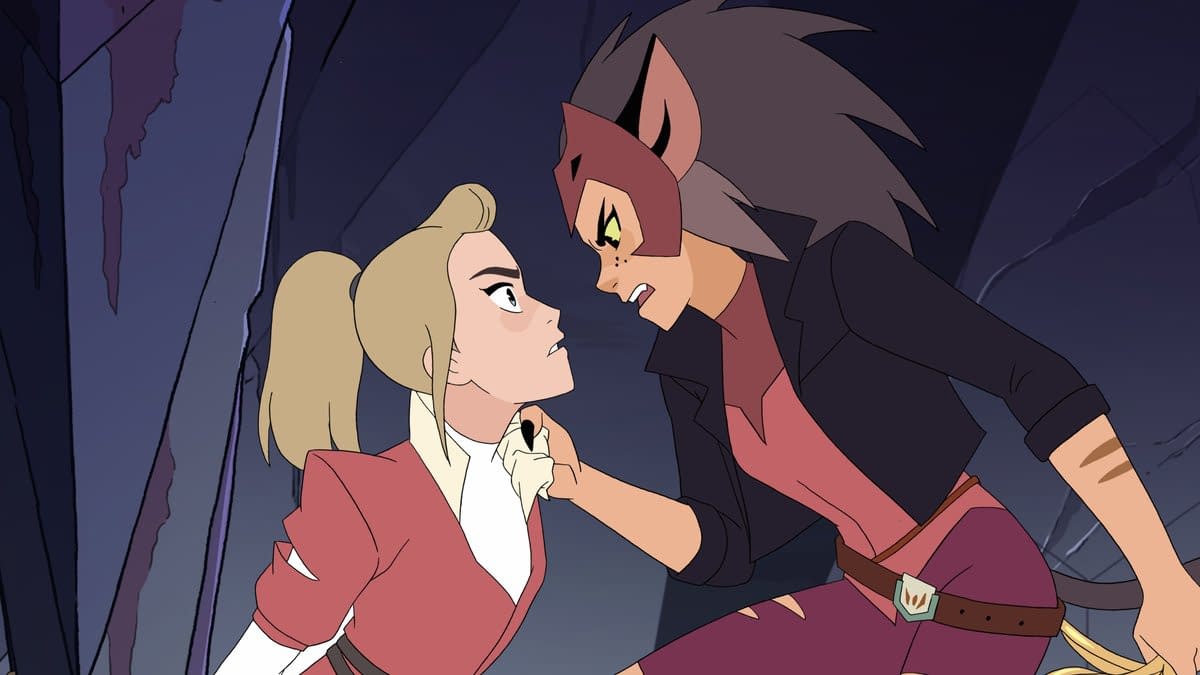 The entire second half of the panel centered around She-Ra's upcoming third season. According to Stevenson and Carrero, Season 3 will be very hard on Adora. Not only will Adora explore what it means to be the She-Ra, but she will also deal with new details about her own personal history. As we already reported, the panel screened a Season 3 clip in which Adora learns that she is a First One. Stolen from her homeland as a baby, she is not originally from Etheria, but is now trapped there.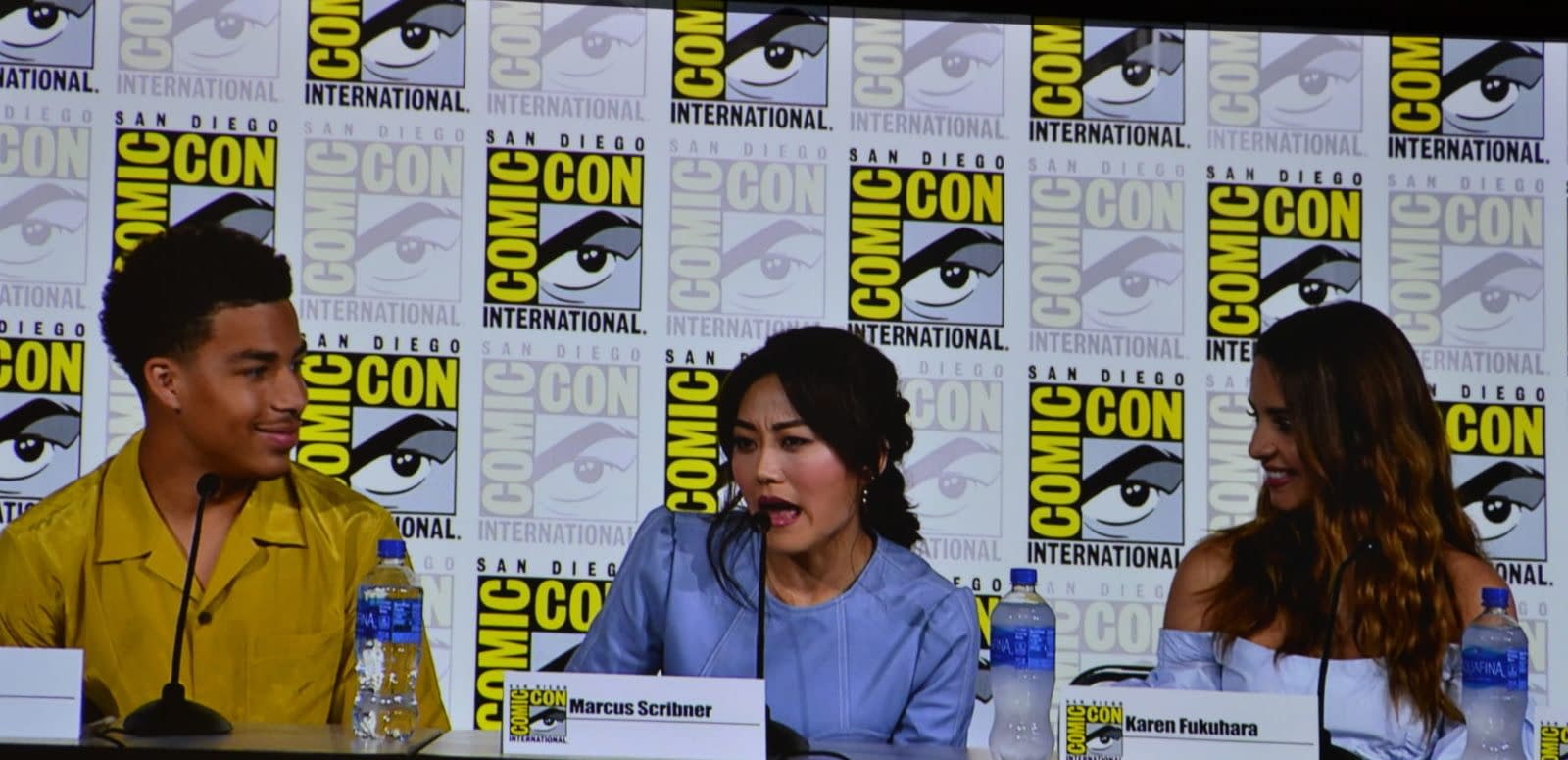 Another source of tension for Adora and her best friend squad will be the return of Shadow Weaver (Lorraine Toussaint) to Bright Moon. In another Season 3 clip, Bow and Glimmer try and stop Adora from visiting her former foster mother. Adora feels driven to discover if Shadow Weaver, like Adora, has had a change of heart. Meanwhile, Glimmer and Bow feel that their friend cannot be objective where Shadow Weaver is concerned, and fear Adora will be manipulated. The clip included a beautiful speech from Adora on how her own change of heart forces her to believe it is possible for others.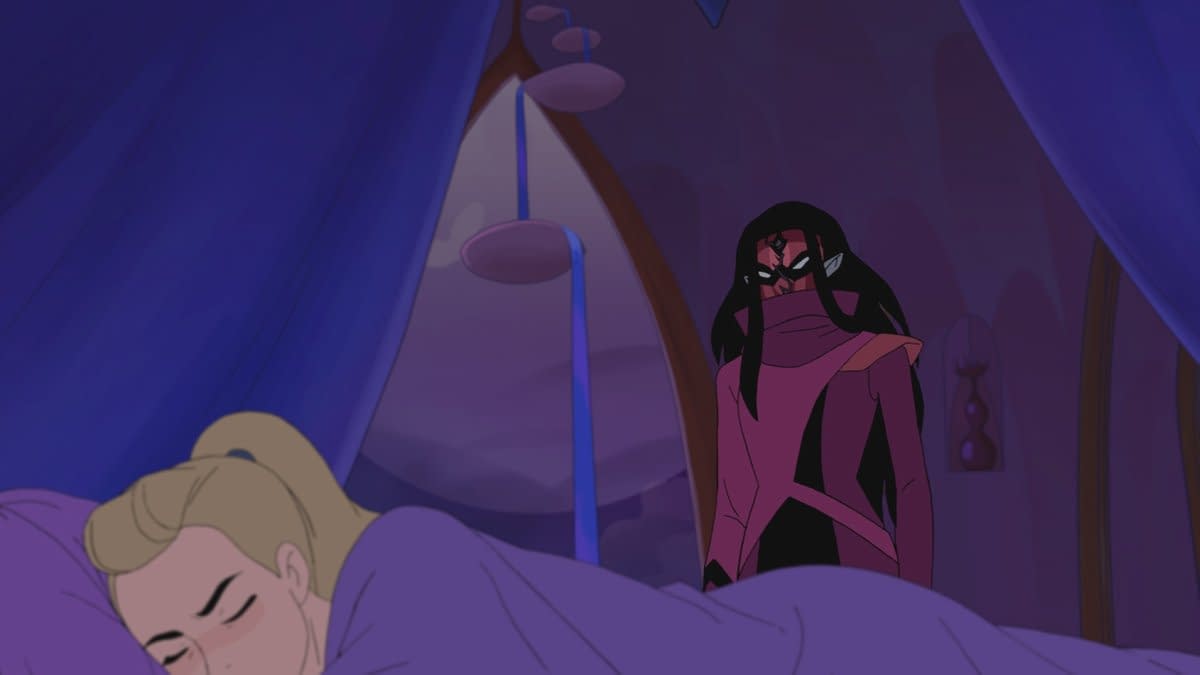 However, the situation with Shadow Weaver does not derail Adora's plans to hunt down the source of the mysterious Season 2 message in the Crimson Wastes. In a third Season 3 clip Adora, Bow, and Glimmer meet Huntara (Geena Davis), self-proclaimed Princess of the Crimson Wastes. Attracted to Huntara's strength, power, and assertiveness, Adora immediately idolizes her. Bow and Glimmer, however, are just scared. I just want one of Huntara's handy shrinking battle staffs.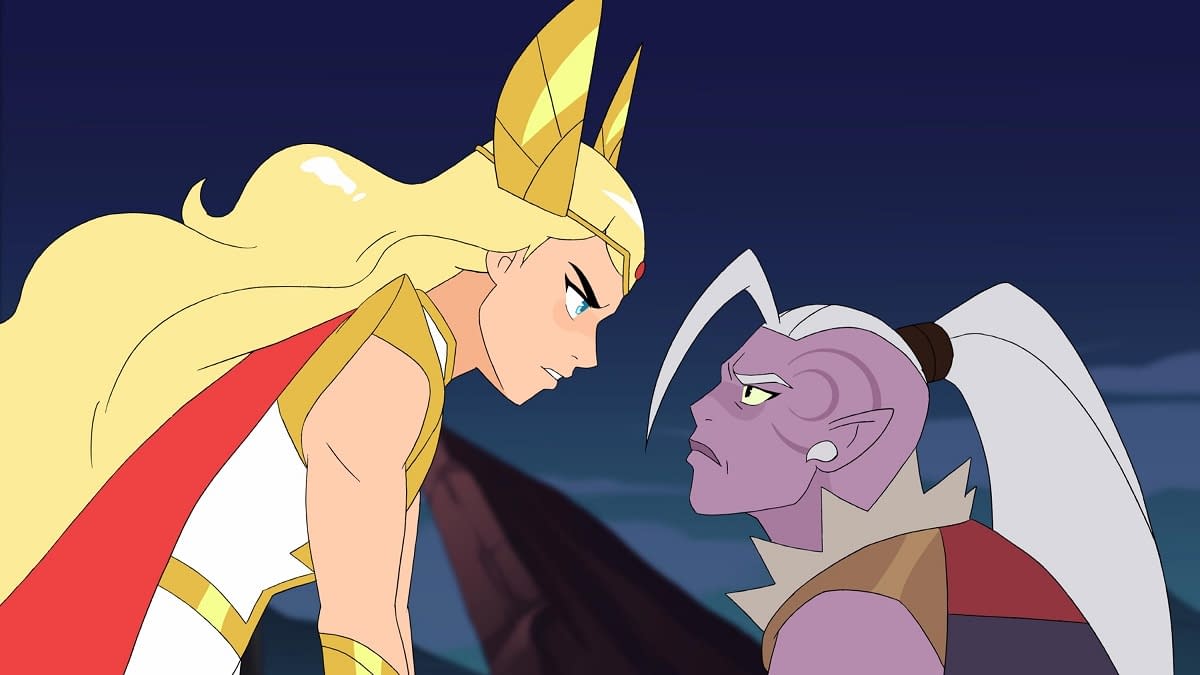 While Adora is making friends with Huntara, Catra is building a gang of her own in a fourth Season 3 clip. First Catra manages to pick up a few of Huntara's former followers. Next, she steals a gang of lizards and a whip from their leader, Tongue Lashor. Throughout the clip, Catra has a new sense of freedom. Stevenson elaborated, saying that after losing her place in the Horde, Catra has nothing left to lose. Where she was previously always trying to protect herself and her position, she's not worried about that anymore. It is both freeing, and dangerous.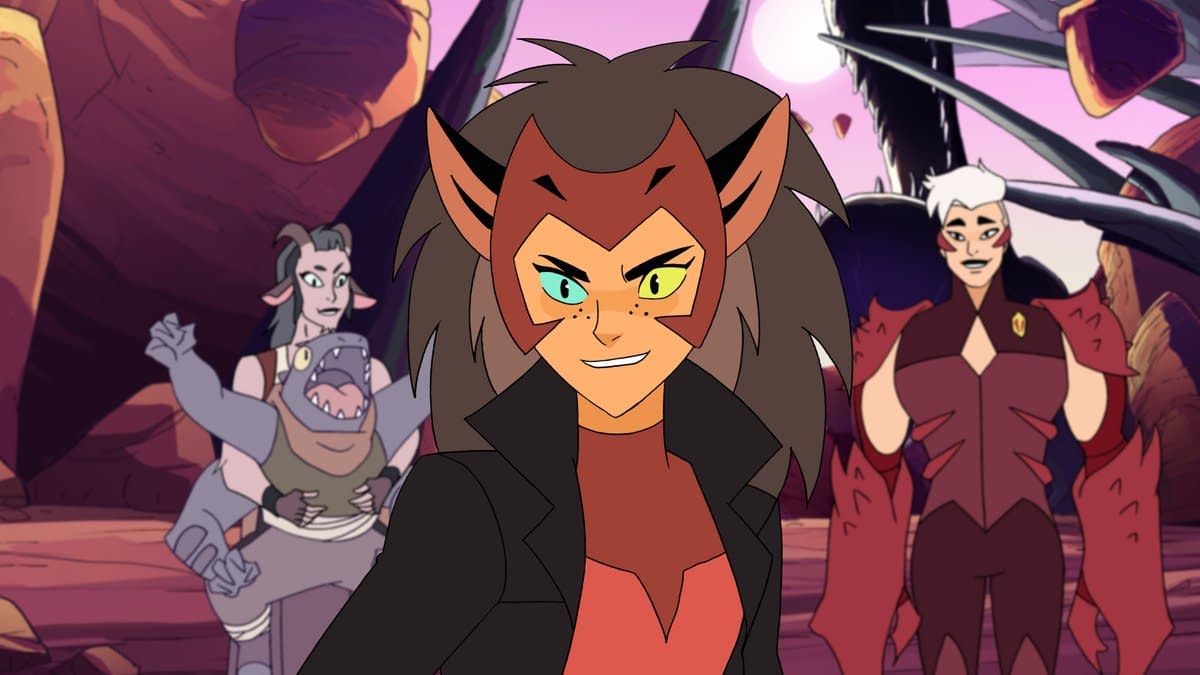 Stevenson explained what we saw in the four Season 3 clips by saying that this season will place all of the characters in new situations. Absolutely everyone will be outside of their comfort zone in the Crimson Wastes, leveling the playing field. And back home, Hordak (Keston John) and Entrapta (Christine Woods) will be deepening their friendship. Their dynamic will lead to the audience finally finding out more about the Horde leader's background.
Oh, and one last thing, the ENTIRE PANEL seemed excited about the concept of a musical episode of She-Ra and the Princesses of Power. So fans, go forth to twitter and vote with your thumbs to make that happen!
Season 3 of She-Ra and the Princesses of Power debuts Friday August 2 on Netflix.