Shonda Rhimes Sets "It Girl"/Accused Con Artist Anna Delvey Series at Netflix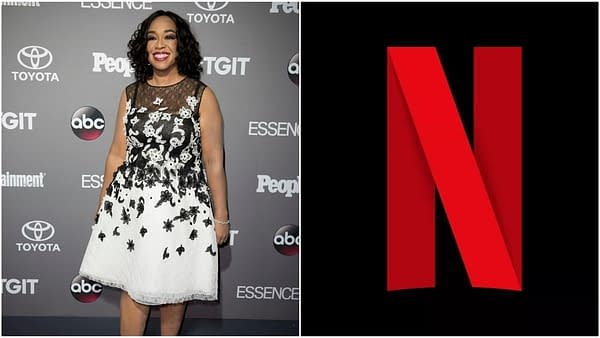 Scandal's Shonda Rhimes is bringing the life and now-infamous times of New York City social scene "It Girl" Anna Delvey (Anna Sorokin) to Netflix, with Shondaland and the streaming service having secured the rights "How Anna Delvey Tricked New York's Party People" from New York Magazine writer Jessica Pressler.
Rhimes is set to write the series adaptation, which marks the first series she's created since Scandal. The project is the first under Rhimes's five-year, $300+million deal with Netflix, first signed in August 2017, with Rhimes continuing to meet with writers and developing ideas for additional projects.
Here's what Rhimes had to say in a released statement at the time her deal with Netflix was announced, which would mark the end of her time with ABC (though she will still be involved with Grey's Anatomy, For the People, Station 19, and How to Get Away with Murder):
"Shondaland's move to Netflix is the result of a shared plan Ted and I built based on my vision for myself as a storyteller and for the evolution of my company. Ted provides a clear, fearless space for creators at Netflix. He understood what I was looking for — the opportunity to build a vibrant new storytelling home for writers with the unique creative freedom and instantaneous global reach provided by Netflix's singular sense of innovation. The future of Shondaland at Netflix has limitless possibilities."
Released on May 28th of this year, Pressler's New York Magazine article immediately earned the attention of a number of producers looking to bring Sorokin's story to either the small or big screens. The article details Sorokin's ("Anna Delvey") rise and fall as a main name on the NYC social scene. In October 2017, the self-proclaimed wealthy German heiress was accused of conning money from banks, businesses and those closest to her; nearly launching a social-fashion club from the funding with help from her unwitting partner in crime: 11 Howard concierge Neffatari "Neff" Davis. Charged with several counts of grand larceny and theft of services (to which she has pleaded "not guilty"), Sorokin is being held without bond on Rikers Island.