Speculator Corner – Lazarus To Moombas (UNCANNY UPDATE)
It is Bleeding Cool's belief that the current speculator comics market, in which comics regularly sell above cover price shortly after publication is a positive thing for the comics market. Rather than just rewarding big print run comics from the Big Two publishers, it rewards those who pick up the first issues of relatively obscure comics that just happen to be fantastic, and underordered by risk-averse retailers. It rewards the experimental, the challenging, the different, and helps make the current industry more diverse than it would otherwise be, as the free market steps in to course correct low sales. It won't always succeed, but speculation is behind more people trying out the new and the unfamiliar.
So what's coming out on Wednesday?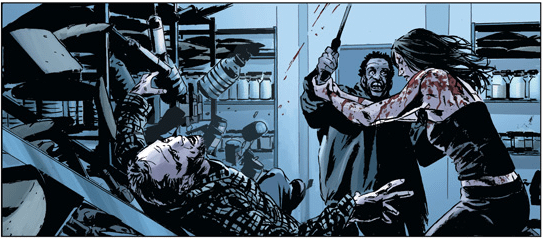 Lazarus #1 by Greg Rucka and Michael Lark from Image Comics was one of those first issues made returnable deals allowing retailers to order lots and lots, safe in the knowledgeable it could be returned. Logic states that this means this would be a bad speculator choice, as this week should be swimming in Lazaruses. Lazari. Whatever. But that was also true of Saga and East Of West, and look at their aftermarket value now. Jupiter's Legacy is the only one of there's books retailers seems to go nuts deep into. Lazarus, despite the excellent pedigree, ultra violence and high concept may still be harder to find than you may think.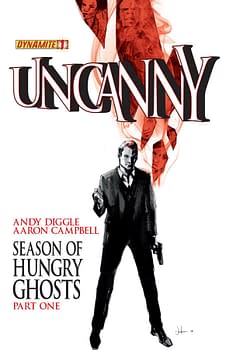 Much rarer on the stands this week will be Uncanny #1, Andy Diggle's crime comic launch for Dynamite. That publisher doesn't have much of a history with speculator-style comics, but the Image effect has been spreading of late to cover new books from Boom and Avatar, could this be Dynamite's time to step into the spotlight?
UPDATE: Dynamite breaks it down for us. 15,000 copies printed in total, 5,500 of the Sean Phillips cover, 5,500 for Jock and 4,600 for Dan Panosian.
Hawkeye seems to be Marvel's only hot new book right now with issue 1 hitting a hundred dollars as a CGC 9.8 comic, and selling for $35 as a raw NM copy. Subsequent issues sell for above cover too, a combination of a criticall acclaimed book, Hawkeye being popular in the Avengers movie and retailers not believing a Hawkeye comic could sell. And tomorrow's issue? It's all about Pizza Dog, the cult favourite hound of the comic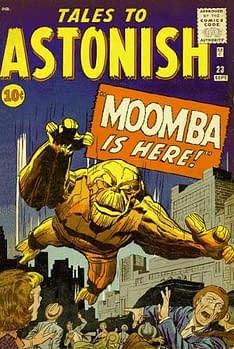 Tip for the top? Tales To Astonish #23 by Stan Lee, Jack Kirby and Dick Ayers from 1961. Where discovered African wood carvings are actually an alien invasion force led by Moomba.
Now the Moombas will be a major plot point for Angela and her attempts to get back to where she came from at the end of Age Of Ultron #10.
Max Brooks' Extinction Parade #1 was a massive hit for Avatar. getting Uber #1 numbers. Extinction Parade #2? Not so much, with orders down a quarter from issue 1. Which means there may not be enough to fill demand…